Wild City #176: Dolorblind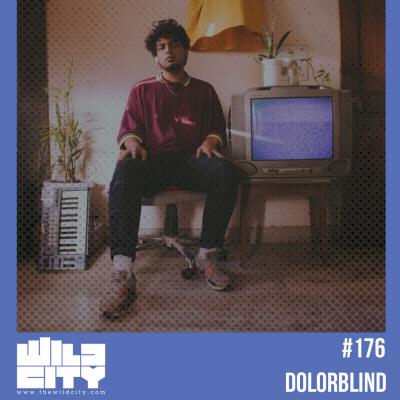 12 July 2019
If you've ever wondered what it's like to live inside the mind of Dolorblind, we suggest you plug in your headphones (and strap in a metaphorical seat belt) because you're in for quite the ride.
Wild City's latest mix was compiled by New Delhi-based producer and graphic designer Rohan Sinha aka Dolorblind. Though it might not be entirely fair to call it a mix – a mixtape, or a collage of sounds might be a more appropriate term for the theatrical, genre-defying experience that it unravels.
Dolorblind claims he imagined this mix as his "background score running from a volcanic eruption". We imagine he's underestimating the kind of sheer terror and panic one would experience in that moment, but if there's one thing he's nailed about that hypothetical situation, it's the drama. Drama is the first word that comes to mind once you delve into the mix. The drama rests primarily in the theatrical transitions in the mix and in the meticulous selection of tracks, which go from mallsoft/post-vaporwave and abstract hip-hop to experimental electronic to Italian opera, glitch hop, noise rap and math rock. Remarkably, it all ties well together – perhaps united by the common thread of distortion, experimentation and abstraction – inducing an immersive, sensory experience.
Listening to the mix feels like flipping through the scrapbook of a particularly turmoiled, imaginative mind – like a character from David Lynch's 'Twin Peaks' for example – and vicariously living their life, or like watching somebody's life in fast-forward. It's certainly intriguing and exciting, but be warned: this assemblage isn't for the faint hearted or close-minded, because in just over 36 minutes, Dolorblind manages to take listeners through a (or perhaps the) whole spectrum of emotions and moods, shuffling from ecstatic melodies to angsty beats, from introspective soundscapes to distorted noise. In fact, it might be too much like being inside somebody else's mind.
"I like drums, distortion and intriguing samples, and this is what this mix is all about. I want people to experience the kind of sonics I'm into. These tracks are wild but still tamed. I can imagine this music as my background score running from a volcanic eruption." - Dolorblind
Direct Download Wild City #176: Dolorblind
Words: Satvika Kundu
Image: Mohna Singh
Tracklist:
MVM – Technicolor
Kwes – Blox/Connor
Nah – Hiver En Neuf Morceaux / IV
Montserrat Caballe – O Mio Babbino Caro
Montserrat Caballe – O Mio Babbino Caro (Hudson Mohawke Remix)
Wylie Cable – Pirouette (Feat. Daedelus)
Prefuse 73 – Crash Beat
Mike Dean (MWA) – White Black Jesus
Childish Gambino – Zealots Of Stockholm
Nah – May 7th (Feat. Moor Mother)
Clams Casino – Crystals
Howie Lee – Rebuild (Feat. Jason Hou)
Battles – Tonto
Tags
Join Our Mailing List