Wild City #174: Ditty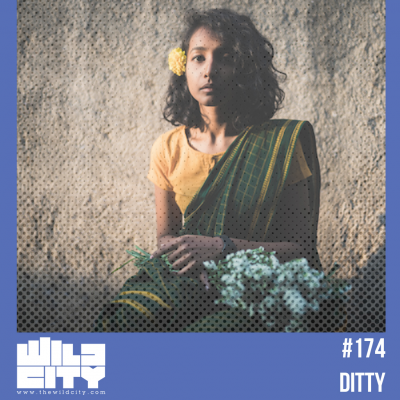 11 June 2019
Often when an artist who isn't a conventional DJ curates a mix, the result is a refreshing selection that doesn't attempt to make the listener move or engage, but simply sit back and listen.
Especially so, in the case of Goa-based singer-songwriter Aditi Veena aka Ditty, who exhibits intimacy and ingenuousness as fundamental features in her music. Consequently, her mix for Wild City comes as an invitation to dig into her personal influences and pleasures.
The mix kicks off with 'Picture a Vacuum', the opening track to Kate Tempest's Mercury Prize-nominated 'Let Them Eat Chaos'. The spoken word piece harkens to Ditty's own album opener 'Food City' from her recently released 'Poetry Ceylon'. Paying little attention to the process of mixing itself, Ditty instead focuses on building a dynamic listening experience through her selections – catching us off-guard as she follows up her 2017 mellow lo-fi work on 'Maybe' (ft. Jayant Manchanda aka Deadcat) with the hard rap of Saul William's 'Horn Of The Click-Bike'.
Further in the mix, Ditty provides a cinematic narrative of emotions with the hopeful melancholia of Sonnymoon's 'Just Before Dawn' preceding the victorious indie electronica of Broadcast's 'Tender Buttons'. Just like with mix-opener 'Picture a Vacuum', Sun Kil Moon's 'I Watched The Film Song Remains The Same', with its plucked-guitar-backed storytelling, gives an insight into the inspiration behind the creation of 'Poetry Ceylon'. Ditty concludes her mix by extending courtesy to Dhruv Bhola aka Bowls (who provided the arrangements on her latest album) by featuring his track 'W.I.G.F.Y' off his debut EP 'Shed Winter'.
"Collection of songs that have touched me and I go back to every now and then." - Ditty
Listen to Ditty's mix below:
Direct Download Wild City #174: Ditty
Tracklist:
Kate tempest - 'Picture a Vacuum'
Ditty - Maybe (ft. Deadcat)
Saul Williams - Horn Of The Clock-Bike
Sonnymoon - Just Before Dawn
Broadcast - Tender Buttons
Sun Kil Moon - I Watched The Film The Song Remains The Same
Alice Phoebe Lou - She
Bowls - W.I.G.F.Y
Tags
Join Our Mailing List