Wild City #173: TRAFFICC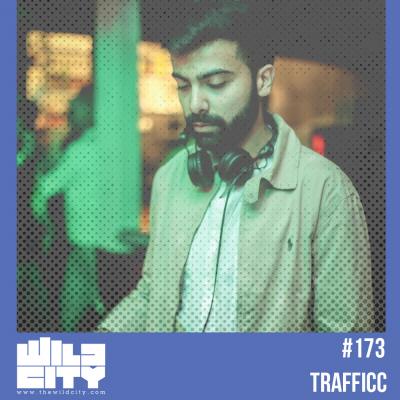 22 May 2019
Listeners familiar with Nihal Kanwar aka TRAFFICC's boxout.fm show 'Rush Hour' know that this New Delhi DJ tailors his selections for an intense time on the dancefloor. Reflecting some 80s and 90s reminiscent raw energy, his hectic mix for Wild City is no exception.
Nihal adopted the name TRAFFICC after realising that the credit for his expansive sonic palette goes to all the hours he spent listening to music while stuck in New Delhi's traffic. His dynamic taste in music, meanwhile, can be traced back to his formative years which involved lessons in western vocals and Indian classical music, starting a punk band, being a metalhead, and hosting hip-hop artists in his college dorm room.
The ability to traverse through styles, thus, is inherent for Nihal, and it comes into effect in this mix. Unified by the aim of keeping the listener sweating it out on the dancefloor, the tracklist features cheerful electro, jarring techno, energetic breakbeat and heavy hardcore. The set's consistently high intensity is driven by contrasting moments (like when Nihal follows up the dark techno of Russell E.L. Butler's 'Tree Frog Whistle' with the gleeful breaks of 'Second Movement' and 'Don't Go').
Nihal's own collaboration with Monophonik, titled 'Lose Yo Mind', which features on the mix, blends seamlessly with Jensen Interceptor's adrenaline-pumping electro and DJ Normal 4's leftfield take on 'La Arabia' - complimenting Nihal's reputation as a producer as well as a DJ.
"Peak time rave friendly, energy packed, high octane, dance floor shakers - including tunes from the vault, original productions, and some heavy releases from talent around the globe today." - Trafficc
Listen to the mix below:
Direct Download Wild City #173: TRAFFICC
Tracklist:
Chrissy - U Can't Stop
Westbam Pres. Members Of Mayday - Sonic Empire
Russell E.L. Butler - Tree Frog Whistle
Awesome 3 - Second Movement
Awesome 3 - Don't Go (Kicks Like A Mule Mix)
Human Resource - Dominator (Frank De Wulf Remix)
Praga Khan - Injected With A Poison (Digital Orgasm Mix)
Hornsey Hardcore - The Wiz
Clouds - Sharp Like A Razor
Stanley Schmidt - Shifting Modernism
Yaleesa Hall - Daisy Wright
Skeemask - Trackheadz
Loom - Saturday Job At Razor Quest
Jensen Interceptor - Wave Slave
TRAFFICC & Monophonik - Lose Yo Mind
DJ Normal 4 - La Arabia
Off The Meds - Belter
Rosh - For My Bristol Friends (Afterparty Mix)
Tags
Join Our Mailing List