Wild City #165: Andi Teichmann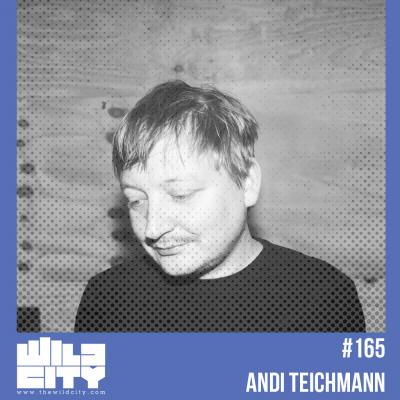 21 February 2019
Few mixes will floor you like this particular one for Wild City by Andi Teichmann. Andi is a well-known and accomplished musician, producer, DJ, cultural activist, and co-founder of Berlin-based label NOLAND. Both as Gebrüder Teichmann – his project with this brother Hannes – and solo, he is known for work that surpasses the limitations of genre or style.
Andi's mix was inspired by a DJ set he played at Popkultur Festival in Berlin last year, as well as his music-related travel and work across Germany, Africa and South Asia, largely in collaboration with Goethe Institut. The mix thus traverses time, space, culture and ideas.
Subsequently, most tracks on the mix (several of which are NOLAND releases) offer fascinating cultural dialogue, commentary and history. DJ Raph sparks a beguiling dialogue between contemporary electronic music and African echoes of a pre-colonial time by using sounds from Chad, and a funeral procession by the West African Senufo people on 'The Boy From Digenenthi' and 'Earthstep' respectively. 'Good Morning Karachi' was the result of 12 people jamming in Karachi over 2 weeks at Soundcamp Karachi 2015, while the last track on the mix, 'Fear Nothing', is dedicated to Sabine Mahmoud, a fiery art and human rights activist in Pakistan who was assassinated shortly before Soundcamp. A track by homegrown producer KALAB features on the mix as well, beside 'Ten Cities', which was born from a Goethe project that aimed to explore and connect subcultural scenes in African and European cities. The mix itself covers a vast musical spectrum ranging from deep ambient music from Germany to avant-garde jazz from Africa to experimental electronic from South Asia.
A deep synthetic, drone-like atmosphere and an aura of ambient electronic sounds cloak majority of the other-worldly hour-long-mix; a percussive disposition floods the second half. Genres or styles don't matter here – the only defining quality of this set is experimental obscurity. Mixed with such absolute mastery, it's nearly impossible to discern the transitions between tracks on this mix. It's a contoured wall of meandering sounds with no perceivable destination or ending, that one must simply give in to. We would go as far as describing this as an immersive, sensory experience, rather than a collection of tracks.
"I'm constantly searching for tracks that stand for their own and avoid genre specific codes and clichés. I also wanted to have some wild pioneering stuff in the mix, as well as some dance music I'm digging at the moment." - Andi Teichmann
Listen to Andi's mix below:
Direct Download Wild City #165: Andi Teichmann
Tracklist:
Barbara Morgenstern – Reset
Esmark – Mara
The Pyramids – Bith/Speed/Merging
Bruce – Sweat
Via Maris – Swarm
Yak – Durunia
Spotkanie – Czemuzes Mnie, Matulenko
Drums off Chaos & Jens Uwe Beyer – Even S
DJ Raph – The Boy From Digenenthi
DJ Raph – Earthstep
Diamond Version –TEN CITIES
Karachi Files – Good Morning Karachi
KALAB – Meta2
Alien Panda Jury – Fear Nothing
*FEEL FREE TO SHARE AND BLOG THIS MIX, BUT PLEASE REFERENCE THIS PAGE*
Tags
Join Our Mailing List