Creating Safe & Equal Spaces: Systematically Dismantling Stereotypes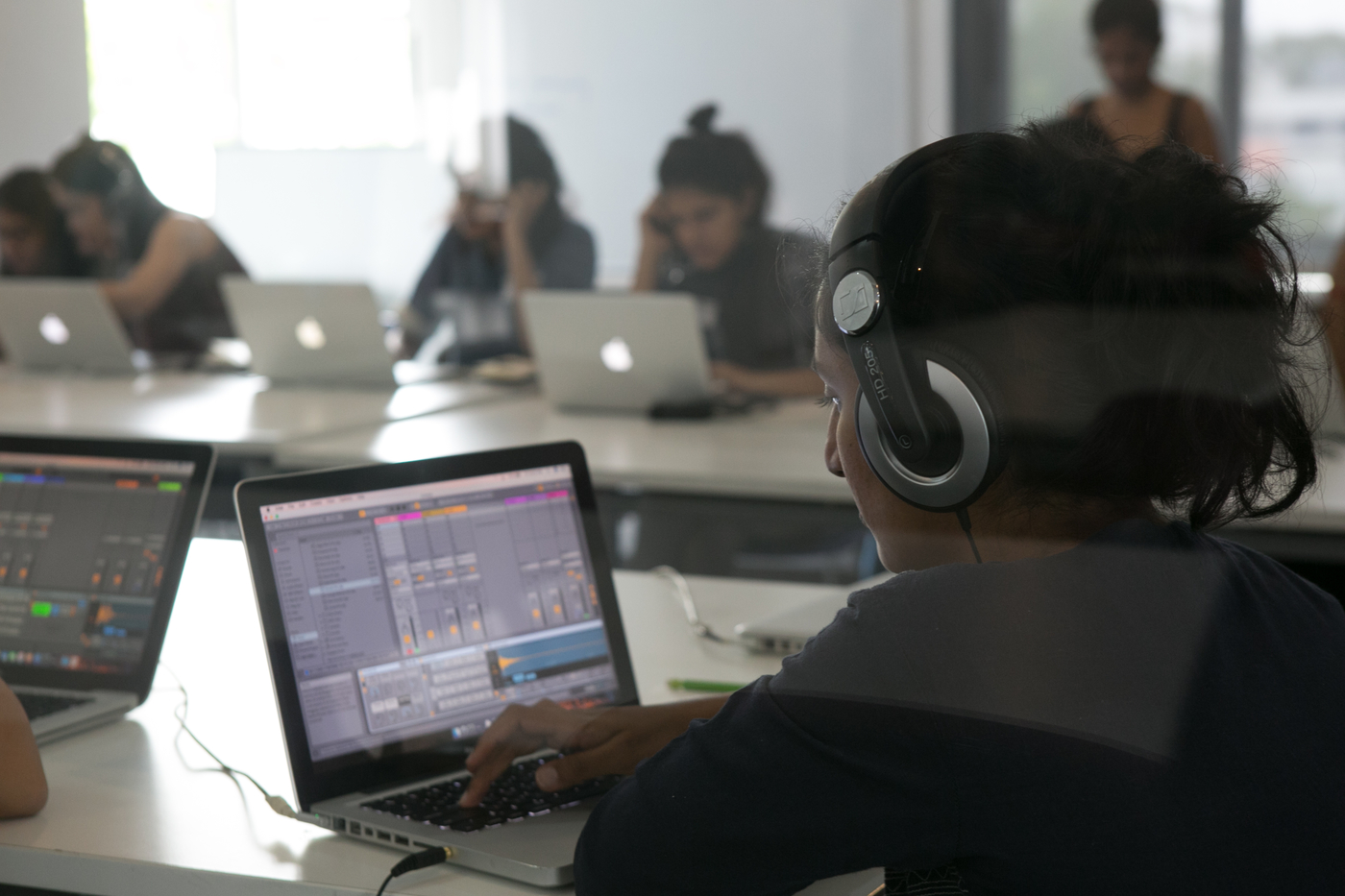 13 June 2018
Following our Selector Pro: Women In Electronic Music project, we decided to interview a few participants about their experience at the workshops. Trying to understand why there are so few women producing music in India (an issue that plagues the music industry in the sub-continent as much as it does the rest of the world) and explore the barriers and obstacles that exist...
In the last 5 years, the Indian music space has seen a surge in 'bedroom producers' and experimenters, mostly young men expressing themselves musically, some even before they could distinguish musical basics. A great feat for radical art lovers of the freer kind who don't see traditional training as a necessity or pre-cursor to expression, which naturally leaves us wondering why there are so few women producing music in India.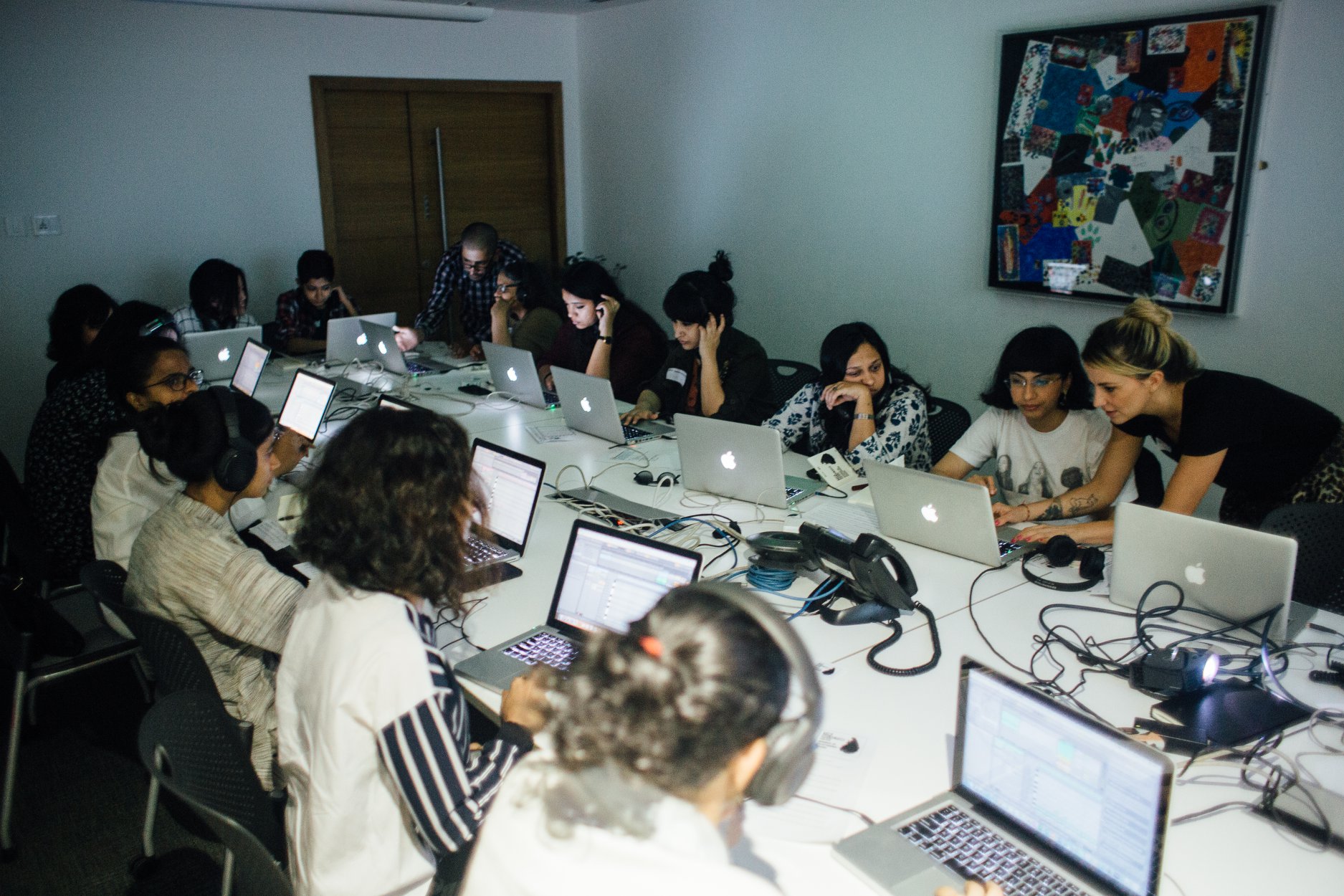 Image Credits: Zacharie Rabehi
What is it that seems to make it almost impossible for women around the world to navigate and express via technology and new media with the same ease that their male counterparts might be accustomed to (and unaware of)? When do peer groups begin 'gendering' interests and subscribing to social norms? How is the confidence of women affected once they begin inhabiting mixed-gender groups which almost always subscribe to a certain strain of patriarchy?
Sultana, one of the Bangalore participants shared an experience many women will relate to:
"Boys were louder and condescending to the girls in the group when a discussion on music came up. When the girls in the group were like - this music is bad, the boys would respond altogether - saying this is so good, you don't know anything. And me and all the other girls felt that this 'absolut' choice is correct. So that leaves one with two options: either you fake it, or you (fake) accept that you don't have the taste for it."
Conditioned socially towards perfectionism and trepidation, unlike men who often appear to have a fearless relationship with technology; women shy away from diving head-first with machines - not before they have carefully acknowledged the varying attributes of the hardware or software.
Possibly why we had multiple female participants in every city who, despite knowing that the workshops were open to complete beginners without prior experience, still had doubts about their credibility as participants:
"This is my first time making music and I'm not sure whether I'm suitable or good enough to take part…" - over multiple confirmatory phone calls, emails and messages.
The lack of a peer support group whilst growing up, can result in a lost chance in growing out of the family and tradition - exploring interests by yourself, eventually snowballing into a stratified acceptance of the status quo and giving into social norms. As another one of the participants from our Bangalore workshop stated: "No one knows they are going to make music - we all just play around and see what happens. The general environment for women from 18-22 around the country is less conducive to this kind of experimentation simply because of lack of time and space to do it. And add to this, a lack of peer support, technology takes a back seat. At some point, the boys are far ahead and there seems to be no point in trying because perhaps one can never get up to speed with them".
The arduous task of having to 'catch-up' is followed by a strong-willed process of de-conditioning (machines do not belong only to men) and then, seeking help – contacting a friend, a boyfriend, or finding others like you who most definitely have similar interests to indulge in.
Supportive men who identify as feminists (and possibly look to the movement with more hopes and in more need than even women do), are consistent in their encouragement and also highlight to women their own tendencies to mentally self-sabotage:
"I'll be honest, if it hadn't been for the support and encouragement that I got from my husband, Varun, I would not have been able to do half the things that I have done and achieved in these last 10 years. We as women do tend to squash our own dreams and ambitions because of society and family."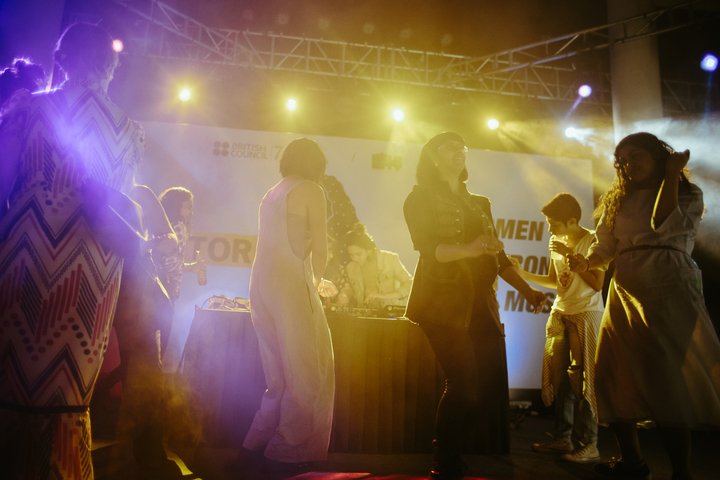 Image Credits: Zacharie Rabehi
An interesting thesis from the 90s which looks into de-gendering the electronic soundscape suggests a similar observation where the researcher observes that:
"Most women tackle their learning of technology in isolation or by ranging the fringes of male activity, rather than by forming solidarity groups and setting up cooperative learning situations with peers."
Forming solidarity groups and creating safe spaces is one way to make sure women are not left and do not leave themselves behind. The workshops really demonstrated the value and impact of these environments where "women are working/learning together, [as] there is [a] like-mindedness and THAT is liberating; it gives a sense of belonging, the feeling of not being judged by any questions you might ask or any mistakes you might make. An environment like that makes women feel secure and secure women encourage other women." – says Zareen Desai.
At times at the cost of a compromise, "women have to navigate through male-centric spaces, at the expense of being excluded from them based on the whimsical decisions of men." - to enter that world, to learn its language, women have first to forsake their femininity:
"It is difficult making something of yourself if you decide to stand against men from the music industry who are not feminists."
Creating safe spaces on the side before carving spaces within the general industry can be one positive step to liberation and exploration. The relevance of creating comfortable spaces to learn within, and depend on cannot be stressed further than to quote Zareen who was also a practicing DJ while growing up in her 20s:
"I've been married to a guy who has been an engineer/musician/music producer/synth-maker for 10 years and I have often helped him out in setting stuff up, wiring and re-wiring equipment. At a cousin's wedding, when I went to set up the sound system, I was asked if I know the difference between the wires and how things are connected, and this was from someone who's known me for many many years. And mind you, the sound system I'm talking about is just 2 monitors that had to be connected to a mixer, with an aux output."
Creating gender conscious spaces within the industry is also an imperative step towards ensuring safer nightlife spaces in our cities. Increasing the visibility of female DJs and DJ collectives who can act as successful role models also helps in, effortlessly breaking stereotypes around technology and professions that usually garner male attention. 'A Few Good Friends' is one such collective that emerged from the workshops we conducted. They recently organised their own gig - a session featuring 12 female DJs, playing a wide spectrum of music.
Sexy female cyborgs, cyber bots asking you to 'hold the line or call again later', or female robots being the first to gain citizenship rights in Saudi Arabia; all represent a subversion of the feminine or perhaps even a glaring paradox. Electronic music and its initial days are associated with an assemblage of women contributing to the roots of the genre - enough has already been said about the first female electronic musicians who toyed with synthesizers in its early years.
While there does exist positive encouragement on all fronts for women who want to make a headway in professions previously dominated by men, breaking internalised stereotypes does not come easy. The ones who have managed to work against the tide and have successfully carved an identity; we hope will be joined by an increasing number of women faster than we can predict.
Words: Purnima Singh
Tags
Join Our Mailing List