#Winning: In Conversation With Su Real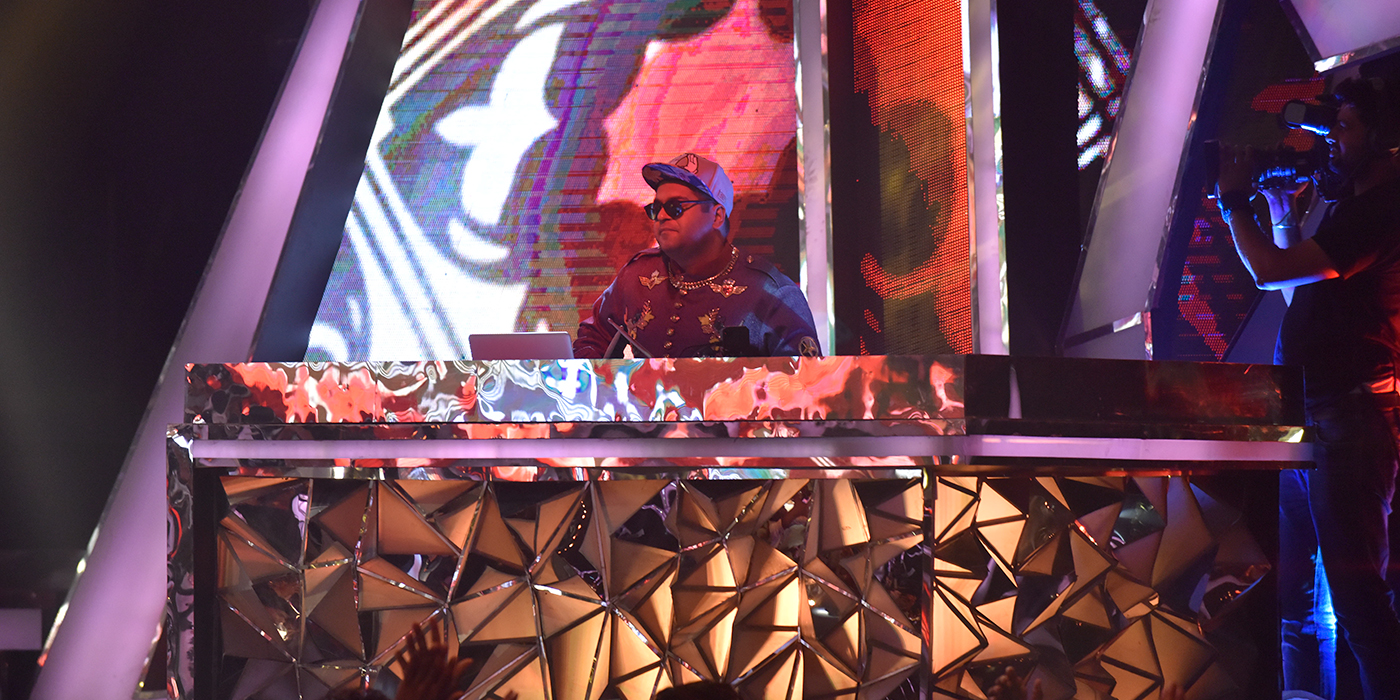 18 May 2018
Su Real's recent win at Amazon's Prime's Original reality show, 'The Remix' is somewhat of a head tilter for those of us who have associated his shenanigans within the demographics of the independent electronic music industry. Teaming up with vocalist Rashmeet Kaur, Su Real's task at the reality show was to re-mix known Bollywood 'numbers' - reviving them with his own production skills and presenting them in a theatrical performance piece:
"I was excited by the prospect of developing music directly for the stage – with the dancers, visuals, stage props and so on. I was, of course, hoping to get to work on remixes for some of my guilty pleasures when I was growing up - which I got to with tracks like 'Dhak Dhak' and 'Tirchi Topiwale'."
The opportunity to reach a wider audience and the chance to put his skills to test rolled into an eventual victory - giving the bass producer a chance to expand his creative spectrum. "The whole show was like a crash course in music production," he told us. "A performance at a college where Nucleya, Amit Trivedi and Sunidhi Chauhan are your professors. But when you fail, you get eliminated."
From curating and promoting an incipient non-commercial music culture in New Delhi back in 2010, to releasing India's first trap album in 2014 - Su Real has evolved into one of the more colourful DJs and producers in India's musical landscape; possibly why his willingness to experiment with a space that is arguably different from the one he inhabits, did not seem as jarring on screen now, as it might have 10 years ago. "I got quite lucky that the show's producers wanted to balance the cast of Bollywood music aspirants with what's happening in the indie sphere, as evidenced by Nucleya being a judge."
"The TV and film world is quite different from the indie clubs and festivals I'm accustomed to."
For artists associated with 'alternative' culture, participating in a reality TV show itself would be deduced with a certain level of adultery, leave alone one that thrives within Bollywood's extravaganza. These were spaces Su Real occupied before he released 'Twerkistan' in 2014 - applauding the producer for his willingness to push the grain, for his own growth and the industry's (which has a tendency to isolate itself from mass appeal) is in order, then.
Often, our own disapproval of popular mass culture stems from an ignorance of its relevance - blinding us to trends that mould choices, opinions and the essence of a larger population. Bollywood and Indian cinema, for example, are essential cultural motifs especially, for countries such as ours:
"I sat down for a 30-minute session in the studio with Abhijit Vaghani, the Central Music Director for the show and I can honestly say I learnt more in that short session than I could have in most music schools." - says Su Real who learnt a great deal about the machinations of Bollywood production while prepping for his first episode on the show. Opposed to Bollywood's opulence, the chance to participate in the show exposed the producer to a string of techniques which, "helped liberate his creatively", and led Su Real and Rashmeet to make some interesting twists and turns in tracks like 'Ambarsariya' and 'Genda Phool'.
Mass culture is, more often than not, seen as lacking creativity or authentic thought. Often associated with repetition and mass reproduction - like a remix which essentially is a selected section of a song, looped, to sound catchy - Bollywood style of production is also believed to be restricted in its innovation. Luckily for Su Real, such misconceptions found greater clarity through his experience of the show:
"Abhijit showed me how some of those techniques could be used to fatten up and improve more minimal EDM sounds we are accustomed to at clubs and festivals. He also corrected a misconception I had. He pointed out that in Bollywood music, in many ways you're not constrained to certain rules as you might be in other genres and idioms... wanna do a 17- bar blues (i.e. not the traditional 12-or 16- bar blues)? Go for it!"
His favourite tracks to re-mix during the show?
'Dhak Dhak' - It was a childhood favourite for a long-time, I mean who can forget Madhuri Dixit's sensual thrusts and bursting blouse. I mean, I was just an impressionable young boy. Corrupted by Bollywood. It was mad fun corrupting this track to my unique style. This is definitely one of the most "me" tracks on the show.
'UP Bihar Lootne'- From, the "found sounds" episode where I recorded sounds in a restaurant kitchen and used them to make this hip-hop - UKF - bhangra hybrid. It was also a pretty ambitious piece with a lot going on, so we were racing to meet the strict deadlines. I remember fixing the subs on my headphones while in a taxi on my way to the mastering studio with minutes to spare.
'Ranjha Ranjha' - Rashmeet and I were just starting to click together and we had finally figured out the ins and outs of the competition. I had a vision for the remix to kind of combine both our styles. But it was jamming in the studio that helped us develop the song's arrangement, adding Latin flourishes and Arabic strings to the dancehall foundation.
Following his win, Su Real is trying to get a fresh EP out - with a new production style. You can hear some of his recent mixtapes for Bobby Friction on BBC Asian Network. Eager to test out his new material at gigs and, on the dance floor - Su Real's victory has definitely given him newer directions. He's currently on a #winning tour across 12 cities. Full dates can be seen below:
May 18: Auro Kitchen & Bar, New Delhi
May 19: Club Naila, Jaipur
May 26: Adlabs Imagica, Khopoli
June 02: NYX Lounge, Guwahati
June 03: UG Reincarnated, Kolkata
June 09: Fat Pigeon, Hyderabad
June 15: Flea Bazaar Cafe, Mumbai
June 16: Oak Lounge, Pune
June 23: Opus Club, Bengaluru
June 29: 25 Hours, Kathmandu
June 30: Boathouse, Chandigarh
June 07: 02 Lounge, Indore
You can follow Su Real on Facebook and SoundCloud for further updates.
Words: Purnima Singh
Tags
Join Our Mailing List