The Deps X Anxies Of Ezzyland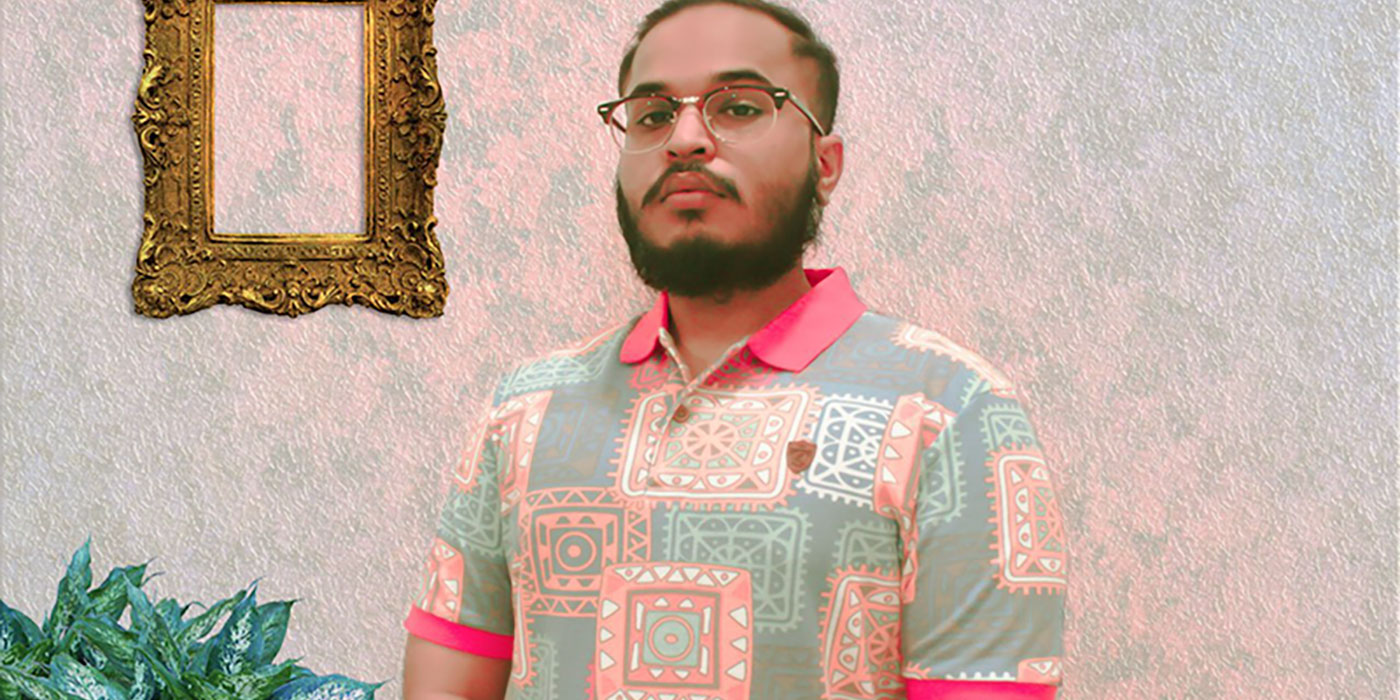 30 April 2018
A little more of this, and Sidharth Ezhilan might explode. He's pissed off. With the industry — the 'business' of music — with the gatekeepers dictating tastes and trends, with the ignorance of a large chunk of audiences. He's a textbook over-thinker and, in just a couple of years living in Chennai, let's just say he's become a little bitter and resentful with the state of things in India. There was something brewing in the independent space, he feels, but it's been corrupted by business interests and profit-making. He speaks in a calm, self-assured manner — almost a monotone — but the words are scathing. Still, his art remains pure. All the frustration he feels trickles out through his songs.
Ezhilan writes genre-fluid electronic music as Ezzyland. He's properly rooted in the SoundCloud subculture; he'd been a committed fan and composer of hip-hop before discovering electronic music through the platform. Through the years, Ezhilan has built up a formidable body of work — his page has some 80 songs, and close to 6,500 followers. In addition to the stuff he writes as Ezzyland, he is also a beatmaker (which he sells to other artists) and has tried his hand at rapping (50 Cent is a major influence).
The music changes form often, but at its centre is a precise note selection driving the narrative. There's an emphasis on melody, a 'fullness' of sound, run through downtempo motifs, lo-fi sounds, and sonic digressions. "I just go with the flow," he tells me over the phone from Chennai. "The tiniest of ideas might strike my mind. Maybe if I'm watching a movie and I hear a sound in the background. Or if I'm walking on the street and I see someone doing some shit." He'll find that initial catalyst, and then try to interpret that into sound, into music. Once this initial process finishes, Ezhilan sends the song off on a sabbatical. "It gets to you; it gets annoying. I let it sit for a couple of days, maybe a week. Then I come back with a fresh set of ears. I just hear it as a listener." It's here that he completely dismantles and reassembles the song, turning it on its head, taking only the skeletal structure and revamping it. "No song is actually ever truly finished. You just abandon it at some point," he says.
It goes some way to explaining how prolific he is. He has a full arsenal of songs stashed away. His release from last year, 'Deps X Anxies', features nine songs, but he originally had around 60 compositions for the album. He's itching to put out new music, maybe an EP; there's a new song out too. Really, it points to a restless artist with a relentless desire to express himself.
Ezhilan has many bones to pick. There's the emphasis on club gigs, and how the whole charade is played out: artists treated poorly at establishments focussed on maximising bar sales. He's not a big fan of the middle-men in the scene — the promoters, programmers, agencies — who insist on directing tastes and marketing the easily digestible artists. "If the DJ gets paid Rs. 20-30,000, and you're paying the artist playing her own music Rs. 5,000… I'm not down with that. I'm down exclusively for festivals, if anyone wants to book me. But I'm not running after anyone. The more you run after them, the less they see you for the artist you are. A lot of people, they'll say they're looking for 'humility', but really they just want you to kiss their ass." He's not prepared to play the game; instead, he's happy existing on the fringes, building a fanbase that appreciates him for the music and nothing else.
An important point he makes is that audiences in India, often but not always, aren't aware of the fact that they can curate their own tastes. "You can go out and discover music, make your own palette, build your own taste. That's not there for the most part," he says. It's almost an interconnected chicken-and-egg situation: do the industry insiders dictate tastes and commercial interests, leading to a percentage of the crowds unable to find what truly works for them, or is it the other way around?
There's a caveat to be added here, though. His ire remains directed largely at the 'industry' side of things, a grouse held by many serious artists. He spends a lot of time trying to understand his own motivation, and there's a self-awareness that reveals itself from time to time. "Maybe it's because of where I was coming from, what I was expecting. Things don't really work out the way you want them to in your head. And you get bitter and start hating. And then you find two or three friends who all feel the same way, with the same background. And you become this brooding underground group, all of us still dedicated to our craft!"
He acknowledges that while there's a lot of "mechanical music" in the country, there are also artists pushing the boundaries. Even the ones whose point of view he can't quite understand, he still respects. He's someone best described as a loner — Ezhilan admits to having spent 99% of his time locked up in his room, working on his songs, mixing and mastering them, making the artwork. But of late, he's started stepping out of that zone a bit, and he's developed a cautious appreciation for the stuff happening around. "When I see people getting recognition… I would never doubt anybody's hustle; you gotta do what you gotta do. I've been here for two years, and I'm moving out of that slump. If you're succeeding, that's beautiful. And if I like your stuff, then let's be friends," he says.
For now, he's happy about having played a series of experimental Listening Room gigs. The exposure to obscure rabbit-hole experiments at these gigs has opened up new creative avenues; it's inspired him enough to incorporate elements of noise in his works. That pretty much sums up Ezhilan though. He spends a lot of time with his craft, and almost as much thinking about it. His sense of idealism — at times bang on the money; a little misplaced at others — can burden him, but it's also what keeps him going. Amid all the feelings of disillusionment, Ezhilan retains this joy and optimism about music. It's an outlet for him, a way to channel his emotions and, in a way, to also process them. He says: "I just want to create things."
Words: Akhil Sood
Image Credit: Courtesy of the artist
This article was originally published on 26 April 2018 by Border Movement here. It has been re-published here with permission.
Tags
Join Our Mailing List