Teebs Sees A Healthier World On The Horizon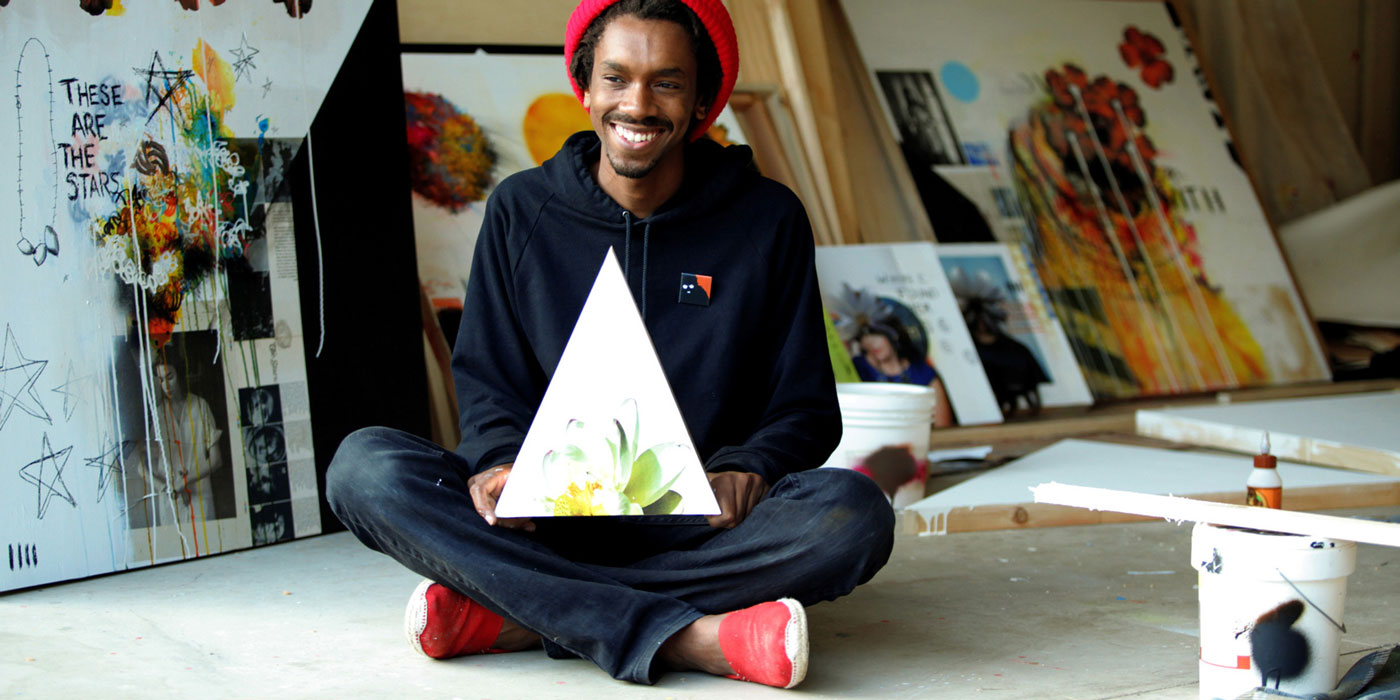 14 December 2017
The pauses Mtendere Mandowa (better known as Teebs) takes between his sentences allow him to formulate his thoughts at his own pace; it's as if he's searching for the exact right combination of words to articulate what he's saying. This feature is evident throughout his life whether it's in his music, painting or how he views the world and its societal problems.
"I feel like, in general, I'm pretty slow process-wise," he explained. The Brainfeeder-signee recently showcased his methodical and particular process to making music during a masterclass at BUDx, the 3-day programme that took place in New Delhi last week. A process that has seen it evolve significantly since he began making music at the age of 15 when his brother gave him a version of beat-making software Fruity Loops.
"Even for my other albums, it took a few years or a year to make them." With painting becoming more of a focus for Teebs, he found that it has become "a struggle between the two. I tend to really focus for a year or so on it [art], then when I finish an art show, I've got to make a new album."
Right now, he's in full focus mode not only with creating art but because he's recently had a daughter; something that's weighed heavily on the Los Angeles-based artist since her birth, especially with the volatile state America is in at the moment: "It's intense," he reflected on how best to raise his daughter. "It's pretty scary knowing that there are a few things that aren't going to go away when she is old enough to make her own decisions. I need to give her something that'll help support her life in some way." For Teebs, two factors - outside of the obvious ones- are crucial in raising an African American girl in today's world, "Knowledge, and you know, manners. It's all about manners, man."
Teebs, himself, found it hard growing up as a POC (person of colour) artist in the world. Though he belonged to the skateboarding community, one that is "open-minded" where "if you're a piece of shit, you're out, we just wanted to see what you can do on a skateboard," he still found that being of colour in the music industry was a difficult path to navigate. For him, it was all about how he dealt with it. And having the likes of Flying Lotus email you as you're starting out definitely helps.
"I was a Red Bull Music Academy participant in 2008," Teebs said. "I was putting tracks online and I just got hit up with an email from him [Flying Lotus]." FlyLo, who was an RBMA participant himself two years before Teebs, also hit up SAM I AM, another RBMA participant, to gather some sort of community around him. From that initial interaction, a friendship blossomed before Teebs eventually signed to Brainfeeder.
And Brainfeeder wasn't the only family he belonged to - it was just one part of the Los Angeles beat scene, at a time that most call the Golden Era. "I think I was, yeah," Teebs said when asked whether he was part of the LA beat scene. "Maybe the third wave. I don't know how long people were making beats in LA, I know when Kutmah was doing Sketchbook, I wasn't around for it. I was post all of that."
Those first years in the industry for Teebs were "a rollercoaster." As he tried to understand everything that was happening around him and became older, Teebs also "became really naive about it all."
Now, he hopes to pass on the knowledge he has gained to his young daughter. Though he doubts the world will get better by the time she's his age, he has hope, "It's kind of a mess but I also feel like time is definitely on our side. I think people are going to realise that this issue isn't as big as it used to be. People are going to actually put their foot down, moving with it, not letting people get away with it. I definitely think the world is getting healthier. It just takes time."
+
+
+


Image credit (article): Tadamasa Iguchi
Words: Dhruva Balram
Tags
Join Our Mailing List