Khruangbin Aren't Defined By Their Quirks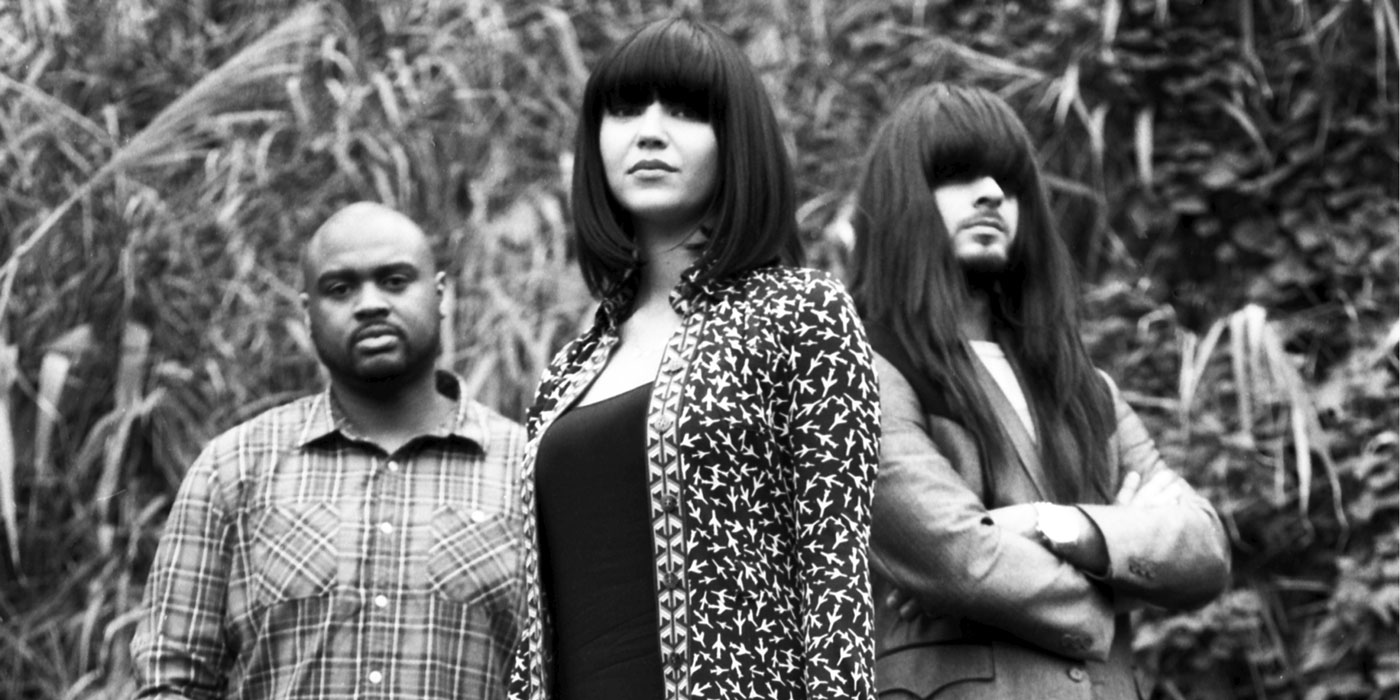 12 December 2017
For most, Khruangbin are defined by their idiosyncrasies. Whether it's their take on Thai-funk-rock or where they record music (in a barn in rural Texas), their particular quirks seem to hang over them. But, it's their closeness, their togetherness as a band coupled with their chemistry that truly characterises the 3-piece band.
Boasting Mark Speer on guitar, Laura Lee on bass and Donald Johnson (DJ) on drums, Khruangbin take their name from the Thai word meaning 'engine fly'. Drawing inspiration from movie scores, gospel music, 60s funk, hip-hop and a whole lot more, the band's diverse palette is tangible on record, epitomised by their 2015 debut album 'The Universe Smiles Upon You'. The varying influences the 3 artists had growing up is evident on the album with Mark having listened to, "The Isleys, Prince, Takeshi Terauchi, Junjo Lawes and Roy Ayers" while DJ paid homage to his time playing in church, "My musical background is the church. Grew up playing drums there; later transitioned to playing keyboards and bass."
Laura Lee, the bassist who manages to anchor the bands sound with her graceful melodies, took the long way around to be a musician. Growing up wanting to be an artist, she worked in galleries her entire life and went to architecture school before a bout of insomnia changed her life, "Music was the fuel for my imagination, and the more interesting or unusual the sounds I could dig up, the more interesting my work became. It wasn't until I had a bad bout of insomnia at 20 that I picked up the bass. I practiced in the middle of the night when everyone was asleep and realised in those moments that music had the power to express everything I wanted to say as an artist. That's when the real obsession began."
And that infatuation with music and art was what brought the 3 members together. DJ and Mark met playing in a church together in Houston, sharing "a common love of different kinds of music, delicious burgers and Mexican Coca-Cola." Laura then Mark years later through his roommate and noticed Mark was "watching a documentary on Afghani music. I'd been working on my thesis in art history of the Ancient Near East at the time, so we instantly became friends. Then I started crashing Mark and DJ's hangouts after church rehearsal and the three of us have been friends ever since."
Creating dreamy, psychedelia music, their sound has developed over time from enthusiastic dream-funk to a calm kaleidoscopic music.
Having had a spotlight placed on them with Bonobo's remix of their track on his Late Night Tales record, Khruangbin developed on the road as the spotlight was shone on them so quickly initially, "There's really no bond closer than musicians constantly on the road together. We knew each other as friends before, but playing together every night means we know each other more deeply and more intimately every show," said Laura Lee. "So when we made our second record, it wasn't just as three musicians — it now sounds like a reflection of each of us, not just as a band but as a family."
Mark elaborated further, "Nothing can or should stay the same. The only constant in this vast universe is change. Everything I hear, I try to figure out a way to put it into what we do. I think our sound has become more refined over the years, and we try new things, but we really want to keep that feeling of newness we felt when we first started the band."
And on their journey of change, Laura found herself living in London for a few years while DJ and Mark were still kicking it in Texas. Though this would inhibit other musicians Mark said nothing really changed when it comes to creating music, "It starts with a big bank of classic breaks and drum loops that I've collected over the years. I send them to Laura Lee, she picks one, and then she'll make up something on the bass and send it back to me. I'll play [the] guitar over it and chop it up in a computer program. Then send that to DJ and he puts his own spin on the drums. When it comes time to record, we get together and learn the parts and play it. Usually, we get it in around three takes."
And this harmony is evident in their live performance, an experienced backed up by Laura, "there's an unspoken connection between us now. I can just glance over at DJ and know exactly what he's thinking, or hear Mark give a certain cue, and we pick up his mood. It's like it's own language."
Overflowing with spirit, simultaneously worldly and personal without falling into the trap of being too meandering, they're one of the most exciting bands making music at the moment. And they'll be playing at Magnetic Fields Festival in 2017.

+
+
+
Image credit (thumb + banner): Mary Kang
Words: Dhruva Balram
Tags
Join Our Mailing List