A Guide To The Experiences At #MagFields2017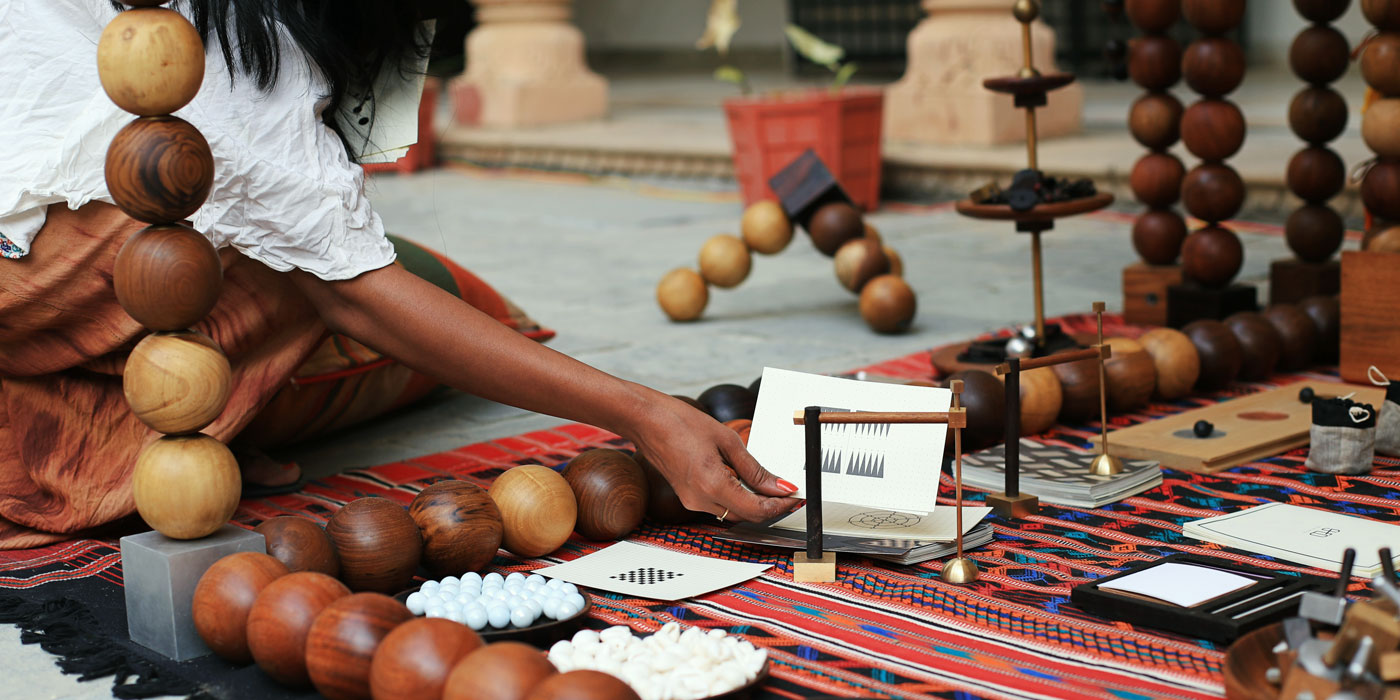 11 December 2017
Future-facing, forward-thinking festivals are the ones that push boundaries, the events that look outside of focusing on just the music. This is particularly true for Magnetic Fields - a 3-day event that runs morning and night for 3 days.
A fully immersive experience, there's a certain atmosphere that's created for the audience centered around a specific theme chosen months ahead. You're not just surrounded by incredible music for the duration of the festival but installations, experiences and art that engages all your senses.
An all-encompassing, 3-day experience of community and art, #MagFields2017 has more installations, more food and more interactions and experiences than ever before. All of it centres around the theme - The Laws of Attraction; focusing on the physical, the spiritual and the scientific.
We've listed below a comprehensive guide to all the art and experiences at the festival. If you're curious about the lineup, you can head here.
Magnetic Sanctuary

Installations
Figment Of Imagination
Lie under a sky full of dreams in this installation that uses lights and abstract colour patterns to manifest pleasant thoughts.
Oculus Orion
Orion's symbolism scales across every religion and culture. He is the uniting wanderer across the night's sky and believed to be the source of higher consciousness.
A viewpoint perspective light sculpture. The seating area viewpoint is set to the same scale as the great pyramid of Giza. From this point, all the elements align to illuminate the viewer in the constellation of Orion. The great pyramids in Giza align with Orion's belt and are proportional to the sun, moon and earth.
Desert Aquarium
Playing with the paradox. Questioning the geographical history of the dunes and re-imagining it as a 'sand sea', where magical creatures and organisms once thrived; the Desert Aquarium has been constructed as a museum to house these creatures.
Showcases
Photographing the Female X Magnetic Fields Exhibition
The collective worked with the girls and women of Alsisar giving them an opportunity to engage with the arts and tell stories of their own. They were given disposable cameras with which they explored their surrounds and the photographic medium.
As a final exhibition, this collaborative effort is showcased at Magnetic Fields giving festival goers a unique chance to gain a deeper understanding of and engage with the surrounding cultural context of the festival.
Showcase: Folk Musicians & Indigenous Instruments Of India
Head to the Puqaar stage on Friday and Saturday evening to get acquainted with the enchanting sounds of rural India. A showcase of unique styles and instruments from the heart of Rajasthan and Gujarat taking place on Friday and Saturday.
Library Of Love
Find folded in intimate corners of the palace and desert- love spells curated from Shilo Shiv Suleman's personal library of love - drawing from ancient Sanskrit erotica of lotus lips and rosehips to new diasporic incantations. Write a love spell of your own too.
Murals by Dirty Elmo and Idamaria
Tattoo artist Idamaria comes from the arctic circle in Sweden. She mixes traditional techniques with a lot of detailing, pattern and colours. Idamaria loves painting walls and gets inspired by the northern lights and snowflake patterns.
Elmo is an artist from the Swedish forests whose paintings derive from single line drawings. His work focuses on nature, animals and humanity's connection with them, all one, all equal.
Elmo travels the world paintings walls and returns to Magnetic Fields for the second year in a row.
Magnetic Words
A concept launched to major success last year, we've invited some of India's finest journalists, performers, artists and activists to not just dance under the stars with us but share their worlds with us through talks, spoken word and video. Over the course of Saturday and Sunday afternoon, we'll be transforming the palace dungeon into an incubator of ideas, laughter and intrigue. As each speaker takes to the stage, prepare to be transported to unknown lands and shown dazzling possibilities. Get more details here.
Workshops
Stargazing
Experience the magic of centuries gone by through the lens of a telescope, with wonders like the winter constellations: Orion, Leo and Gemini; glowing, iridescent nebulae and even the Andromeda galaxy if you're lucky. Search the galaxies with our resident experts 8pm-10pm on Friday, Saturday & Sunday on the palace rooftop.

Body Painting
Visual artist and graphic designer Nikhar Daniel will be combining art and science-fiction in her take on sigil symbols. She will be painting bodies with these symbols as a way to interpret the Laws Of Attraction. Saturday & Sunday in the tipis.
Dream Catcher Workshop
Learn how to make your very own dream catcher and gain a deeper understanding of their history and significance. Saturday & Sunday in the tipis.
SHRINGAAR
SHRINGAAR aims to elevate your look with festival bling designed specifically around the theme Laws Of Attraction. Bringing you extraordinary shimmer and sparkles, it'll be a whole host of fun. Taking place on saturday & sunday in the tipis.
Magical Nails
Editorial and sessions manicurist from London Maddi will be offering fellow Magnetic Fielders magnificent and magical nail designs. Find her in the tipis…
Lost Twins: Interactive Body Art Game
A game inspired by the lost siblings at the Kumbh Mela. Get a piece of body art and find your long lost twin at the festival - a great way to connect and meet new people.
Spin-O-Sphere
Games, spinning tops and a jewellry showcase - feel free to play, interact and get lost in it. Choose from a host of components that can form spinning tops or jewellry. Friday, Saturday and Sunday in the Palace.
Yoga
A favourite at the festival, taking place on Saturday and Sunday, Delhi-based yogi and psychologist Priyanjali will lead the classes. Come stretch your aching limbs and get your body ready for another full day and night of dancing until dawn.
Massage Workshops
Bring a partner or friend along to this hands-on workshop where you will be introduced to the fundamentals of Swedish relaxation massage with body reader and ailment-soother, Gwen Wregar.
Aromatherapy & Essential Oils
Meraki will be leading workshops on the use of essential oils as well as the benefits of aromatherapy in a world full of hustle and bustle.
Progressive Muscle Relaxation Workshops
Prachi Gangwani, who has also been a yoga instructor at Magnetic Fields in the past, will be leading classes based on the principle that stress or anxiety leads to muscular tension, and releasing this tension can help manage stress and relieve anxiety.
Mandala Making
The word 'mandala' means 'circle' in Sanskrit and represents wholeness. The process of creating this sacred geometry allows access to the deeper levels of the unconscious mind and promotes release, harmony and unity.
Hang Therapy
Returning for round two will be Hang Therapy with Prasheen Lodhia. In this unique immersion experience, sound is used as a tool to access deeper states of relaxation and consciousness.
Tea Whispering
In this workshop, second generation tea sommelier Anamika Singh will teach you everything you need to know about making perfect tea, the art of steeping tea for health and wellness and, of course, make you taste lots of tea.
Open Group
TATVA are hosting an open group in the Sanctuary. A dedicated and relational space for guests to share the diverse experiences of being at a festival.
Nappa Dori Treasure Hunt
A favourite amongst attendees, this popular interaction takes you on a journey throughout the castle. A quest that will require your utmost perseverance, the one with the most wits and enthusiasm will find themselves with exclusive Nappa Dori gear and a free ride to next years festival. Not for the weary or faint-hearted.
Food
Every year, festival attendees are spoilt for choices and this year is certainly no different. The range of choices have expanded in 2017 with a balance of comfort food, decadent treats, healthy options and snacks to keep you dancing throughout the festival. Asian Haus (Asian street food), Fat Lulu's (pizza's), Artisan Meats (cold cuts), Bhajan Dhaba (organic vegeterian cuisine), Amma's Haus (South Indian cuisine), Festival by Bakermania (baked goods) will be handling all the food at the festival. While Jaipur Modern x Organic Farmers Co will be bringing 'Farmacie' to the palace rooftop offering vegan and gluten free options.
Prepare
Before you pack your bags and set off: a few reminders.
Make sure you bring lip balm so the wintry winds of the desert don't damage them. Get an adequate sleeping bag or blanket to keep yourself warm; it's a yearly reminder that some attendees don't heed. Don't spoil your experience by forgetting your sweatshirt at home. The days may be comfortable and sunny, but night temperatures drop rapidly, so stay warm; stay hydrated.
And another yearly reminder: no weapons, firearms or narcotics on site - Magnetic Fields isn't that kind of festival. There will be small lockers on site for essentials and valuables but anything else should be kept under lock and key - bring your own, if you feel it's needed.
Apart from that, be good neighbours to each other. Eat well and lots. Stay hydrated. Respect each other, use sunscreen and say hello to Tatva.
Get ready for an unforgettable experience you're not bound to have anywhere else anytime soon.
+
+
+

Installation in the picture: The Shed
Image credit (thumb + banner): Aastha Johri
Tags
Join Our Mailing List