From The Ground Up: A Lunchtime Conversation About Radio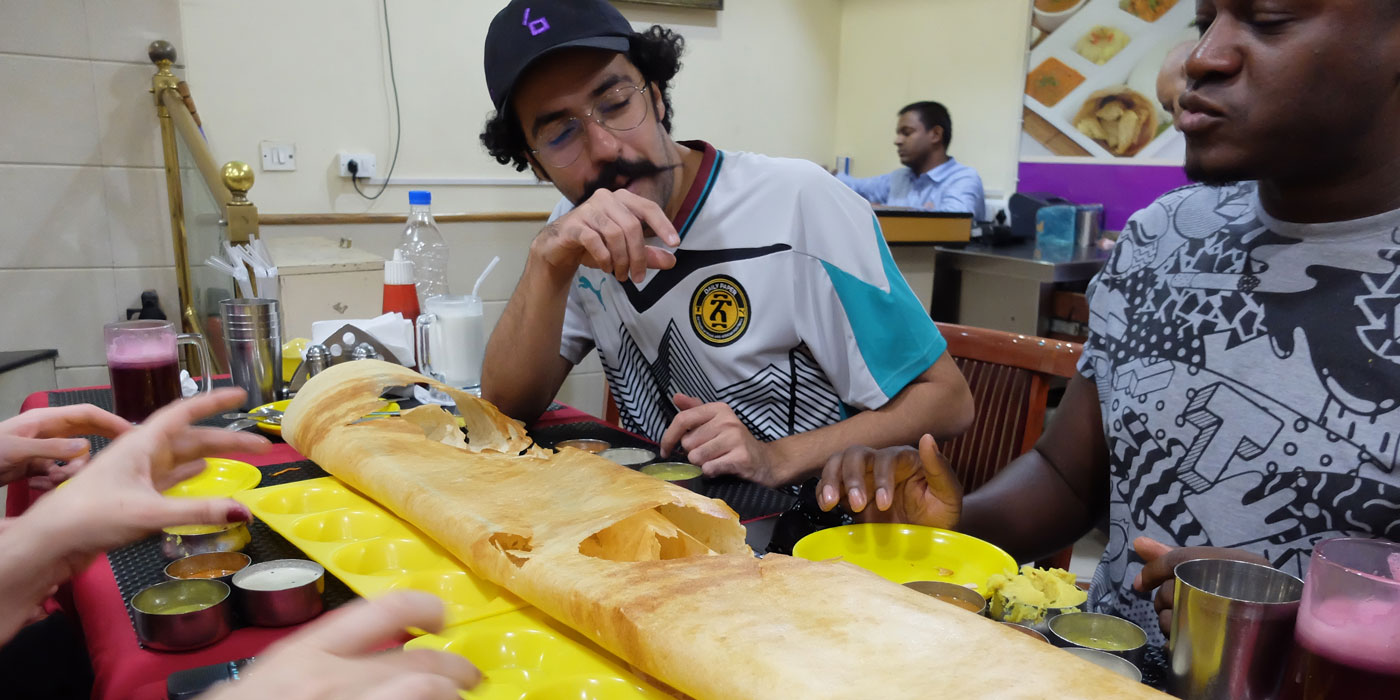 23 October 2017
"The thing with radio is that it helps the artists develop in different ways," Roska, label-owner and DJ and producer from London, said over a 5 ft long dosa. "When you got peers around you, when you got artists doing different things, it edges you on to do more and pushes you further."
Roska was sitting alongside longstanding NTS resident Tim Parker, and Mohammed Abood, co-founder of India's first online community radio station boxout.fm. The trio were speaking to Munbir and Sarah Chawla, co-founders of Wild City and Magnetic Fields Festival about all things radio, from starting your musical journey on to building a station and culture whilst actually sustaining radio in this day and age.
The dosa, which took up two tables end-to-end, served as the catalyst for the conversation. As uttapams, vada and other South Indian snacks made their way onto the table, Roska elaborated on his earlier point. "Look at Wiley, man. He was on pirate radio and look at where is now. It's an interesting thing to watch [an artist's rise]."
Parker, whose show 'You'll Soon Know' has been a regular on NTS for nearly a decade now, reiterated Roska's point: "So many people from the start, like myself, hadn't properly done radio when we first started. Having other people around consistently helped the technical side and taught us how to be more professional."
Roska, scooping dosa and rasam into his mouth, agreed, "Because it [radio] allows you to make your own path and have a genuine following and a legitimate one." Citing his own rise at Rinse FM, he said, "I went from listening to it to being on it."
Tim Parker who asked NTS when they first started whether he could have a show, had a chat with the founding members describing his intention. They agreed to give a young upstart a chance, giving him the platform to make a name for himself and perhaps the reason for him to be around this table. Roska, who started hosting radio shows in 2008, described how at that time "if you were on radio, you really wanted to be on radio because you had to pay to be on the radio."
Paying 10 pounds per show, Roska would pay 40 quid a month to spin tunes on Rinse FM which allowed him to establish a sound and then, garner a name for himself. A name, which a decade later, sends him around the world from New Delhi to New Zealand playing shows to crowds eager to to hear his distinctive sound.
But it wasn't an easy ride for the artists to get to where they are now - something boxout.fm is currently managing in various ways. "No-one from our generation is tuning in to FM radio, at least in India," said Abood. "How many people do you know listen to the radio?"
Despite having a successful weekly residency at Summer House Cafe in New Delhi along with a regular events at Socials in Mumbai and New Delhi, Abood stated that "people still have no idea what we do. They don't realise we're a fully functioning radio station."
"You have 3-5 places you go to get your music," he elaborated. "Now, how're you going to trust somebody to curate your source of music? That's the biggest challenge we have. We're trying to show individuals that curated music is the best to trust."

boxout.fm officially completed six months recently, throwing a launch party for their newly-established label Boxout.fm Recordings to celebrate. And the numbers are steadily growing with more people tuning into the station every month.
Parker faced a similar problem with NTS 7 years ago. "On day 1, there were no listeners, nothing. Now, having someone from Argentina in some small bar listen to you, having it on in the background. That's just bonkers."
It's a slow, steady climb but radio is a crucial part of any creative culture. It helps elevate the culture, giving artists a chance to go on and experiment with music within a space. Abood told Parker how, for him (and surely many others), "NTS is definitely a culture."
Parker responded by delving into NTS' stance on the community, "As much as NTS has a techno show, a house show or a hip-hop show, there are so many members of that community old and young doing their specific thing, like talk shows -- things that they are passionate about and ever since they've started, even though they've got bigger names, they haven't kicked off these original people who were originally there and part of the rise As the community became established, people have helped it to grow."
Abood added "It's not my thing. It's our thing. We're trying to show individuals that curate music that become the ones to trust."
Radio is a crucial element to the creative culture of a city. It helps give it a voice, a centre for artists, designers, musicians, writers to flock around. And when radio grows, reaching far-flung places, the people who have invested their time, money, tears and sweat into it can see the dot on the map slowly expanding.
Though album and track premieres occur more regularly on blogs and mainstream platforms like BBC Radio, stations like NTS, Rinse FM and boxout.fm have had to come up with creative ways to help keep themselves sustainable. The model to pay to be on the radio is dead. With the Internet allowing you to put your music into the world without the help of anyone. boxout.fm throw events and parties, launch record labels and continue to strive to beat the odds along the way. NTS have their own way of doing it and so does Rinse. But, at the end of the day, it comes down to patience.
"You have to be willing to do it for yourself," said Parker. "No guarantees anything's going to come out of it."
Roska agreed, "There are a lot of artists happy to do just radio; they don't want to push their careers that far. It's about patience and consistency. Everyone wants things done tomorrow, like go from this point to that point in such a short period."
As the dosa depleted into its last bites, the true importance of radio came to the fore when Abood confessed, "It's the second dosa of life. Second dosa ever. I don't eat dosa. I do it for the radio."
Words: Dhruva Balram
Image credit (all): Munbir Chawla
Tags
Join Our Mailing List