Interview: Hard Kaur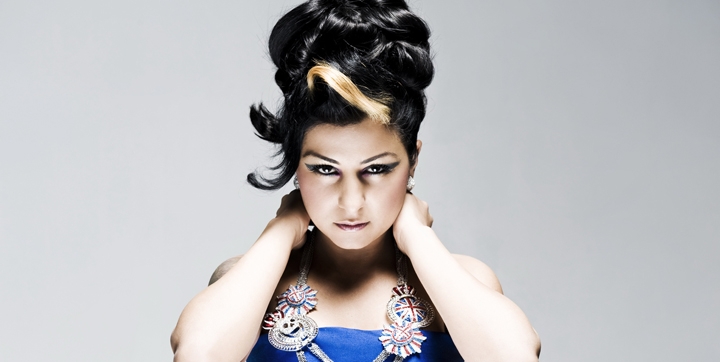 These days it's hard to have a conversation and include the terms hip-hop and India without the mention of Indian hip-hop sensation Hard Kaur. The self proclaimed face of hip-hop in India, has managed to introduce the genre to great heights by giving it a pop sensibility, quickly absorbed nationwide and given its own unique twist, having been used in some of the biggest Bollywood blockbusters to date.
The tri-lingual songstress' musical journey began in her birth place of India however it was her arrival in Birmingham in 1991 when she immersed herself in a different type of universal language to compensate for having no English language skills; music, eventually moving on on to hip-hop.
"I fell in love with hip-hop music because it was so real. You could say and be how ever you want and I'd finally found my voice. I also learnt a lot of English through it." she explains.
Hard Kaur is currently working on her second as yet unnamed album, a follow up to her 2007 debut Supawoman, due for release early next year. In the interim she is set to release her latest single Desi Dance featuring Eminems partners in crime D12.
We caught up with her to talk about about life, hip-hop, and the new album.
You've kept things varied and exciting over the last few years in both the UK and India; from winning awards to appearing in film and TV while still being an active musician. Tell us about your journey...
Yeah, it's been great and I feel very blessed, especially from the love and respect I get from my fans all around the globe. I've always believed that when you work hard it always pays off. I love music and am fortunate enough to make a career out of it. I love performing and that's how I get to meet so many wonderful people around the world. In other words the journey has been fantastic.
What made you decide it was time to get back in the studio to record a new album?
Well I never really stop recording, I'm always in the studio - I keep experimenting with new tracks all the time. As well as the album I've got a mixtape too but don't know when to put that out. The album is ready, we're just in the middle of sorting out paperwork and commercial crap.
How did you get into hip-hop? Was there a specific album/artist?
It was actually the first time I saw my first hip-hop video on TV; Lords Of The underground - Chief Rocka. I had some crazy rush, like I just knew that I loved this style and wanted to rap.
I went out and bought my first few albums from artists like Wu-tang Clan, Keith Murray, Nas and A Tribe Called Quest. I basically started listening to this shit and researching the world of hip-hop, the artists and everything I'd missed out on from its early days. I wanted to learn my art form and not just be a novelty wannabe rap artist.
You've been working with hip-hop stars D12, how did that happen and what were they like?
Yeah it was great. My publicist back in the UK hooked that up. The boys wanted to hear what I sounded like before they worked with me. When they did, they happily called me to come and record with them in the US. That was it. I was on the first plane to Detroit to record the track with them. The track is called "Desi Dance" and it will be included on the new album. We also recently shot the video for the track in London.
Tell us about the album, how has it progressed/developed from your work in Supawoman?
The next album is totally different to Supawoman as I'm in a totally different place in my life right now. Of course I'll still have hardcore elements and big tunes but will tell a different story. I definitely expressed my pain and struggles on Supawoman as that album was dedicated to my mum and all mums who have worked hard and are super women. This album is more about what I'm on now. I realised that I actually make music that makes people happy. For now I'm glad continuing to do that.
Are there any collaborations that we can look forward to on your new album?
I'm constantly changing around the tracks all the time so it's a bit difficult to say for sure. As for collaborations of course I have D12. I also recorded a track with Richa Sharma and worked with a number of producers including Tigerstyle, D Boy, Abhijit Vaghani and Buddyrock. For more you'll just have to go and buy the album!
Do you have a favorite track, or a track that holds a special place for you?
Yeah, there's one track called "For the love of hip-hop" which is very special to me but then again all the tracks are special to me.
What do you think about the hip-hop scene in India?
There is a massive following of hip-hop heads in India, as well as many who don't actually understand it fully, but still enjoy it. I've heard a couple of guys rap and have been seriously disappointed. On the other hand, the whole lifestyle and performing arts (dance) has shot up to a high standard. I've seen so many amazing breakers/Bboys and great performers doing their thing. Definitely the right direction for this country - it's still really difficult to say as many people are still finding it hard to be creative and do things the way they want.
Where do you see it going?
We need to respect the art form and give it as much value as other things. I would like to say to upcoming rappers and DJ's, please please practice your shit and be creative and different. Don't try to copy or be something that you ain't. There's a fabulous world and great opportunities waiting for you. Achieve them with talent, power and respect.
There seems to be a lot of international hip-hop and R&B artists currently getting involved with Bollywood; from Snoop Dogg to Akon and Ludicrous. What do you think about this?
I think it's great that all these collaborations are happening but are they happening in the right way? Hmm. I love that we are getting to see many acts that we would never get to see in India but if you're going to work with a US act, at least get the tunes right!
Which hip-hop act would you most like to see in India?
I would love love love to see Lil Wayne and Kanye West perform in India. You know I'll be there!
What are your plans for the next year? Any gigs lined up that we should know about?
Right now I'm about to kick off a national tour across India, followed by U.S.A, Canada and Australia. I'll always be doing what I do and what happens next year - Only God knows.
The Same 3 Questions:
3 most inspirational artists:
Busta Rhymes
KRS-1
Mos Def
3 favourite albums of all time:
Muddy Waters - Redman
Greatest Hits - Gang starr (Guru)
When Disaster Strikes - Busta Rhymes

Favourite 3 artists of the moment:
Lil Wayne
Chris Brown
Duffy
Tags
Join Our Mailing List