A Comprehensive Guide To The Art & Experiences At Magnetic Fields 2019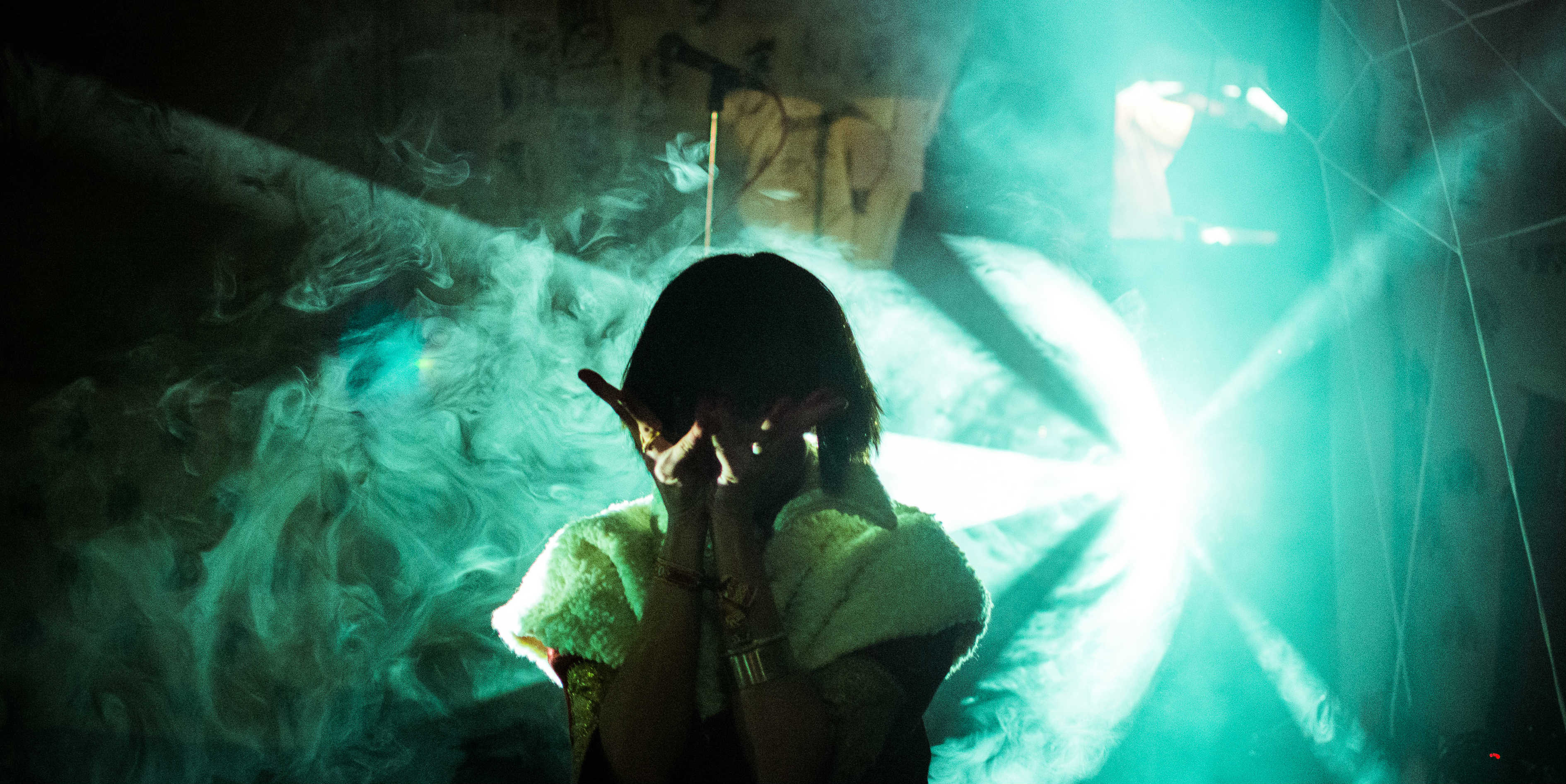 10 December 2019
Ever since it was conceptualised, Magnetic Fields has always been more than just a music festival. Within the fairy-tale confines of Alsisar Mahal in Rajasthan, nestled in the heart of the desert, the festival promises an unforgettable, all-encompassing experience to all revellers.
At the helm of the festival's repertoire is its focus on contemporary art, culture, and experiences. This year, with the theme as the number Seven – to coincide with the seventh edition of the festival – you can expect to find installations, showcases, workshops and activities that will consume all your senses (even the seventh).
Scroll down to navigate through all the experiences that await you at the festival this weekend (December 13-15). And keep an eye and ear out for our comprehensive guide to the music at Magnetic Fields.
Magnetic Experiences
Treasure Hunt
The infamous treasure hunt is an annual tradition that engages festival goers over all three days of the festival. It's open to everyone, absolutely free to attend, and bound to be a treasure trove of fun.
"A path has been weaved within the walls and sands of Alsisar Mahal. A quest that will require your utmost perseverance over the three days of the festival. Follow the clues and meet the bearers of the secrets, and in due course, the chosen shall be rewarded. Not for the weary or faint hearted."
Puqaar
An annual highlight at the festival, Puqaar returns to the palace this year for two magical evenings on Friday and Saturday at the palace rooftop and the palace courtyard. Witness a snapshot of the dying artform of Pabuji Ki Phad, and surreal performances by folk artists.
SHED
Feel free to play, interact or get lost in the palace central courtyard with SHED's unique wooden games, shadow puppets and spinning tops inspired by ancient Indian games.
Fieldlines Studio Installation
'Fieldlines' is an immersive residency taking place in the week running up to the festival at Alsisar Mahal where international and Indian sound artists will live and work together, alongside traditional folk musicians from the region. Throughout the duration of Magnetic Fields, the residency's project studio at the picturesque Badal Mahal will be transformed into a live installation with improvised jam sessions and screenings that festival goers can interact with.
Boxout.fm Record Store at Magnetic Fields 2019. Image by Mohit Mukhi.
Dragery Takes The Floor
Amidst the carnival of good vibes, sparkles, smiles and lush tunes on Sunday Night during 'Paradise at the Peacock Club', New Delhi-based queer gathering Dragery, that explores gender, identity, fetish, desire through the form of drag, will be taking the dancefloor. 'Dragery Takes The Floor' challenges representation of drag in India and hopes to push for more queer visibility in mainstream nightlife. The category is 'Animism' and Dragery's performers will channel mythical animal energy into the heaving dance floor. Raise your tails, fins, wings and fangs!
Boxout.fm Radio Pop-Up
For the first time ever, boxout.fm are bringing their travelling pop-up radio broadcast to the palace grounds, where festival goers can drop by to catch interviews with artists from the lineup, alongside live-streamed DJ sets, from and boxout.fm show hosts.
Boxout.fm Record Store
Lovers of all things wax must dig through the crates for gems at boxout.fm's pop-up vinyl shop.
Cosmic Disco Bar
Hosted by Stalvart John and Farhan Rehman alongside Goa-based bartender Fay Baretto, the Magnetic Disco Bar is where you can sip on delicious cocktails, tap your toes and swing your hips to boogie-licious disco tunes.
Bumble Hive
Social networking and dating app Bumble will be helping make the weekend fun for everyone by helping attendees get that perfect, quintessential festival look. (We hear there's glitter involved.)
O Pedro's Beach Bar: A Slice Of Sea In The Dunes
A popular watering hole back in Mumbai, O Pedro is carrying all its sea-inspired Goan charm to the middle of the dunes. Expect to sip on heady cocktails based on amusing inhabitants of the sea.
Ray-Ban Studios Hub
Ray-Ban Studios will be getting up close and personal with the defining music artists of today, offering a rare, backstage glimpse into their life, sound and style at the festival. Attendees can also learn more about Ray-Ban's collaboration with legendary house DJ, Honey Dijon, capture memorable gifs and create their own beats at the in-house music track lab.
VR Showcase 'Stories From Down Under' by UnBox at Magnetic Fields 2018. Image by Polina Schapova.
Installations & Showcases
VR Kino
UnBox is returning to the festival this year with another showcase of award-winning Virtual Reality films from India and across the world. Curated by Future Fiction, VR Kino will enable one to understand how the medium empowers storytelling by teleporting them into realms of dreams, fantasy and interpretations of heritage, with films like: Aravani Art Project, Bambaiyya VR, Dreams Of The Jaguar's Daughter, Blood Speaks, and Vikram and Betaal VR.
Helical Dreams
This mysterious tent is a suite of improvised actions, drawings, dance, light projections and sound; constantly being manipulated to create an immersive, transformative and elevated experience. The development of meanings and relations between the tent, artists and audiences will be created in the moment as different artistic languages blend and collide. Featuring: Violet Lisboa, Romain Loustau, Lucifer's Ensemble, Shivani Gupta and Lara Beswick.
Sea of Serenity
Sea of Serenity, with Pierre (Pyaré) Friquet takes place in the body of a teenager who listens to the live radio programme on the historic event of the first steps on the moon 50 years ago. The voyage invites viewers into unexpected trajectories from the Earth to the surface of the moon, where the last Apollo 11 mission landed.
Art Cinema + HH Gallery
This unique tent in the desert will engage your senses with irresistible works of art from the HH Art Spaces collection, and a selection of video art works from the Art C Foundation.
we keep dipping in and out of connectivity
Using charcoal, pastels and fabric, Madhavi Gore will be moving around different parts of Alsisar Mahal during the festival, capturing the various textured surfaces of the palace to form an energy record that will be converted into a map of space-time, a memory trace, a stage backdrop, or a soft sculptural work flowing in the wind.
Bodies of the Desert
As Helical Dreams crafts mysterious, visually thrilling performances inside the tent, you can find Avian D'Souza physically encapsulating the performances on the outside, with the tent as his canvas.
Seven Voids
Drawing inspiration from the traditional Indian charpai, this installation by The Architecture Story explores the idea of a bed as a social space that enables sharing, socialising and resting.
The Seventh Sense
Attendees can explore, interact and play with the seven elements of art in the palace courtyard with this interactive installation by Zabraku, which explores the Law of Seven using skeleton detection and motion sensing.
Sublime Landscapes
A blissful experience brings the human mind into the present. The objective of Urvashi Singh's live painting is to engulf the viewer into sublime landscapes of our vast ocean where time stands still.
Magnetic Sanctuary at Magnetic Fields 2018. Image by Aman Sridhar.
Magnetic Sanctuary
An informal space open to guests all day on Saturday and Sunday, the Magnetic Sanctuary is a chill decompression zone that serves as a retreat from the bustle of festival life. Bringing ancient knowledge and wellness practices to Magnetic Fields, this alcohol-free space festival is ideal to ease your sore body with an Ayurvedic massage, custom-blend an essential oil fragrance, learn to dye with natural pigments, immerse yourself in a calming gong bath, or just relax until you're ready to return to the dancefloor.
Attendees will be able to enjoy: Farasha with Priyanjali & Dhruv, which combines the knowledge of psycho-acoustics, harmonic science and integrative restoration (iRest) therapy; one-on-one aromatherapy consultations with Shubhra Chaturvedi, who will work with different custom diffuser blends; Ayurvedic massages that combine deep tissue massage with coordinated breathing and yoga with Rosario Belmonte; healing gong baths with gong yogi, sound artist and gong teacher Sanj Hall; a natural dyeing workshop with 11.11/eleven eleven where you can learn the history of natural dyes and unravel the secret of colour through the ages; the futuristic world of Biofield viewer workshop with biofield sciences, where you can visualise the body's energy states and chakras through a non-linear imaging system; an installation with synesthesia of the chakras; and all kinds of peace, quiet and calm.
Magnetic Words
A concept launched to major success three years ago, Magnetic Fields has invited some of India's finest journalists, performers, artists and activists to not just dance under the stars but share their worlds with attendees through talks, spoken word and video. Over the course of Saturday and Sunday afternoon, the festival will be transforming The Peacock Club into an incubator of ideas, laughter and intrigue.
The theme for Magnetic Words 2019 is the seven sins – pride, envy, wrath, gluttony, lust, sloth, and greed – how we live with them, and even revel in them.
You can join tattoo enthusiast, truffle hunter, bacon connoisseur and the first Indian community ambassador for Jameson Whiskey, Kunal Chandra, as he talks about the food in art through the ages; Scroll.in Associate Editor Rohan Venkataramakrishnan on his talk about how greed underpins everything from global tech to Indian politics; and aromatherapist and Meraki Essentials co-founder Shubhra Chaturvedi, who breaks down the connections between mind, body and soul, and why sometimes being lazy isn't a sin.
Ashmeet Kapoor, founder of I Say Organic, will be breaking down how his organic company, which is focused on ecological agriculture, has been a journey of self discovery and inspired him to shape all aspects of his life to be in harmony with his beliefs; Azadi Records signees Ahmer, a Kashmiri rapper, and Ali Saffudin, a Kashmiri folk artist, will discuss the pressures of being voices of resistance in Kashmir; while Reshma Qureshi, who is an acid attack survivor, activist, vlogger and author of her memoir 'Being Reshma', will talk about her journey as an acid attack survivor and tackle representation, identity and the concept of beauty and what it means to her.
In a world full of quick fixes, we find it hard to battle expectations and shine in our own light – you can learn how actress, storyteller, nutritional therapist and co-founder of Atmosphere Kombucha, Ariella Blank, went about embracing and carving her own culture and what it takes to be whole in a world full of quick fixes; and how singer, actress, model and musician Monica Dogra, meanwhile, fought for space in her external and internal worlds, through a raw and honest account of personal highs and lows.
Magnetic Words 2018. Image by Mohit Mukhi.
Freelance writer, presenter, social media consultant and event curator Elixir Nahar's talk will attempt to demystify the millennial's lust for love and the ever-confusing dating dance. You can also learn about tackling consumerism and focusing on driving conscious, sustainable consumerism – especially fashion – with Karan Kumar, who is a Programme Officer of Sustainable Raw Materials at C&A Foundation; and watch the self-titled eccentric, poet and fashion enthusiast Taksh perform spoken word poetry on taking pride in embracing who you are.
Storytelling, however, doesn't always have to rely on words. This year, we also have some unique performances at Magnetic Words, which will rely on more than words to tell their story. Contemporary dance and researcher Urvi Vora will be performing her satirical, contemporary dance-cum-stand-up-comedy-act 'Society against Kamasutra and Uncouth Men' (S.K.U.M.) that explores lust and desire, and tries to write a new feminist manifesto. Mumbai-based theatre collective Jashn-e-Qalam, which celebrates the brilliance of Hindustani literature, will perform two plays: noted Rajasthani folklorist Vijaydan Detha's 'Fitrati Chor', which will be enacted by Vicky Ahuja, and renowned Hindi writer and journalist Kamleshwar's 'Story, which will be enacted by Shashwita Sharma.
Magnetic Feasts
On Saturday and Sunday afternoons, courtesy Gather & Eat by Anisa Nariman, you can attend the intimate culinary experience of 'Magnetic Feasts Brunch edition' on the picturesque Badal Mahal terrace, making for perfect al fresco dining. No doubt the liveliest brunch in the desert – complete with cocktails and music – diners can expect to be served scrumptious surprises along with brunch classics such as eggs benedict and fluffy pancakes.
The menu is available in non-vegetarian, vegetarian, and vegan options. Spots are limited – you can head to the Palace main reception for purchase a spot.
Food
Amidst the revelry at the festival, it's crucial that you take time to feed and nourish yourself. Whether you want to fuel up for the dancefloor, replenish your nutrients, or just warm yourself up with a comforting meal, there's a wide array of options to choose from: Fat Lulu's (pizza), Thalaivar (South Indian), Bhajan Dhaba (organic North Indian food), Wok Me (Asian stir-fry), Koyla Kebab (no points for guessing), Greenr Cafe (vegan-friendly food), Mahlzeit Berlin Street Food (the name says it all) and Good Juju (vegan ice cream). You can also find a variety of beverages, courtesy Blue Tokai (coffee), Imagine (cold pressed juices), Bhu (Kombucha), Svami Tonics and Bisleri.
Magnetic Feasts 2018. Image by Polina Schapova.
Prepare
Magnetic Fields festival is barely 3 sleeps away. Excitement is at its absolute peak, but before you head down to Alsisar, there are a few pointers that will make your festival experience all the more enriching.
Every year, there's one thing that we can't stress enough – keep yourself warm. The days in the desert are warm and sunny, but temperatures drop rapidly to single digits once the sun sets and it can get incredibly cold, so make sure to bring your warmest, comfiest hoodies, jackets and socks, and even extra blankets to keep you cosy at night. We would also recommend you keep sunscreen and lip balm handy.
Magnetic Fields is also taking measures towards making the festival sustainable, by going drastic on plastic, and integrating waste management. You can do your part by avoiding littering, properly disposing of your waste, avoiding the use of single use plastics, and being conscious of what you consume at the festival and how. There will also be free water filling stations at the festival, so feel free to bring reusable water bottles.
Other than that, remember: weapons, firearms and narcotics are not permitted on site. Outside alcohol is also strictly prohibited. Remember not to leave your valuables around (there are small locks in the palace for essentials), don't use the pool, don't forget your friends, and most importantly, don't forget to have a good time!
If you feel you or somebody around you are having a tough time, don't hesitate to head to the 24-hour TATVA wellness area in the Bedouin village, or reach out to the organisers and crew members.
As with any festival experience, make sure you stay hydrated, keep yourself fed and nourished, take care of yourself and the people around you, and explore all that the festival has to offer. Being respectful to everyone around you, especially the village of Alsisar, is a pre-requisite. All that remains now is to don on your dancing shoes and and get hyped. We're in for an unforgettable weekend.
For further information on the festival, please head to the festival website.
Image: Aman Sridhar
Tags
Join Our Mailing List