In Conversation With: Machinedrum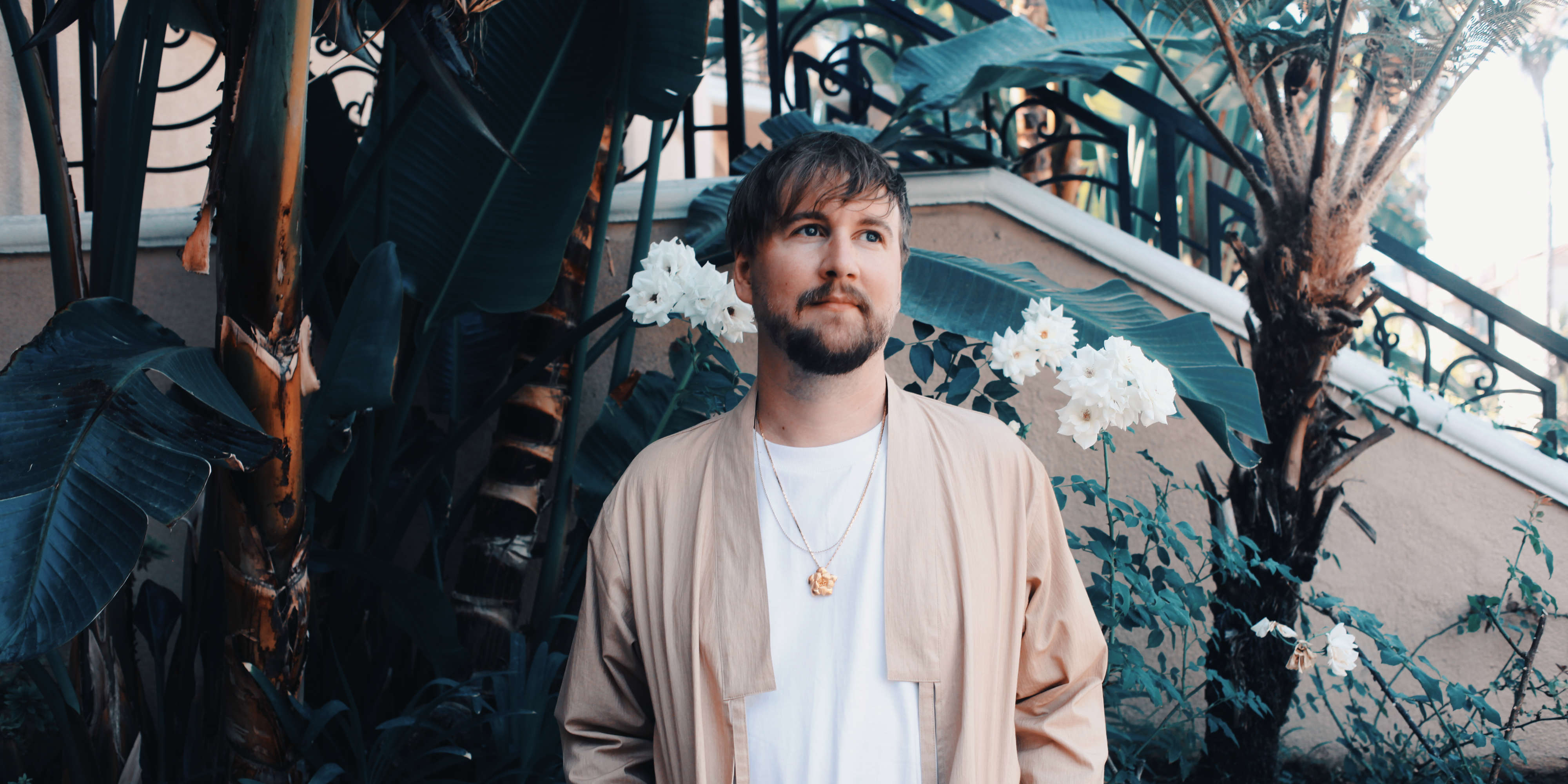 15 November 2019
Whether you believe in fate and destiny or not, the fact that Travis Stewart was conceived at a music festival is hard to dismiss as coincidence. Take a look at his career over the past 20 years (yes, it really has been two decades) and its many contorting, meandering paths, from Syndrone and Tstewart to Machinedrum, to collaborative projects like Sepalcure with Praveen Sharma, JETS with Jimmy Edgar, and Dream Continuum with Om Unit, then take a look at the moment his existence came into being; everything just falls right into place.
It may not just be a matter of destiny, however – nurture played a big role in Stewart being the prolific producer that he is. There are at least three generations of musicians in his family, and last we heard, his grandfather still goes off every Saturday night to play with his country band. Moreover, baby Machinedrum grew up with a baby grand piano, and wrote his first song about his babysitter – the key word here is, of course, "baby", because that's about how old Stewart was when he inadvertently kick-started his career. In fact, at this point, his life may be starting to look less like reality, and more like a Hollywood blockbuster, or a cliché.
Cliché, however, isn't a word you could ever use for his music. Just take a look at his discography: at the seminal 'Roots', the revolutionary 'Want To 1 2?', the intricately-crafted concept universe of 'Vapor City' (released on Ninja Tune) and the optimistic 'Human Energy'. Even when Stewart is experimenting with pop music, like he does in the latest JETS record 'Zoospa', his production never fails to be fiercely unique, excruciatingly meticulous, and, like he told us in our interview, "a buffet of multiple cuisines". From crunchy, textural hip-hop to glittery house to "dance floor blitzkrieg", flabbergasting footwork and bass, glitchy pop and pretty much everything in between, Stewart's all-you-can-eat-sonic-buffet ensures that his audience is well-fed, stuffed to the point of overflowing, and overwhelmingly content.
Which is why, when Disrupt announced that he was part of their lineup, we deemed it imperative that we interview him, about his new-found spirituality, his show in India, and what's happening in his life…
What have you been up to recently?
Mostly I've been finishing a lot of music I've started in the past couple of years. Jimmy Edgar and I have recently wrapped up an EP that drops at the end of November, which I'm quite excited about. Other than that I'm getting ready to create the music for a new TV show called Totenwald.
What are the next few months looking like for you?
As mentioned before I have a new JETS EP dropping, as well as a few releases planned for my label IAMSIAM. A collab with the artist Holly will be coming out early 2020 too.
Your sound – on both 'Human Energy' and 'Zoospa' – seems to be gravitating again towards a glitch-pop and hip-hop-inspired direction.
I've always played around with pop and hip-hop. My first releases as Machinedrum were influenced heavily by hip-hop, so I feel like if anything I'm returning to my roots.
Speaking of pop, as more people from the alternative make it into the mainstream, do you feel like the sensibilities of "pop" music and how it's perceived, have changed?
Pop music is always going through transformations and adaptations. Typically pop music tends to respond to trends and formulas, but every now and then a producer will come along and bring something new and unique to the table. From that point you start to see more people imitate this "new" sound until it becomes a trend.
What do you think of this trend of nostalgia-ridden, throwback music (especially since you mentioned specifically that you didn't want 'Zoospa' to be purely "throwback" music)?
I'm OK with it. I think there's always some sort of throwback trend going on and you'll see producers bringing back an older sound in an updated way. For example in the 90s there were a lot of bands bringing back the sound of the 60s and 70s, in the 2000s there was a big 80s influence happening, and recently a lot of artists are bringing back 90s music. I think it's natural for musicians to tap in to their original influences in order to search for inspiration.
Since you started releasing music, there's been no doubt about how prolific you are as a producer. But you're also one of the most active collaborators in the scene. How do you juggle your time between your solo work and collaborations?
It does tend to be difficult at times but the key is organization and communication. It's become easier to collaborate via dropbox and working out of the same Ableton sessions remotely.
Lately we see you paying a lot of focus on meditation and positive thinking. Is there something specific that prompted that, and does it have any effect on your music?
A beginners type interest in new age or "awakened" spirituality developed during the time of 'Human Energy' and prompted the whole concept of the album, a naive journey through spirituality. It was mostly prompted by friends of mine who were going through their own journeys as well as a general openness to those kind of concepts where I lived in LA. Since then I've become a lot more invested in my own spiritual journey as I've developed an awareness of my thoughts and how those thoughts make me feel. I've had some moments in the past couple of years that made me pause and ask myself "is this how I really want to live? Do I really believe this about myself? Are these thoughts and actions loving to myself or to others? Am I grateful and appreciative enough?" etc. I've since become dedicated to practicing mindfulness and meditation as a form of self therapy and getting to the bottom of some behaviors or habits that I realized were holding me back from growing. I decided that in order for me to grow creatively, spiritually and as a friend, family member and husband I must become more aware of my thoughts and behaviors and actively do the work to change those undesirable traits.
We see the words "discipline" and "routine" often crop up when you address your creative process. What is your creative process now, and how has it evolved with time?
My creative process is mostly the same. I think the biggest change recently has been systematic organization of my sessions, samples and files in general. Another big change has been returning to timeline based drum programming using audio files as opposed to using samplers and midi programming.
You've travelled all over the globe, and lived in a bunch of places. Do the places, and your environment, factor into your music, and how?
I'm finding that I've become less reliant on my external environment to influence or create happiness in my life. I've found new peace and source of inspiration that comes from within.
Tell us about your label IAMSIAM. Do you have a specific approach when you're curating releases for it? Are there any new exciting releases coming up?
There's no specific approach. The main goal with the label has been to provide a place for me to release whatever kind of music that I want without anyone controlling what I release. It's an outlet for many of my collaborations without the expectation of a traditional rollout, such as putting out singles without having to put out an album or touring or anything like that.
Who are some of your favourite artists right now? What's on your playlist?
I've been listening to a lot of Tigran Hamasyan, Tsuruda, Barker, Jacques Greene, Sophie, Jimmy Edgar, Kiefer, Eprom and Haile WSTRN lately.
If you had to equate your music you've made to a specific food, what would it be?
I would say it's more like a buffet of multiple cuisines for you to choose and add together however you like.
What are you most looking forward to doing in India during your visit? What can we expect from your set at Disrupt?
I'm excited about visiting Mumbai for the first time. Unfortunately I don't have a lot of time while I'm there so I won't get to explore much, but I'm still looking forward to it quite a bit! Expect the unexpected.
x
x
**Machinedrum is returning to India next weekend to play at Disrupt festival in Mumbai, which takes place November 23-24. Head here for tickets**
Words: Satvika Kundu
Tags
Join Our Mailing List