Fatima: "I Always Do Me. Don't Know Who Else To Be"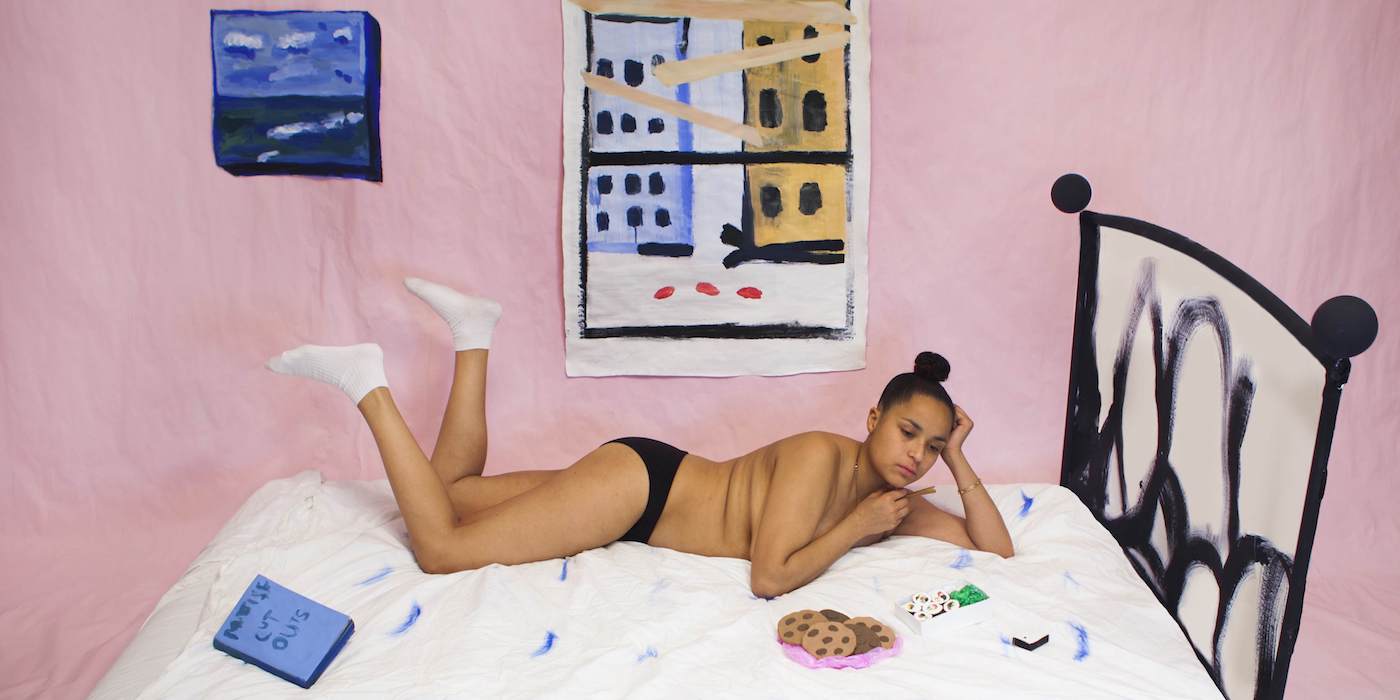 10 October 2019
"It's so stupid, trading self for tripping on cupid / What we're made of, so much sense in getting away now." – the lyrics of 'Dang', the opener of Fatima's latest and second album 'And Yet It's All Love', permeate through my headphones with perfect synchronicity as I read her response in my interview with her: "I've always been writing from an honest place, always done soulful sounding music."
While her singing has been likened to legends like Erykah Badu and Gil Scott, usually backed by productions from the likes of Floating Points, Knxwledge and Dâm-Funk (to name a few), it is this confessional honesty and the passion it inspires that truly sets apart Fatima's own music. "I just do me no matter the scenario. Different productions may inspire my writing and vocal arranging in various ways. However, I always do me. Don't know who else to be," she reiterates. Consequently, there is always a fearless unabashedness in her songs – be it about a crumbling relationship in 'And Yet It's All Love' or about her absent father in 'Gave Me My Name', the closing track from her debut album 'Yellow Memories', Fatima's sincerity towards her music cheats the private life out of her. "Putting my thoughts onto paper lifted a weight off my shoulders as if someone else can feel helped by experiences that positive. That is not what I intended when I wrote –I just wrote whatever was on my mind. Writing songs is almost like writing a diary," she told media outlet Complex.
A listen to 'Gave Me My Name' should suffice as an explanation to why the emotional frankness is so important; why its encapsulating LP became Gilles Peterson's 'Album Of The Year' at the Worldwide award;. how the openness facilitates Fatima to deliver an electrifying performance backed only by an electric piano; how even without any hefty production by her usual heavyweight collaborators, Fatima thrives.
That's not to say that the significance of the production tycoons Fatima is known to work with can be understated. The Swedish singer became somewhat of a cult icon through her collaborations: Floating Points, Dâm-Funk, Computer Jay, Natureboy Flako, Knxwledge, MNDSGN, JD Reid, Taz Arnold, Scoop Deville, DVA, Oh No, Shafiq Husayn … the list goes on.
However, not everything fell into place quite so readily. "Keeping the ball rolling even through the hard times, when the money is low" she recounts as a particular challenge she had to overcome in her career - "You gotta keep a tunnel vision when you're in this walk of life." Moving to London from Stockholm in 2006, Fatima worked at a sneaker store by day before becoming a regular at London's nightlife, frequenting nights at clubs like Plastic People, and DJ and presenter Benji B's Deviation – where she ended up doing live PA sets. It was at these underground clubs where she forged a friendship with DJ and radio host Alexander Nut, who'd go on to co-found Eglo Records, a label that can boast of having Floating Points and Funkineven (among others) on its roster and bringing Fatima to the forefront.
"It helps to have good people on your side, family and friends. We all help each other when needed. I'm very lucky to have these jewels in my life," says Fatima. It was Eglo that pushed Fatima out of her comfort zone (of performing with a DJ), placing her at the helm of their "house band", as well as at the centre of the community of big-shot electronic producers that provide production duties on her songs. "I choose to work with them because they're all truly inspirational beings. I love their different sounds and I like contrasts. Some are friends, friends of friends or just dope people I hit up and cross my fingers," she explains as I enquire into the reason she chooses to work with a wide array of producers. Off the back of her work with the Eglo Live Band and toplining on countless singles, the label released her acclaimed debut album 'Yellow Memories' and things have been uphill ever since – at least, professionally.
The success of the LP and the joys and struggles of touring it live coincided with personal troubles and even fed into it, confesses Fatima in her unabashed manner. "It affected my relationship at the time in some ways. You can hear some hints about it if you listen to the lyrics on 'And Yet It's All Love'." Fatima elaborates it further in a candid interview with Vice: "I was doing shows with my band off the back of 'Yellow Memories' and living in between London and Stockholm. I was in this three-year relationship that had me questioning myself a lot and how I wanna live my life ... Eventually we broke up and I moved back to London. Now I'm just riding that wave and I don't want no-one to mess up my life no more!"

Artwork: Monica Kim Garza
Naturally, the follow-up album 'And Yet It's All Love' is thematically heavier, reflecting on a painful past relationship but with the self-assuredness of someone who has learned the lessons and come out stronger. "Told you not to worry / So much more to love / Eliminate your worries / Find your inner light" she reminds herself on the 1-minute-long 'Note To Self'. Music is, after all, where she synthesises her experience for the positive – her "safe space" as she calls it while explaining the LP's beautiful album artwork by Atlanta-based Mexican-Korean artist Monica Kim Garza. "I came across Monica's art randomly online a few years back and bought a print as a birthday gift for my sister. Fast forward when it was time for me to find suitable artwork for my album, Monica's name popped up in my head. I reached out and she was down for the cause and told me I could pick one of her paintings." Fatima adds, "I feel the one I chose connected well with me because it was a woman (Monica) in her safe space. The album is very self-reflective and personal, so it gelled with the art."
Undeterred from tackling the most sombre of themes, and featuring deep emotionality, the songs on the album – and on Fatima's whole catalog for that matter – are never too dark or gloomy, for she most always approaches them with a light-heartedly positive outlook, an extension of her personality it seems. "I just drink maple syrup everyday and the more I drink, the sweeter my sound gets," she jokes. It's even reflected in the album title 'And Yet It's All Love'. Fatima might not have all the answers about what to make of the negative and positive situations that shaped her and her music, but she knows it all "stemmed from love." The same combination of optimistic assuredness comes across even as she tells me about coming down to India for Neon East Fest this weekend (where she's looking forward to catching the headliners Little Dragon): "I'm super excited to walk on Indian land and it's an honour to be invited. I hope people are open to the music. It's gonna be an adventure for sure!"
-
-
*** Fatima performs at Mumbai's Reliance JIO Garden as part of Neon East Fest 2019 which takes place on October 12 and 13. Head here for more details. ***
Words: Amaan Khan
Image: 3D installation by Jonna Dreiman based on Monica Kim Garza's painting for Fatima's 'And Yet It's All Love'
Tags
Join Our Mailing List