Review: 'Dubfounded' By Ravana & Jumme Khan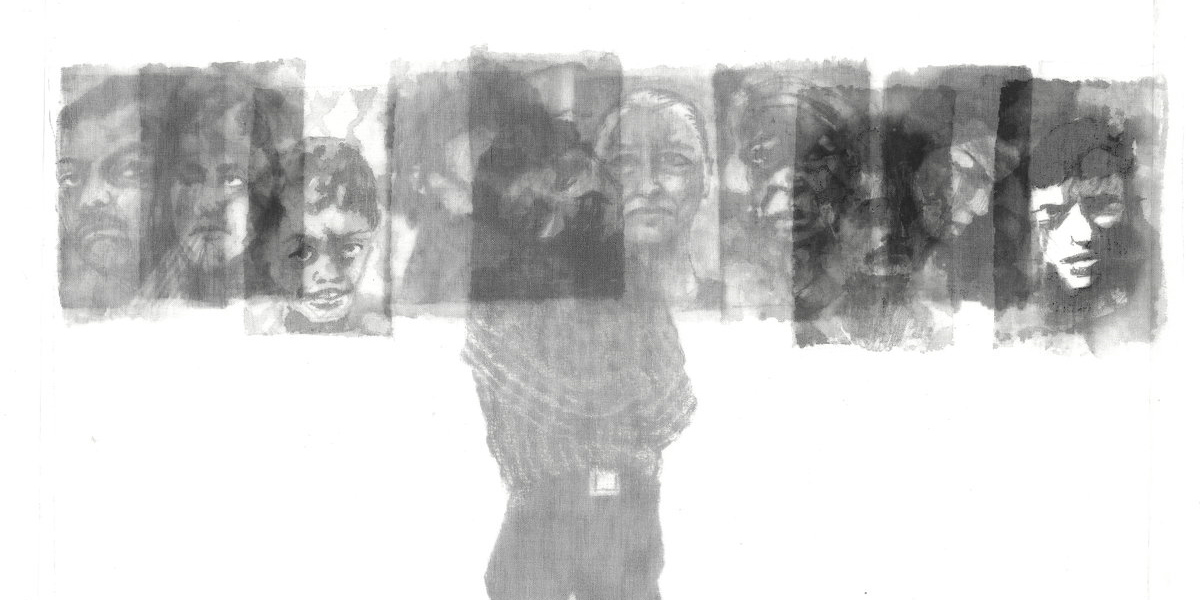 24 April 2019
Before you listen to Ravana's new album 'Dubfounded' with Jumme Khan, before you even comprehend the existence of the album, it's crucial that you first understand Ravana.
It pains me to have to introduce you to Shravan Chellapa and his moniker, because despite him being one of the most – or perhaps even the most – prolific producers in the Indian underground community at the moment, his work remains largely undiscovered and, consequently, underrated.
Let's start with his moniker: Ravana, obviously inspired by the antagonist in Valmiki's Hindu epic 'Ramayana'. Though initially adopted as a play on his own name, in an effort to really embrace the pseudonym, Chellapa translated the mythical character's ten heads into ten SoundCloud accounts, with titles like Lankesh, Shoorpanova, RavanaORama, Kumbhakarna, Scratchoski, and so on. That was the first sign of his eccentricity; the second being just the pure number of singles, EPs and albums (over 30 so far) he's released in a short span of time (check them out here).
"If I didn't make music, I'll probably end up in an asylum. I'd go mental," Chellapa confessed to Bhanuj Kappal in a 2016 interview.
This irrevocable compulsion to release tracks, and the way he's tailored his sound, could be construed as a direct result of his fascination with Byrn Jones, a British producer who went by Muslimgauze (a tag often spotted in most Ravana releases), whose genius has often been compared to that of Aphex Twin's. In spite of a short-lived career, prior to his premature death in 1999, Jones produced a sizeable discography of over 2000 tracks, around 100 albums and countless other releases.
Jones's releases were littered with tribal, folk samples and sounds from the Middle East and Asia, a quality also noticeable in Ravana's production, though his sampling is focused primarily within India. Another marked similarity between both the producers is their proclivity for overtly adopting socio-political themes in their work. Ravana's discography prominently offers a scathing insight into Indian politics, with releases like 'Nursery Rhymes For The Politically Uninitiated', 'Anti Nationals', 'All Politicians Are Criminals', 'War For Peace', and 'Naxalite', in which he layers speeches by political heavyweights, vocal samples from local rebels, samples of Odia revolutionary songs, spoken word/poetry, and more, over drum 'n' bass, dub, jungle, bass and breakbeat mixes.
Loud and roaring (like the meaning of the word 'Ravana'), his production technique typically employed ominous, sinister basslines, drone and noise textures, field recordings or samples, and militant dub as a socio-political weapon for sonic upheaval. He is, after all, Ravana – the antagonist, the opposition to the status quo, the revolutionary, the antihero; and, if the current Indian government ever delved into the Indian underground, the villain.
In other words, he's the "anti-national" we've all been warned about.
Taking this into consideration, at a first listen, it may seem Ravana (as we've come to know him) is absent altogether from 'Dubfounded', a new album released on Amarrass Records on April 19, born from a collaboration between Chellapa and Rajasthani, Jogi folk poet and singer Jumme Khan. There are no predominant political themes on the album, there's no predilection for dark, roaring, ominous sounds, and at times, the album even has a light and sunny predisposition. However, Khan's profound, lilting refrains fit snugly with Ravana's previous poetry and spoken word-centric releases like 'Ghalib' and 'Nursery Rhymes For The Politically Uninitiated', as does the omnipresent dub.
It's increasingly apparent as you scour the tracks that Chellapa's sound has changed drastically on 'Dubfounded'. The chilling griminess is only felt in traces on 'Dub Unity' and 'Proverbial Track'; the overwhelming percussion and bass are streamlined into minimal, glitchy beats for the large part. The genre-defying record, which recomposes Khan's poetry, instead takes inspiration from dub, reggae, dubstep, contemporary folk, blues, and drum 'n' bass.
Chellapa opts for straightforward reggae and dub on 'My Beloved', and offers genre-centric dubstep on 'Dub Unity'. 'Ways Of The World' evokes vivid images of a cheesy 90s composer from India playing with synths for a B-grade film, or a local wedding band – the only saving grace being the dub bass. 'Intoxication' sonically recreates a trip by injecting psychedelic elements like reverberating guitar and piano riffs and Khan's echoing laughter between simplistic percussion; while melancholia creeps into the tabla foundation of 'Hopelessness' on the weight of a distinct saxophone riff and sub-bass. The album closes with glitchy dubstep and pounding staccato basslines on 'Proverbial Track'.
Credit for 'Dubfounded', perhaps, lies largely with Amarrass Records, who conceived and curated this album in an effort to offer "sharp commentary on our world, delivered in the universal language of dub", by bringing together two relatively obscure underground artists with different musical styles for a "poetic, powerful and haunting" listening experience.
"The seeds for this album were sown when we first heard Jumme Khan, a Jogi folk poet from Alwar, at a show in Rajasthan in January 2018. Khan describes himself as a Lord Shiva bhakt and a Muslim Jogi – identities he channels in his words, which are searing observations on contemporary subjects," said Ammarrass' founders. "When we thought of bringing Khan and his folk poetry to the urban music-scape, we knew that no one else but Ravana could give Khan's powerful commentary another form and life."
Khan, who is a fairly popular folk artist himself, crafts poetry that conjures the aching beauty of ghazals – offering poignant, astute perceptions of the world – without the frills. "The physician doesn't know / what ails me is melancholy", he sings on the opening track 'My Beloved'; on 'Ways of The World' – which is accompanied by an amusing albeit thought-provoking video – Khan appeals to women to "keep the impostor brother at bay". His prowess with words and thought, however, shines overwhelmingly on 'Dub Unity' and 'Proverbial Track' as he addresses a gamut of socio-political topics, ranging from caste, religion and class struggle to female empowerment, freedom and unity, with absolute nonchalance and flair: "I try to write on those pages of theirs, of the things in our society, like foeticide, / In these compositions of mine, the ones that the villagers listen to, / but God only knows if the city folks care."
Words: Satvika Kundu
Album artwork: Mahua Sen
Tags
Join Our Mailing List