Dub Fx Heads To India For 4 City Tour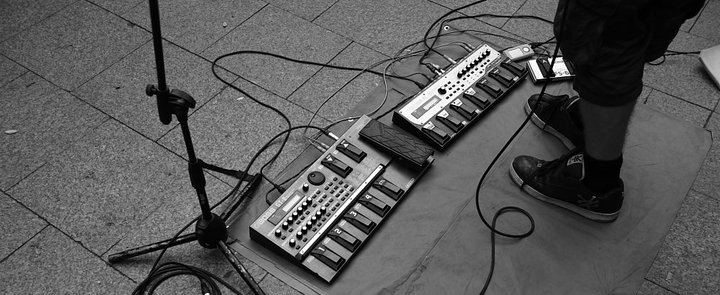 25 November 2011
Benjamin Stanford a.k.a Dub Fx is a worldwide street performer and studio recording artist from Melbourne, Australia. His trademark is creating rich and multi-layered live music using only his voice, aided by live looping stations and effect pedals. More than 30 million collective Youtube views down the line, Dub Fx has travelled to far reaches of the globe to perform with his fiancée Flower Fairy.
Dub has over his career released several albums which include "Live in the Street", a collection of street performances from his travels busking through Europe in his van and "Everythinks A Ripple / RMX", a remastered double album which combines his first studio album with a remix album showcasing various producers. All of his works can be heard over on his Bandcamp here
Over the next couple of weeks Dub Fx will be touring across the country alongside a handful of specially selected support acts within each city. A second chance for those who missed his sold out shows last year to glimpse a great performer live in action.
His tour schedule as it stands can be seen below:
Dec 2 - Blue Frog, Mumbai
Featuring Special Guest: Mahesh Vinayakaram
W/ Bay Beat Collective & Mental Martians
Entry: Rs 500 / Showtime: 9.30pm
Dec 3 - 1 Lounge, Pune
W/ Mental Martians & Johnny B
Entry: Rs 500 / Showtime: 8.30pm
Dec 4 - 9Bar, Goa (Sunday Sundown Sessions)
W/ CAde (Aus), Bay Beat Collective, Mental Martians, Satsang Sound-system & Johnny B
Entry: Rs 300 / Showtime: 5pm
Dec 10 - Quantum, Delhi
W/ CAde (Aus), Mungo's Hi-Fi (UK), Reggae Rajahs, Soom T (UK)
Entry: Rs 1000 / Showtime: 9pm
Watch our for more Dub Fx content over the coming week, including an interview and a chance to win passes to each and every show.
Here's the tour promo video:
Tags
Join Our Mailing List