Wild City & Bumble Come Together For Virtual Event Series: 'Reconnect'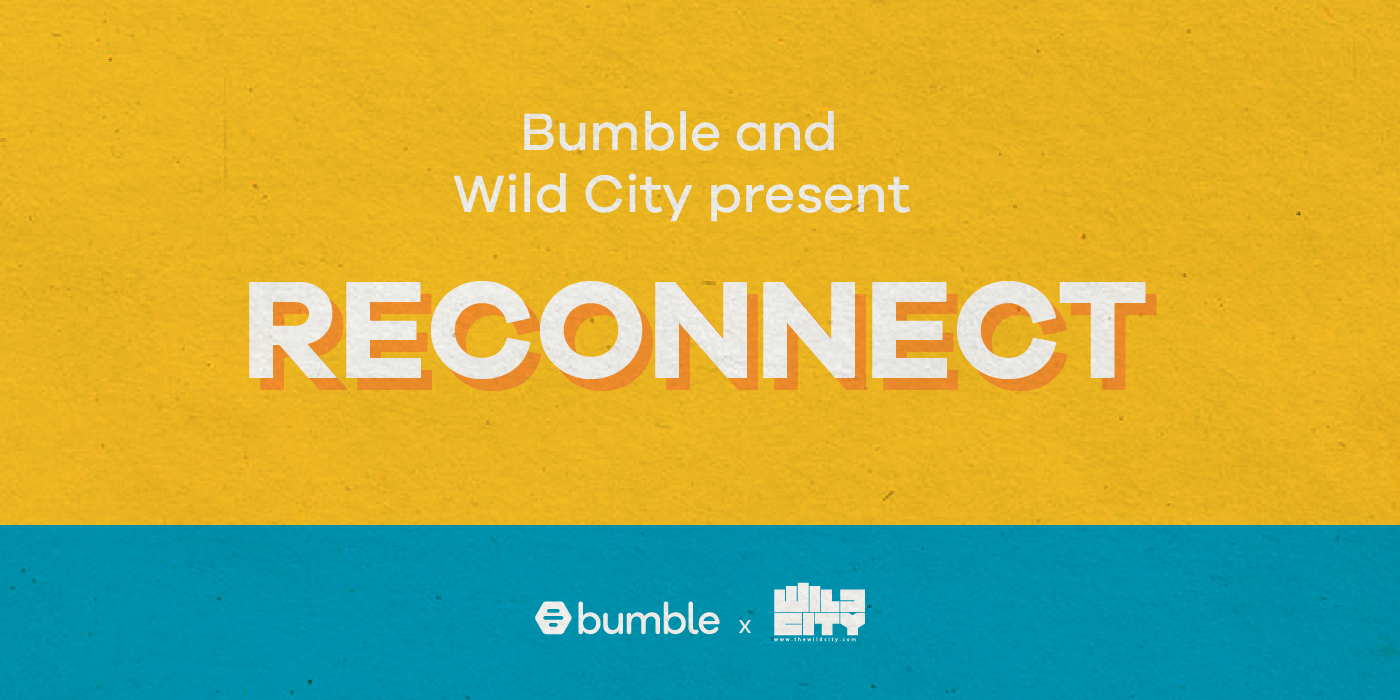 2 April 2020
The past month has, to put it very lightly, thrown our lives into disarray, enveloped in a cloud of uncertainty and concern for our family, friends, and those less privileged.
However, this space offers an opportunity for many of us to step back, slow down and reconnect with ourselves. We do this with gratitude and thanks for the privilege that enables us to do this.
As Wild City pivots, rather than presenting you with an abundance of more live music streams to navigate, we've instead decided to deliver content that will hopefully enrich and challenge you in some capacity.
In light of this, Bumble and Wild City have come together to present 'Reconnect', bringing to our audiences a virtual retreat where we hope to help you nurture your minds and bodies. And in the face of a global health crisis, look after your physical/mental health and wellbeing.
As part of the virtual event series, we'll be presenting an array of movement, creative and wellness activities. Exclusive, intimate sessions, that anyone can sign up to attend from the comfort of their own homes:
**Phase 2**
Session #1: Fri, April 24: Friday Night w/ one of our favorites; Lifafa. Inspired by the India of yesteryear, and created in modern India, Lifafa's music has rapidly found its way around the globe. Tune in to listen to one of Indian electronica's brightest stars - and enter the weekend with a dance. We all need it.
Session #2: Weds, April 29: Origami at home w/ Aditi Anuj. A piece of square paper holds infinite possibilities - a bird can be refolded into a boat, a fish, a kimono, or any other extravagant vision. Learn the art of origami with master folder Aditi Anuj, in this unique 45-min session.

Session #3: Sat, May 2: Laugh w/ comedian, actor, writer and musician; Kenny Sebastian. With a great sense of humour touching on everyday topics, a singing voice and a rare ability to make the stiffest faces smirk, Kenny Sebastian is arguably one of Indian comedy's most well known faces. Catch him performing a set exclusively for Reconnct, to close off Phase 2.
**Phase 1**
Session #3: Sat, April 18: Dancehall w/ dancer, yoga instructor and 'Smash Dem' crew founder; Ms. Sheriff. Jahnavi Sheriff is one of a few authentic dancehall dancers from India. Travelling extensively across the country to teach this unique Jamaican style of dance, she has worked with artists across the board including the likes of Reggae Rajahs, Nucleya, Naezy and Ritviz.
Session #2: Sat, April 11: Pilates at home w/ fitness instructor, entrepreneur and author; Namrata Purohit. If you've wanted to try Pilates classes but something has been holding you back, now's your time. Pilates offers plenty of benefits to your body, no matter your fitness background. You'll improve your posture, flexibility, body alignment and balance, in this 45min session.

Session #1: Sat, April 4: Meditation and ecstatic dance w/ activist, actor and musician; Monica Dogra. Ecstatic dance is a form of movement that encourages you to move without inhibitions, with no specific rhythm or steps. It is uplifting, energetic and, most importantly, leads to the release of endorphins in your brain making you feel happy, hopefully ecstatic. We all know that dancing is good for the mind, body and soul – there's plenty of science now to back this up.
Those already on Bumble, need to simply find the Reconnect profile across all 3 modes to participate. If not, download and register the app to locate the profile, and sign up. All activities will run via video communication platform: Zoom.
Tags
Join Our Mailing List