Watch: 'Hold Tight' By Ape Echoes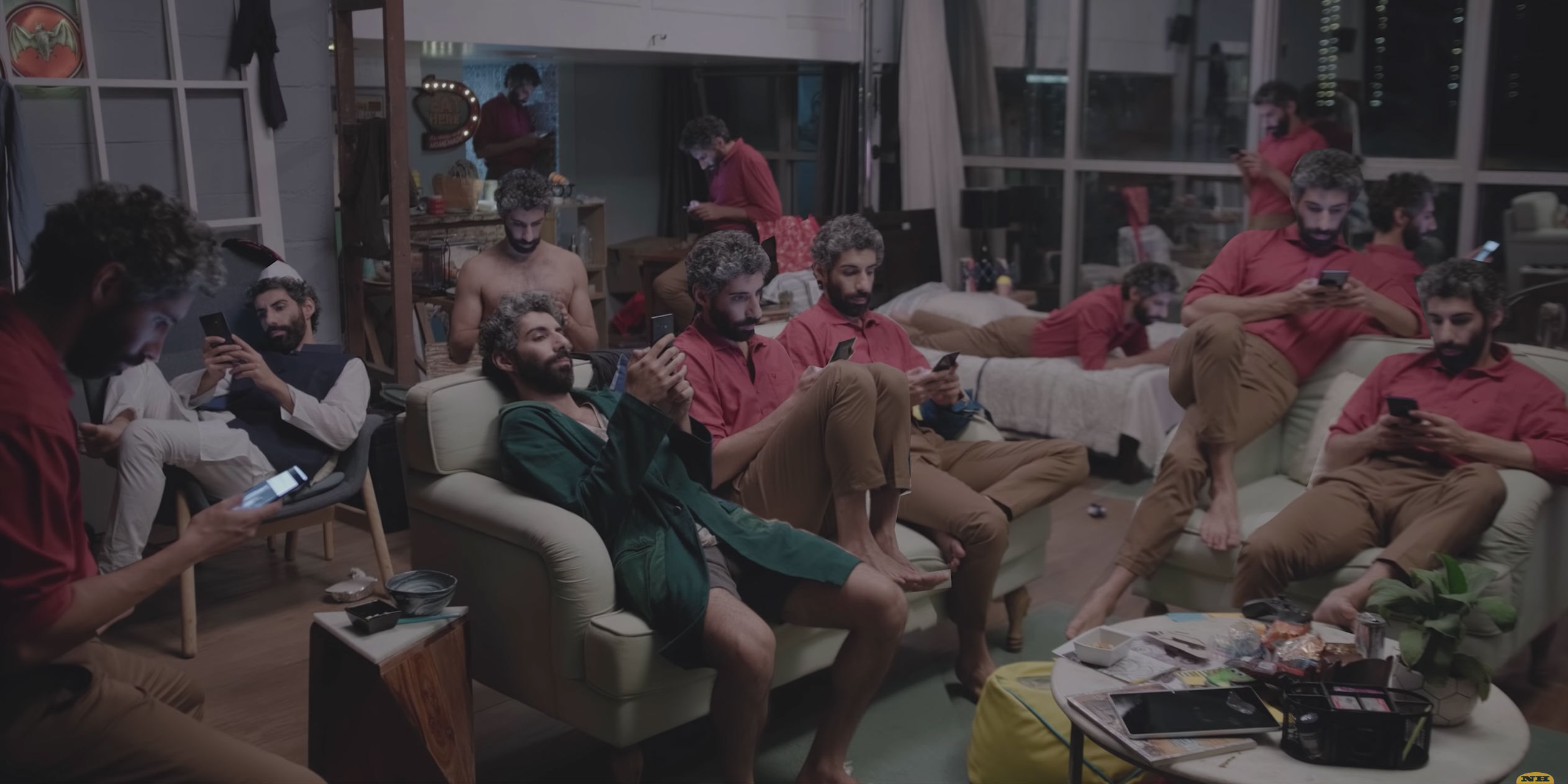 8 March 2019
A dark social commentary lingers at the underbelly of Ape Echoes' new music video 'Hold Tight', disguised under an affable essence and Jim Sarbh's charming persona.
Shot by Jugaad Motion Pictures, the same team behind Prateek Kuhad's 'cold/mess' creative, the music video documents Jim Sarbh as the quintessential procrastinator, or at least society's vision of one. His apartment's a mess, he's avoiding calls from his mother, and delaying work on a pending presentation and PhD thesis. By the look of it, that's only the tip of the iceberg. That is, until he discovers a cloning machine and, recognising the potential of such technology, abandons all restraint to create an army, and later a political party (of course), of doppelgangers.
The central theme may have been borrowed from stereotypical, popular culture representations of millennials as serial procrastinators, but it belies an issue that notably plagues this generation. As Anne Helen Peterson pointed out in a poignant essay, millennials are gradually turning into the "burnout generation", burdened with unsurmountable pressure that renders seemingly simple, easy tasks as hurdles to be overcome (or, more realistically, avoided and put away until the last minute). Perhaps unwittingly so, Jim Sarbh embodies this characteristic aptly enough for me to feel personally attacked. Granted, it is a hyperbolical (though not entirely unrealistic) representation of millennials, but as someone who belongs to that generation, it's difficult not to relate.
The aim of the filmmakers, as stated in a press release, was to reiterate how "no matter how many clones you have, you can't run away from yourself as after all, your clone is an exact replica of yourself and will eventually succumb and give in to your inherent personality". In other words, that you will always be you, regardless of clones, social media, technology, and so on.
There's no arguing with the filmmakers on this point, though I could certainly continue to converse about the potential benefits of having clones (being a millennial and what not). But it's the sardonic, absurd portrayal of this vision, and the painfully amusing ending to the surprisingly insightful video that steals the cake. It's almost as if a pleasantly humorous yet borderline condescending dad joke on Whatsapp about millennials' addiction to social media came to life and manifested itself visually.
The track itself – which, of course, is the real vehicle of the video – by Mumbai-based producers and multi-instrumentalists Nirmit Shah and Sid Shirodkar, drummer Sahil Shah and guitarist Harshvardhan Gadhvi who make up Ape Echoes, is a fitting soundtrack to this narrative, a quirky, engaging soundscape that expertly juggles electronica, hip-hop and funk.
Watch 'Hold Tight' below:
Follow Ape Echoes on Facebook for further updates.
Words: Satvika Kundu
Tags
Join Our Mailing List