Wild City #135: MALFNKTION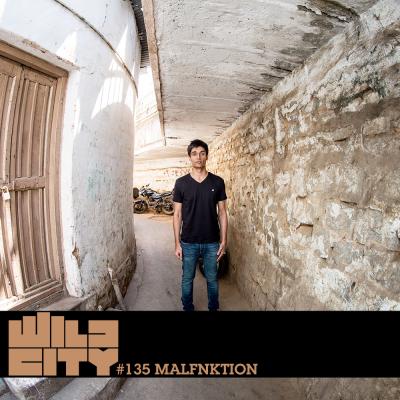 14 June 2017
MALFNKTION a.k.a Aditya Alamuru has managed to carve himself a distinctive path within the Indian alternative music space.
Over the last 3 years, he has quietly been producing a blend of electronica, hip-hop and traditional Indian sounds recorded during his travels across the country. Since releasing two albums back in 2015 ('I Killed Ramji' and 'Hindustani Rascal') which immediately caught the ears of many from the industry, he has now gone on to produce beats that audiences have come to distinguish him by easily.

A near hour-long effortless blend of tunes, his mix shows off his experience and knowledge as a selector. Though there's a tendency to repeat artists, it however allows for a seamless amalgamation of tracks.
For most listeners there'll most likely be some discovery through lesser known acts such as Guts and Mo Vibez, alongside mainstays like Howie Lee, Onra, J Dilla, Tokimonsta and MF Doom.
"One of the coolest forms of experimental beat making currently taking place combines minimal hip-hop with vintage rhythms of East Asia and Africa. This is music I listen to all day. I can't call it a genre or a mood but it is in my opinion beats that make your head bob." - MALFNKTION
Those in Delhi can catch MALFNKTION's debut show in the city at Summer House Cafe on 16 June.

Listen and download:
Direct Download: Wild City #135 - MALFNKTION
Tracklisting:
Strange light (feat. Free the Robots) - DJ Krush
Dandilion - Funkommunity
Accordian - Madlib & MF Doom
Think twice - J Dilla
Come with and fly - Tall black guy
Sinka - Howie Lee
Bong - Howie Lee
Flight - Monte Booker
Guru- Ladi6
Laisser Lucie Faire - Guts
Bye Bye - Onra
Champion Riddim - Mo Vibez
Call us now - Dead Players
KAI- Howie Lee
Loyalty - Onra
The Storm- Onra
Body and Soul - Mo Vibez
Blue Boss - Sampa the Great
Sa Mo Jung - TOKiMONSTA
Taste of honey - Romare

Facebook
SoundCloud
*Feel free to share and blog this mix, but please reference this page*
Tags
Join Our Mailing List