Wild City #085: Big City Harmonics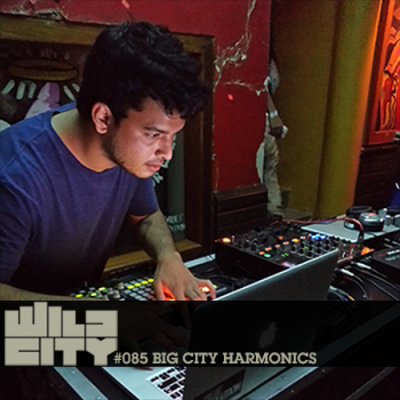 28 October 2014
Rohan Hastak started making music the traditional way – on a guitar, as part of a live band called 'Kuru' while he was based in Canada. But his musical identity now as Big City Harmonics is anything but traditional - inspired by pioneers of contemporary electronica such as Four Tet and Nightmares on Wax, the musician released his beat driven debut EP, called Foreword to hugely positive reviews last year.
A bit like his own music which tends to rest in the zone that lies between uptempo dance and bedroom listening, Rohan Hastak's mix is difficult to define, but unsurprisingly high on quality.
He begins his assembly on an unusual note, layering Allen Ginsberg's reflective poem - 'The Sunflower Sutra' over the atmospheric plinks of Air's 'Alone In Kyoto'. Hastak's little patchwork tapestry of sound includes some familiar top-notch electronica acts ranging from Boards of Canada and Little Dragon to Nosaj Thing, Brian Eno and homegrown talent, Dualist Inquiry. His interpretation of Flying Lotus's 'Camel' layered over his own track – 'The Thickness' is particularly impressive.
Big City Harmonic's unhurries, yet complex mix is an absolute treat for lovers of contemporary sound, best appreciated with headphones on. Comes highly recommended.
"This set is a collection of ideas from gigs over the last few months. They've been stitched together into a set that I think lays to rest a lot of old influences that I've been feeding off, over the last year. " - Big City Harmonics
Listen and download below:
Direct Download: Wild City #085 - Big City Harmonics
Tracklisting:
Air - Alone In Kyoto
Allen Ginsberg - The Sunflower Sutra
Dualist Inquiry - Exile
Arkist - Fill Your Coffee
Little Dragon - Twice
Air - Talisman/Nujabes - Loading Zone
Daedalus - I'm String Struck
Boards Of Canada - Julie And Candy
Tipper - Reality Harshness Defender
Flying Lotus - Putty Boy Strut
Shigeto - Detroit Part 1
DJ Day - Four Hills
Big City Harmonics - The Thickness/Flying Lotus - Camel
Gramatik - Dream Big
Big City Harmonics - Down & Out
Big City Harmonics - Epic Showdown
Nosaj Thing - 1685 Bach
Chassol - Indiankidz
Tipper - Big Question Small Head
Big City Harmonics - Fill Your Dragon
Four Tet - You Could Ruin My Day
Brian Eno - A Clearing
Re-Return Of The Original Artform - Major Force
Bobby McFerrin - Thinkin' Bout Your Body (ID Edit)
Ratatat - WildCat
Cuthead - Maputo Jam
RJD2 - Descended From Myth
*Feel free to share and blog this mix, but please reference this page*
Tags
Join Our Mailing List