Wild City 038: Mental Martians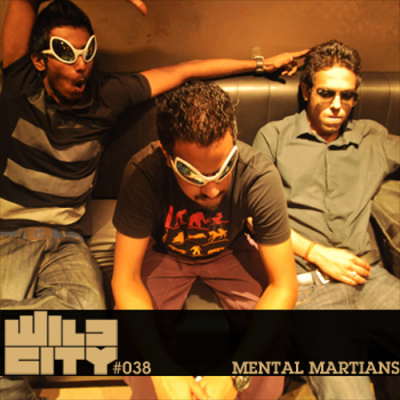 8 October 2012
The Mumbai based collective known as Mental Martians is made up of Piyush Bhatnagar aka Sound Avtar, Sarvesh Shrivastava and Tarang Singhal, 3 young producers with a taste for various forms of bass music.
Influenced by artists such as Noisia, Spor, Doctor P, Skrillex and Rusko, their sound is a heady journey incorporating both UK underground and Asian underground sensibilities.
We've been wanting to tie these boys down for a mix, for as long as we can remember. With a collaborate career spanning over 10 years, and influences ranging from classical Indian right through to IDM and electro, alongside the percussive genius of Tarang who plays the tabla, darbuka, jembe and drums, they're a visionary and well rounded force.
"Their sounds are magical and danceable at the same time. A vivid journey into the unknown and the un-chartered, the sublime and the scintillating, promising to introduce a sound that is enjoyed by the masses whilst being anthem-like and cerebral at the same time."
Over the course of 30 mins, their mix runs through 15 tracks. Yup, you do the math. Frequently laying down a steady beat, it isn't afraid to move away from its smooth beginnings on to more pounding rhythms. Favouring sounds that are clean and crisp, there's occasionally a delicate feel to the proceedings, a sensation that's only strengthened by their tight mixing.
"This one's a smooth 30 minute drum and bass mini-mix, starting off with some easy sounds and ending with a riot." - Mental Martians
Enjoy!
http://soundcloud.com/thewildcity/wild-city-038-mental-martiansDirect Download: Wild City #038 - Mental Martians
Tracklisting:
Reverse Sample Intro
Gerwin & Nuage - Stolen Hearts
Die & Break - Tear Down
Command Strange - Motion
Brother - Do The Right Thing
Commix - Time Has Come
Jess Mills - Vultures ( Nu Tone Remix)
Heist - Far Away
Wilkinson - Refugee
Metrik - Engine Room
Xilent - Twisted
Terravita - Drinks Up Hands Up
State Of Mind - Gene Freeze
Noisia - Tryhard
Reverse Sample Outro
*Feel free to share and blog this mix, but please reference this page*
Tags
Join Our Mailing List