Interview: Raghu Dixit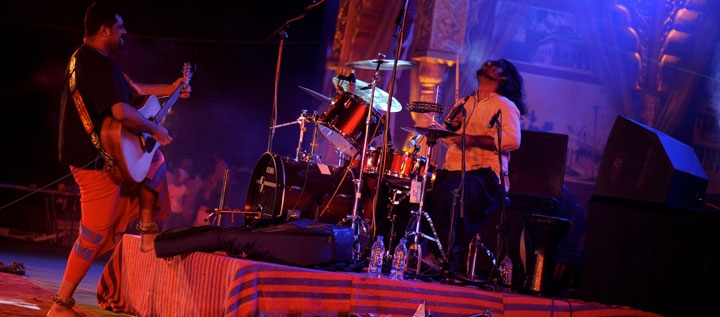 Raghu Dixit, over the years has become a house hold name in India and his persistent presence abroad has made him a staple part of the word music scene. It is the honesty about his journey as a musician and his pragmatic approach to music business that we find intriguing, with an interesting background that weaves through classical dance, science, and music.
Having just completed a hefty project scoring and writing the soundtrack for the film Mujhse Fraaandship Karoge (released 14 October) we were curious to catch up with him to find out how he found the time to fit this into his crazy schedule as well as delving a bit deeper into what he actually thinks of writing for Bollywood, his early isolation from western culture, Glastonbury and the future...
A master level Bharatnatyam dancer who became a microbiologist in Belgium, where did the music fit into this equation?
The music was always in me! It just took so long to come out and make itself heard. In the meanwhile, life had taken me to Belgium where I was working as a microbiologist. It was there that one of my colleagues sent my song to a local radio station and looking at the fantastic response they got, convinced me to get back and follow my passion.
I must credit every bit of my musical instincts to my dance background. Though I never learnt music formally, music was always around me every day because of dance. Subconsciously I have absorbed Carnatic classical music, though only superficially. The sense of rhythm is also because of dance. More importantly, what dance taught me was stage presence through the concept of Rasothpatthi.
You had little exposure to western music while growing up. Are you pleased that you had to a certain extent, this isolation during a young age?
My traditional family never did let me listen to or be interested in any western culture - be it music or even wearing jeans! I mainly grew up with Indian classical music that was probably playing almost all the time on my moms tiny transistor. It was during the later days of college that I would get to listen to Dire Straits, Phil Collins, Metallica and many other rock bands at friends' homes. I don't recall any moment where I wanted to play either kind of music. I neither felt like being a Indian classical musician or a rock musician....strange!
I've always found it easier to make my own melodies and songs than learn a song sung by someone else. I guess I avoided being influenced by any particular musician.
The reason why my music is a mix of Indian and foreign elements, is a mystery to me! I guess it's because I grew up with both influences at the same time - the traditional upbringing at home and the rapid westernisation of almost everything around me. Presently it's become more objective for me to mix different cultures in my music and bring the various styles and genres of music into a sense of togetherness representing a universal bonding.
You seem quite open about discussing the business side of your career but this is not often an angle that is brought to light by musicians when it is actually very insightful, especially for aspiring musicians. Why do you think that is?
I don't have a clue! They may just not be comfortable discussing it, it's completely their call. Again, with my band, you have seen the efforts that are going in to do whatever we do. It's done with an explicit intention of being open, its just facts that we lay out on the table for people to interpret in their own way. What we see as an investment, some others might find crazy and some might find it inspiring!
Still from the film Mujhse Fraaandship Karoge (released 14 October).
How does composing for Bollywood differ from composing for the Raghu Dixit Project?
Composing for any commercial jingle or movie is completely dependent on the music that is required for the project. Yes, I do get to express my creativity and add my own touch to my own interpretation of the requirement, but at the end of the day, it is made to order. If the scene requires a light hearted dancy number, then that is what I have to compose.
At the end of the day, its not just the music that matters in a film. It's the whole product that needs to work - you do your very best and trust everyone else to do their best.
Is writing for Bollywood something you've always wanted to do or more of a stepping stone for other aspects of your career?
I always wanted to make great music. That was my only goal when I started making music. It has taken me on this fantastic journey, of which Bollywood, is the newest phase. I did not view entering Bollywood as a goal, but I was definitely not averse to it and this project was a fun start, with enough freedom to experiment with various different styles of music.
This is a pretty massive project, to score and compose the entire soundtrack, how did you fit this in with your hectic touring schedule?
It was much harder than I thought it would be. The time difference between the UK and India didn't exactly make things any easier. I was on tour playing back-to-back shows, so that made it harder, but like the old saying goes, All is well that ends well.
Why do you think you were approached to be involved in this film?
Ashish Patil, the producer of the film, knew me and my music from his time at MTV and he called me to be a part of the project. From the very first meeting, it was clear that they were giving me a lot of space of my own, allowing me to make something fantastic for the movie. They must have loved my sound with the band and the song Har Saans Mein which is now, a big part of the soundtrack for the movie.
The interest in folk influenced music has definitely been on the increase, what is it about folk music that is seeing this more commercial revival?
Folk music is music of the common man. It's not too complicated to understand and is usually very hummable and thereby easy to remember. This makes it a genre that appeals to a very large diaspora of people. That, in my opinion, translates directly to its popularity and therefore, its commercial revival.
This is the first time in six years that we haven't been to Glastonbury so were glued to the TV and delighted to see you on it! How was that experience? And Later With Jools Holland! How did these both happen?
Well, this was our first time to Glastonbury and what a blast that was! For any musician, performing at Glastonbury is on the must do at least once before I die list, so being able to scratch that off my list was a fantastic feeling. To top it all off, we performed 5 shows there and were one of 15 artists from over 300, to be featured on a compilation of songs recorded at Glastonbury.
Later ... with Jools Holland was something we had been eyeing for a long time and working hard towards. Our PR agent along with our management landed that slot and we literally had to move mountains to make it to the show. It was awesome to be on the same stage and show as Robert Plant, Adele, Mavis Staples, Arcade Fire, each of them legends in their own right, I don't think words can accurately describe that feeling.
What would you say have been the pivotal points in your career so far?
To be honest, and not to make it sound like a cliche, we consider every single show of ours a turning point in our career. We never know who is watching and what they could do for the band. So many opportunities, and connections have been made because someone watched us live and was in a position to help. It's how we built our career over the years.
If I had to pick a couple, it would definitely be the gig in Zenzi that really, started it all for me, playing on Later ... with Jools Holland, our album reaching No. 1 on the UK World music charts, my first Rolling Stone cover, my first award, the Songlines Best Newcomer award. I could just go on and on...
Anything exciting happening in the future that we should know about?
The material for the new album is ready and being road tested right now. It's just that we've put over 12 years of effort into the first album and I would really like to ensure that we have done all that we can to promote it via the tour before putting something new out there. That said, you can expect to hear some good news on the album front by the end of this year!
The Same 3 Questions:
3 most inspirational artists:
Ilayaraja
Freddie Mercury
Sting
3 favourite artists at this moment:
AR Rahman
Bellowhead
Frou Frou (Imogen Heap)
3 favourite albums of all time:
Mercury Falling (Sting)
Roja OST (AR Rahman)
Pulse (Pink Floyd)
+
Image Credit: Shiv Ahuja
Tags
Join Our Mailing List