Review: Ska Vengers Live in Delhi, 29 July 2011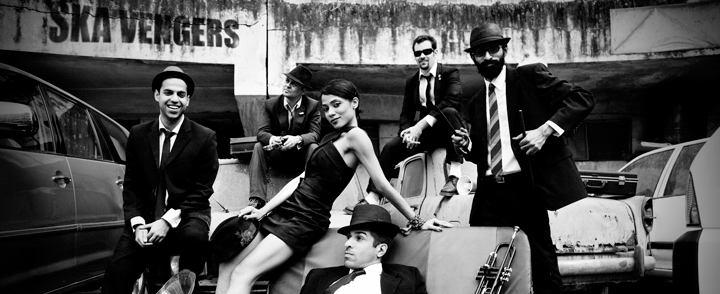 Ska music, the mother of reggae, echoes of Jamaica, the infectious beat, jazz and blues, the sound of many summers...
Since arriving in Delhi the idea of seeing an Indian ska band that throw together brass, keys, rhythm, jazz and toasting with lyrics about issues sore to India has kept me curious and excited. The music scene here seems to be full of surprises with artists and audiences keen to explore new genres.
Originally formed in 2009 The Ska Vengers are India's first ska/rocksteady group and have grown over the last two years absorbing new musicians on their way. The troop now consists of members from the Reggae Rajahs, Emperor Minge, Jass B'stards and BASSFoundation.
The band look sharp and are tight. The audience is introduced and guided through the gig by the smooth toasting Delhi Sultanate, leading alongside the striking Miss Samara C, who's seductive presence is both mesmerising and moreish. Stefan Flexi K's quirky organ solos and Rie Ona's deep tones of sax make the sound rich and exciting. It is impossible not to find your toes tapping and your limbs loosening while your body wills you to skank to the music.
Over the course of their set they run through a number of classics with a healthy dose of original music, consistently keeping the crowd on their feet (literally).
The audience can't get enough, and demand more. This is the first full set The Ska Vengers have played since January and their fans are hungry. Sweaty, lively and well turned out amidst the backdrop of Circa 1193's elegant gardens, everyone is excited. Just before the instruments are set down and the band leave the stage, Diggy Dang on rhythm rightly points out that they are on the verge of melting too.
90 minutes have flown by in the thick moist heat...
What makes The Ska Vengers' music really strike home are the issues in Indian culture which they brazenly explore through their cheeky lyrics. A true representation of the forward thinking artists that are bringing the spotlight over to the Indian music scene.
You can next see The Ska Vengers on the 29th September at the Indian International Centre - Kovalem Literature Festival - in New Delhi and for more information about Audio Aashram's 'Funky Friday's' at Circa 1193, check out their event listings here
Tags
Join Our Mailing List