My First Release: Disco Puppet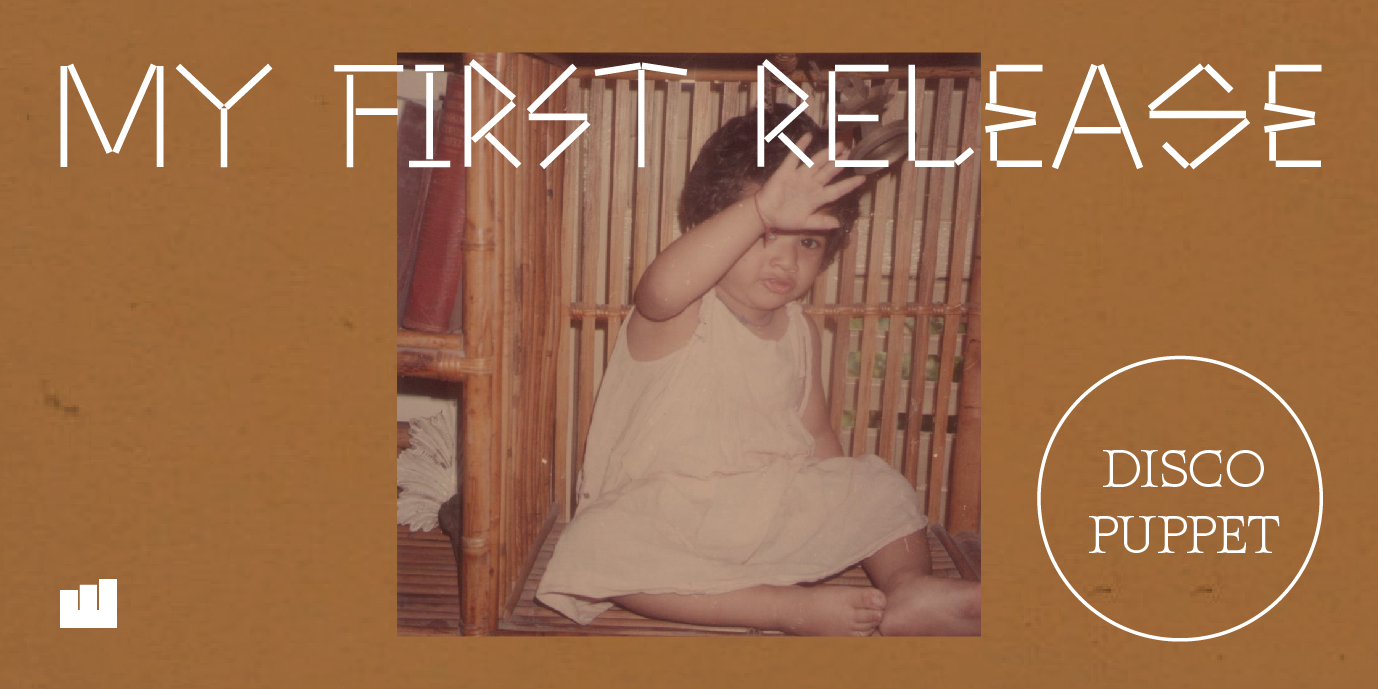 18 July 2022
"I realised a little later that we got fucked over because we made some stupid decisions in distribution. There were some people that e-mailed us called CD Run, and, at that time, I confused it with CD Baby [a leading music distribution platform]", Shoumik Biswas aka Disco Puppet reminisces their first experience of putting out music as part of the band Space Behind The Yellow Room back in 2014. "It turns out that CD Run is some scam that runs off some island in France or something like that and we gave them the distribution. They did the distribution but they fucked up the artwork and put some weird typography on top of it – some strange shit and we still can't get it off." The Kolkata-born Bangalore-based artist laughs off the story behind the odd font on 'Conversations That Determine a Life', the only album by their college post-metal band.
Biswas looks back at releasing music through Space Behind The Yellow Room, the group they formed while studying design at Bangalore's Shrishti Institute of Art, Design and Technology, for our series 'My First Release' to look at how things have changed between then and the release of their latest album 'Love and Everything Depressing' as Disco Puppet.

Monkey In Me, Biswas' school-time band in Kolkata, rehearsing at the house of member Nischay Parekh (who'd go on to form Parekh & Singh)
"Back then, Spotify was not in India, we didn't really see it beyond the SoundCloud release. Now, at least, there is something around streaming. You can look at those numbers. Back then it was more like, 'Are we getting shows or not?', and we were," they continue. The minimised presence of platforms that could inform of wider listenership meant that the band remained aloof of the release's total impact. Selling manually-assembled CDs at shows, notably the album launch at the music festival Control ALT Delete, and the enthusiasm around it sufficed – even though, by Biswas' own admission, they still carried the youthful idealistic expectation of making it big eventually.
In contrast, the launch of their solo moniker Disco Puppet was just an exercise of experimenting of figuring out "what are my ideas worth?". Equipped with a newly-developed knowledge of digital audio workstations and a single microphone through which they recorded each drum component separately, Biswas launched Disco Puppet with the EP 'Astronot' around the same time in 2014. "Because at that time, Space Behind The Yellow Room was still the main music act, I think for me Disco Puppet was like a side-thing where I can just do whatever I want."
The artistic freedom remains a defining quality of Disco Puppet, who reigns supreme among Indian artists in the meeting grounds of quirky eclecticism and wider appeal. But before the moniker would attain that status, it only served as a casual creativity outlet Biswas would resign to at the end of a day of navigating internships and jobs around Mumbai and New Delhi in their post-college life. The resultant work, Disco Puppet's experimentations with regular SoundCloud uploads entitled 'Weekend Sounds', started receiving surprising acclaim while Space Behind The Yellow Room waned with its members separated by geography.
The band went on to have one last outing supporting US experimental rock group Battles at Bangalore's The Humming Tree, for which Biswas moved back to Bangalore – a decision they find amusingly impulsive in hindsight. By the time the band split, Disco Puppet had positioned itself as Biswas' primary musical outfit and soon found support from local musical polymath Rahul Giri aka _RHL and his collective Consolidate. Biswas reflects: "Suddenly, I was not alone. Suddenly, there was someone who is taking responsibility of making sure it [the music] sounds as good as it can. I was myself hearing it get better."
Alongside facilitating occasional live performances, Consolidate released Disco Puppet's EP 'The Spring' and introduced them to a greater professional process. Biswas continues: "Aniruddh (a Consolidate member) and Rahul would be the ones who would write the press release and do the press things which was completely new to me. I used to just put things out and hope for the best, but this time there was a process and I was introduced to that process."

Monsoon Search Party, Shoumik's short-lived band with Aniruddh, Jeevan Antony, Sharath Narayan and Shreyas Dipali
The following years saw a string of EPs, compilation appearances, singles, showcases, a Boiler Room set, a tour through China and the Toto Music Award. However, except for the latter, the experiences didn't reflect in Biswas' bank account as well as they did in inspiration, plaudits and drive. Faced with the eschewed financial realities of the music industry at the end of a creatively productive and joyful year of live performances, Biswas engaged a more stable grip on their design career. Except the deeper understanding of the business didn't inspire pessimism but offered a greater sense of liberation. "I don't put pressure on music-making because I know that I can pay rent and I can feed myself. Beyond that, the music is for me," they continue. "Added bonus is that I can literally do whatever I want. I can put out any kind of music. I can experiment anyway I want."
The emancipation from expectation doesn't mean there isn't a driving objective behind each endeavour. It just means that instead of finding incentive in money, Disco Puppet sees creativity's reward to be greater creative agency. If the earlier EPs were put out to attract more gigging opportunities, the latest album 'Love And Everything Else' is surrounded with the hopes of finding the support to do immersive theatrical shows, expanding upon the narrative-led performs Biswas got to do in 2019 around the album 'Aranyer Dinratri'.
The creative freedom, present since the inception of the moniker and reiterated along the way, has also allowed Disco Puppet to never have to stick to a formula and grow not just their discography but their stylistic reach. "For me, every album is like learning a tool or device – and I don't just mean actual physical device, but could be a technique or whatever it may be," Biswas continues. "For 'Princess This', it was autotune, 808, and exploring that hyperpop space. With 'I'm Going Home', it was the Casio, the tape and lo-fi stuff. With 'Love and Everything Depressing', it just happened to be the oldest thing: which is guitar and voice."

Lyric book distributed at the launch party for 'Love and Everything Depressing'
The latest 10-track album that got together a community of Bangalore's music aficionados at a launch event in April when it was released over Bandcamp and continues to roll out single by single over streaming platforms, is Biswas' most songwriting-led work. With songs, this time, written first over voice and instruments before getting produced digitally, 'Love And Everything Depressing' keeps intimate singing at the centre stage in the first few numbers, nestling everything else to the sides. Over time, influences from Biswas' rockier past begin to enter into the picture with 'Down On My Luck' alongside angular dancefloor-friendly drum parts on 'The Interested Few', and thunderous samples of traditional music on 'Change Is Good' and 'No Job', before culminating with the autotuned walls of ethereal vocals of 'Shondhey Teh' closing the journey. The accessible structures play dividends on emotionally tracks like the lovelorn 'Speak Low'. It is Disco Puppet at their most conventional – or as conventional as it gets for an artist as free from expectations.
Listen to 'Love and Everything Depressing' below:
Words by Amaan Khan
Lead artwork designed by Sijya Gupta
Tags
Join Our Mailing List