The South Asian Diaspora Finds Its Voice On Sarathy Korwar's 'More Arriving'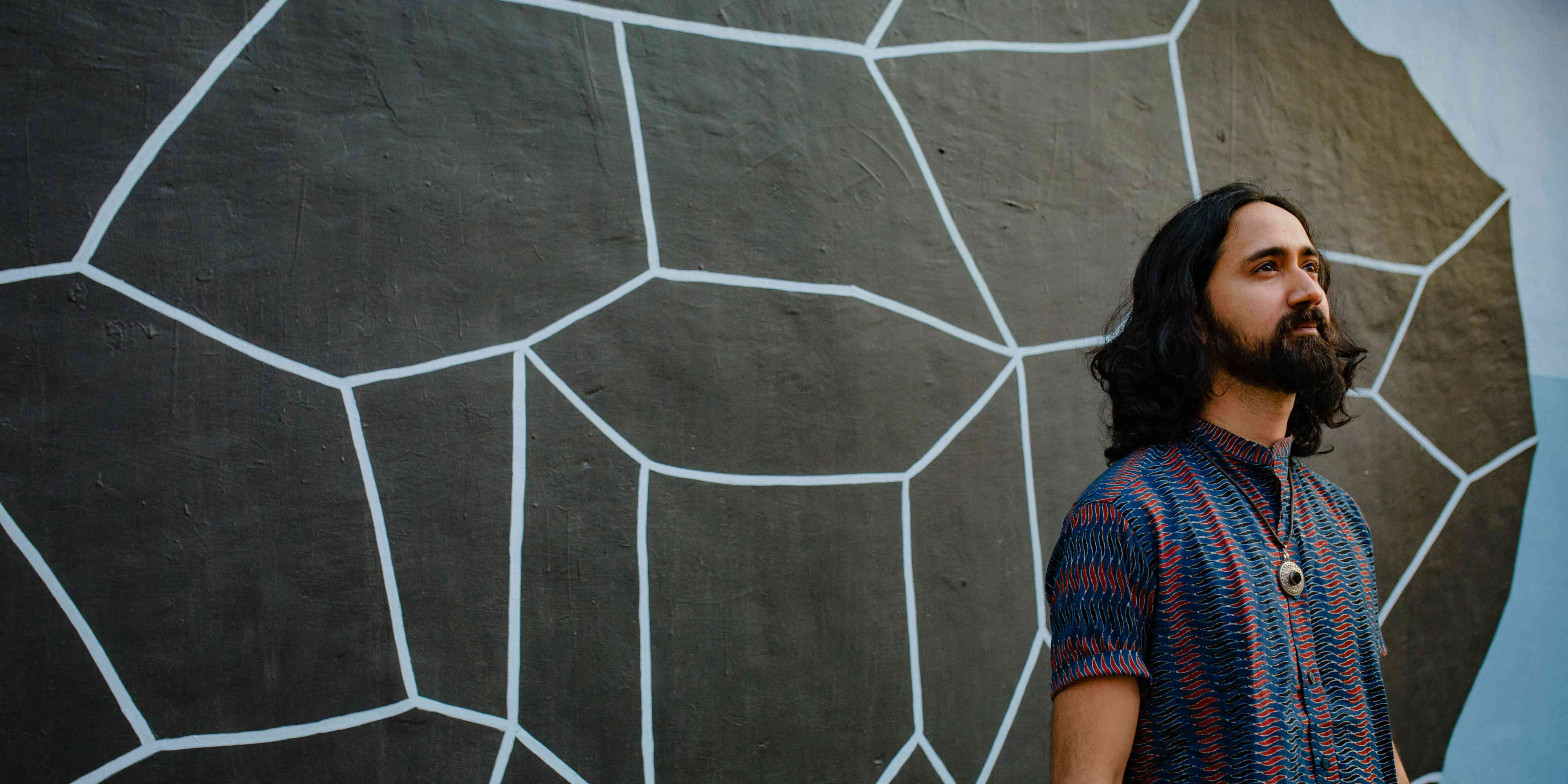 8 August 2019
Sarathy Korwar is tired. He's frustrated, and he's largely exasperated. "I don't enjoy making records about being a minority," he tells me over Skype, early morning (British time) from his apartment in London. "The fact is, we make them because that is our only voice, that is our reality. The fact is that nobody enjoys being stereotyped. I'd much rather not be making these records, but I feel like it's important, that I have to, and that's what I'm going through right now. They all come out of frustration."
Korwar gushes this all out in a single breath, when I ask him how he personally relates to the varied narratives presented on his latest, charged album 'More Arriving', released on Leaf Label. This is about half an hour into the interview, and so far Korwar's responses all came in a calm, measured tone. Suddenly, he's charged, as if jolted awake by a bolt of lightning. He continues airing his dissatisfaction with the change of atmosphere in the UK pre-Brexit, the lack of representation of South Asian artists – "on a day to day basis, I could go months without seeing another South Asian artist on stage in the UK" – and the prejudiced, narrow views with which people perceive Indian music. "It's such a niche understanding of what Indian music is, that you're struggling to even open minds enough for people to understand that it's an Indian record," he says. "And it brings up all these questions – what is an Indian sound? What makes something more Indian than the other?"
These are the same questions which Korwar attempts to address on his latest album. But rather than providing a singular answer, his strategy is to subvert the question itself – by offering up a showcase of varied South Asians voices to reflect the nuances of what it really means to be South Asian in 2019, while confronting and tackling people's prejudices at the same time. There is no single, all encompassing brown story of narrative, and that's where the very essence of 'More Arriving' lays.
"This is a modern brown record. The kind of record that a contemporary Indian living in the UK for the past 10 years would make," Korwar said in his press release. "This is what Indian music sounds like to me right now, and that means incorporating multiple brown voices. If anyone has a problem with that, they should be questioning what they think Indian music should be."
There are few records that tackle the subject so definitively and with so much nuance. It isn't just the sound of the record, which Korwar defines loosely as "jazz meets Indian hip-hop, with influences of electronic music and traditional Indian influences" that makes it a modern brown record. The album cover, the lyrics, the themes, the voices and the sound all come together to give 'More Arriving' a distinct South Asian flavour (one that doesn't reek of tikka masala, curry or sitars). The message is pluralistic, it's effervescent, and most importantly, it's honest.
The first thing that captures attention is the dramatic album cover, with the cheeky title 'More Arriving' emblazoned on a placard held by a protestor. Designed by Tushar Menon, the design pays tribute to the protest movements that took place across Britain in the 70s and 80s, fuelled by the Grunwick strikes and the Southall riots. The protests saw South Asians and people of colour unite in solidarity against increasingly racist and nationalist forces like the National Front and English Defence League. "I wanted it to be a throwback to those movements to remind people there's a certain solidarity and pride for who you are," says Korwar. One can see where the sentiment arises from, especially in light of the divisive, confrontational times we live in today, with right-wing politics taking precedence across the globe, and immigrants and minorities facing more discrimination than ever. It also tenfold increases the need for South Asian voices to make themselves heard louder and clearer than ever.
The diversity of voices on 'More Arriving', thus, is a welcome boon. It's fairly common practice for hip-hop records to feature a range of collaborations, but Korwar's curation extends beyond the aesthetics and the sonics. MC Mawali – a Mumbai-based rapper who is also part of the socially conscious hip-hop collective Swadesi – raps on opening track 'Mumbay' about the duality of the city's name (Bombay/Mumbai), and the connotations. "There's this idea of 'Bombay' being a kind of colonial world, whereas 'Mumbai' seems more driven by a more nationalistic idea of what Mumbai is," says Korwar. "The track is about being sort of stuck between these two forces, these two narratives, and not subscribing to either – about just being from the city. It is kind of like a love letter to the city." Mawali's fervent Hindi and Marathi rap invokes vivid images of the undulating chaos of Mumbai, providing a charged narrative to the cacophonous range of percussion and rhythms on the track, directed by the ominous urgency of Korwar's drums and Tamar Osborn's baritone sax.
"A lot of people, especially here in the UK, often consider South Asian voices to be one voice – they have a very homogenous view of what an immigrant's life could be like. Whereas I think the argument I'm trying to make is that just living in different parts of the world, for somebody in Bombay, or Delhi, or UAE or London, being a South Asian is a very, very different experience," Korwar tells me. "So just by having so many MCs on it, from different parts of the world, talking about stuff they're going through, the record just become about what it means to be brown in different parts of the world."
So while Mawali's classical Carnatic-inspired rhythms allegorically present the complexities of a post-colonial India, on 'Coolie' Jamaican-Indian rapper Delhi Sultanate employs patois to narrate the story of indentured Indian labourers being exploited by the East India Company and Tata to work British plantations in Jamaica, bringing opium and cannabis seeds with them in the process. On the same track, Delhi-based Punjabi rapper Prabh Deep furthers the narrative by delivering a scathing criticism on the apathy of the government in the face of drug abuse and consequent crime amongst the youth in India, crime, poverty and corruption, also touching upon the trauma inflicted by the anti-Sikh riots in 1984 (a running theme in his work).
Such social, political narratives aren't new to Korwar. He battled cultural appropriation and stereotyping of Indian music through his debut 'Day To Day', where he worked with recordings from the Siddi community in India, as well as on 'My East Is Your West', on which he performed alongside the UPAJ Collective to infuse modern jazz with Indian classical instrumentation. On 'More Arriving', however, Korwar adopts a more transparent approach, flourishing his stance and his motive with precise direction.
"I think I've become more confident about voicing my own opinions in public, or through my music," says Korwar. "And I've come to a point where I've realised that I've just got to embrace these ideas more than shy away from them. So this was really an attempt to be as vocal as possible, and I think I'm better for having done that."
Korwar certainly doesn't shy away from asserting his opinion on 'More Arriving'. One of the most refreshing way it manifests is through the voice of London-based British poet Zia Ahmed (of Pakistani origin), who features on album centrepieces 'Bol' and 'Mango'. Ahmed's droll, vulnerable spoken word soars through the album dripping with sarcasm and irony, peaking with his amusing yet poignant performance in the music video for 'Bol'. "I am karma, I am kamasutra... I'm slumdog millionaire, downward dog, eight-head god," he recites, cheekily deadpan, suited up in British attire, complete with a bowler hat and a cup of tea. "I'm Shiva, Al Qaeda, I'm auditioning for the role of terrorist 1 – yeah, I can do that in an Arabic accent." The slow, deliberate rhythms in the track explode into an ominous, frantic outro, complemented to perfection by Aditya Prakash's powerful Carnatic vocals. The feverish helplessness of the diaspora, the feeling of being lost, unaccepted, judged, of not belonging, of not fitting in, the alienation, the frustration, all subsumes into a whirlwind of frenzied sounds, almost spiralling out of control – until it settles into the atmospheric, percussive landscape of 'Mango'.
The other (and in my opinion, the most powerful) voice that emerges is that of Abu Dhabi-based, Indian origin writer Deepak Unnikrishnan. On the closing track 'Pravasis', Unnikrishnan reads out a poem by the same name from his award winning novel 'Temporary People', a collection of twenty-eight short stories that capture the lives of South Asian workers in the Arabian Gulf. Korwar discovered the writer during his 2017 residency at New York University's Abu Dhabi campus, where Unnikrishnan teaches as a professor. Enamoured by his book, Korwar sought him out and soon they both became good friends, which in turn led to their collaboration on the album.
The poem, in fact, is where Korwar got the title for his album. The last words on the entire album, and on the original poem, are "Temporary. People. Illegal. People. Ephemeral. People. Gone. People. Deported. Left. More. Arriving." "That sounded so powerful to me," says Korwar, "It just made perfect sense in the context of his poem, but also in context to the whole album."
According to Korwar, the title comes from the scaremongering around Brexit, and is a play on the kind of fear and negative rhetoric that surrounds the term: "It's the idea that there are people coming to our shores, and not just the UK but everywhere. There's this growing nationalist, right-wing, sort of fascist idea that there are people coming from places that we don't like or don't know very much about, who are gonna come to our shores, they're gonna steal our jobs, they're gonna rape our women, they're gonna destroy our culture. The aim is to fight that idea and a kind of tongue-in-cheek saying that yeah, maybe there are people coming and you're gonna have to deal with it, and it's gonna be fine, you know maybe it's not such a bad thing."
Words: Satvika Kundu
Image: Rishabh Sood
Tags
Join Our Mailing List