Review: 'Welcome To The Age Of Flaws' By 6LA8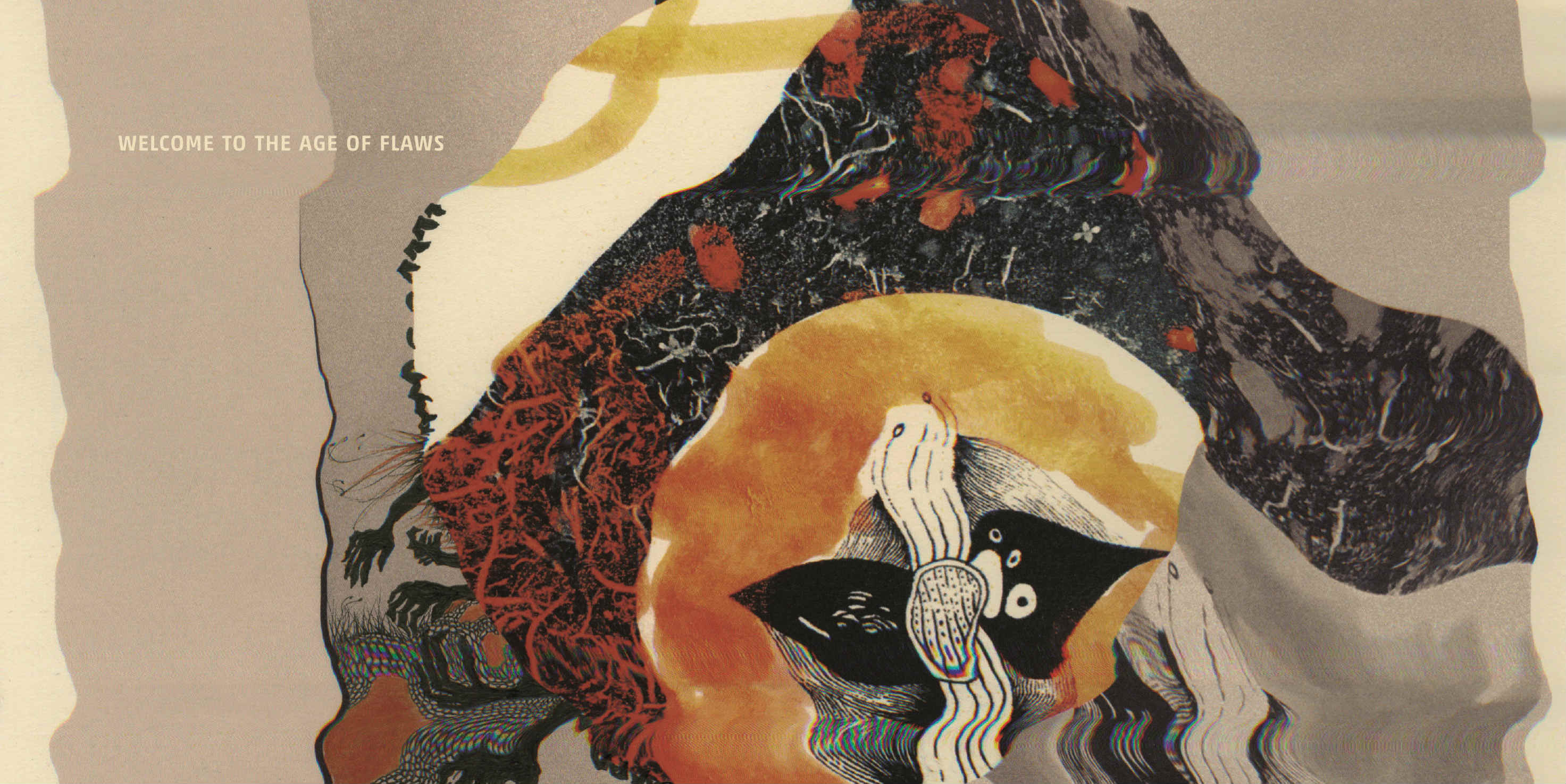 25 January 2019
We aren't particularly fond of interrupting reveries and silent soliloquies, but then this is, the age of flaws. We all feel trapped at one point or the other, flailing under our self-prescribed measures of wishful thinking and pessimism. It's a singular quality that acts as a unifying force for all of humanity, regardless of gender, age, background and so on; a constant battle between glass half-full and half-empty, a waltz of frustrations and desires is what really exists at the root of what makes us human. And a duo from Pakistan are trying to sonically recreate the very essence of that humanity, one album at a time.
It would be futile to try to define and explain a duo who already gave up and labelled themselves "undefinable". But that's an apt pointer for 6LA8, whose music, essence and everything they embody tinkers on the edge; Taimur Mazhar Sheikh and Omer Asim, the Karachi duo who make up 6LA8, exist at the very brink. Compelled by new-age media requirements, they are forced to write words like ambient, drone, experimental, post-rock, progressive, electronic and soundscape at the bottom of their releases, like they did for their new album 'Welcome To The Age Of Flaws'. Actually, their genre is sanity, or maybe insanity; reality, or escape; emotion, and the void – again, as we said, it's undefinable. Let's just call it waking dreams for now, or sonic soliloquies, or just... human.
'Welcome To The Age Of Flaws', the duo's latest release after a 3-year hiatus, is a big record – we're literally talking numbers here. The album comprises of 16 tracks and runs for over 115 minutes. Yet this doesn't prepare you for the immensity of the album. Patience is a much required virtue here, but don't worry if it wears thin; we aren't perfect – it is, the age of flaws.
6LA8, who have previously been graciously vocal about their releases, have been conspicuously silent. The titles of the tracks sufficiently provoke thought and a semblance of meaning, if that's what you're seeking ('A Recursion In Denial, And A Deliverance', 'How To Self-Destruct On A Tremendous Day, The Best Day'). And there isn't a singularly defining sound either to seek familiarity or comfort in. Rather, it's a mood, an atmosphere that Sheikh and Asim are putting on offer, a nuanced foray into their (and our) minds.
You won't find an escape here, if that's what you're looking for. Rather, 'Welcome To The Age Of Flaws' is a prolonged reverie in solitude; a comprehensive study of one's conscience and self; a delicate transgression into the chaos of conflicted, flawed minds, designed and driven by poignant melodies surrounded by contemplative ambiences. It sounds intense – and it is – but the release presents itself as more of a lackadaisical reverie and a ponderous journey than an emotional ordeal.
So, wake up. Break your waking slumber: 'Let's Take A Breather: Recoup, Reconfigure'. Right from the beginning, the album lures you into tranquility with surreal textures created by ethereal strings and an ambient soundscape that seems to almost whisper to you. The hushed serenity blooms into a delicate assembly of a (subtly played) tabla, a pulsating bass line and inflections of static noise, that finally ushers you into the emblematic second track, 'Welcome To The Age Of Flaws'.
Lest you get too comfortable, 6LA8 are now playing with your mind and emotions. Tranquility can take a back seat. Using an eerie sample of what is allegedly a schizophrenic woman's "whispery rantings", the duo bring out the deepest, darkest fears, insecurities and paranoia from our sub-conscience, and present them with a joyfully morbid tune, both playful and full of suspense at the same time. Are these voices you are hearing, or is this all just in your head?
The most striking part of this record is the remarkable control the artists assert over their listeners. This quality is most apparent in 'Dissecting The Magnanimous Among Us', featuring Spirare, which spins off with a pleasant, easygoing melody so characteristic of 6LA8, until the ambience is disturbed by glitchy, off-time beats. The track gradually trickles back into place and everything falls back into synchronised existence, but only after interrupting that lustrous dream with chaos. Is that a reminder of how life keeps us in check every time we get too comfortable? Or the artists' aching recreation of the cruelty of our own psyche, ever so eager to interrupt our reveries with streams of fear and anxiety?
'Welcome To The Age Of Flaws' possesses the unique ability to alienate you from your environment. 'Hold Your Sanity, Dear Aphryg' harps on Natasha Noorani's fragile vocals to establish that otherworldly effect, while 'The 100 Day Dogma Decryption' hooks you in with a faint saxophone and folk rhythms. And lest we get too self-indulgent, they introduce a track like 'A Recursion In Denial, And A Deliverance', where emotive music accompanies a poignant spoken-word narrative from Behenchari Diaries, a project by feminist Pakistani collective Girls at Dhabas, that forces you to reflect and ponder on society and its ways.
There are certainly moments of ease, where you can catch your breath and a take a break from the broody, moody contemplation, like 'A Moonlit Dharna Into The Tetris Of Road Blocks' and 'Playing Detective, In Dreams, For Some Ease'. An edgy music video for 'Dancing Regressively Into The Next Civil Regime' shot by Stephen Steinbacher also offers perspective, with a masterful renegade of colour and surprising intrigue.
At the end, you may be exhausted – the album is certainly long – and be "tired and waiting for twilight's heatsinks". You may even feel like you've been "wandering around a whole lot of nothings". But you will be replete with the aching realisation of human emotions, and blanketed in an aura of tranquility and despair, and serenity.
Words: Satvika Kundu
Image: Artwork by Ramsha & Omer Asim
Tags
Join Our Mailing List