Review: With 'Jaago' Lifafa Has Truly Found His Identity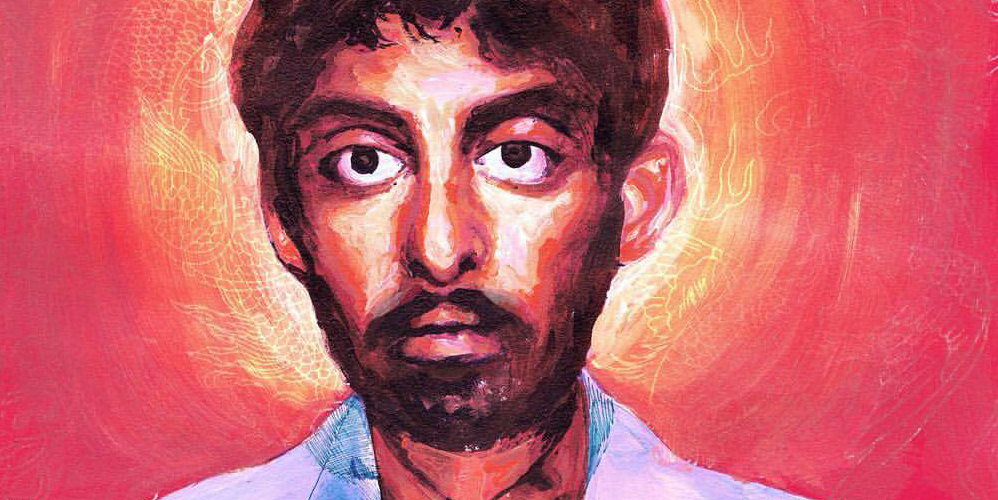 14 January 2019
A few days ago, in the middle of an animated discussion about Indian acts, a friend said to me, "I think Peter Cat Recording Co is like the Indian Radiohead." It is a debatable statement (though in my opinion, that's pretty damn accurate) but if that is the case, then Lifafa could arguably be emerging as our Thom Yorke, especially following the release of his new album 'Jaago'.
Peter Cat Recording Co frontman Suryakant Sawhney started Lifafa a few years ago as a solo project. It was apparently part of a quest to find his identity, one that's been quite the journey, as much for his listeners as for Lifafa. (Notice my subtle use of tense in the previous sentence – "been quite the journey", as if to imply that the journey was and no longer is.)
Of course, it'd be inaccurate to state that, because does the quest to find your identity ever really end, does anyone have a singular, concrete, permanent identity? We are, after all, constantly changing, even if no factor apart from time has progressed. But change is inevitable – what's really crucial is evolving with time. And nobody could possibly call Lifafa out on that front, because evolving is something he's absolutely great at, at least when it comes to his music.
To fully appreciate the new release, it's imperative to gain some context and to address his previous releases, which comprise of one album 'Lifafa I' and an EP 'In Hi Ko' (both have mysteriously disappeared from all streaming platforms). It's important, because until a few days ago, Lifafa was most commonly identified as "the PCRC vocalist's side project" or "Suryakant trying out solo" - both descriptions that, at this point, are flawed and inaccurate. Lifafa, now, is Lifafa – period.
There was a discordant, melancholic darkness in 'Lifafa I', a hint of anger and distortion, laced with existential angst and a minimal, experimental deliberation that appealed to my musical senses. It was beautiful, but it was music you'd expect to find at a relatively unknown underground gig, with a few serious fans – and inevitably a few curious PCRC fans – in attendance. The vocals were largely absent, and the record was purely electronic, something you'd expect from the vocalist of an experimental jazz band who decided to dabble in electronic music.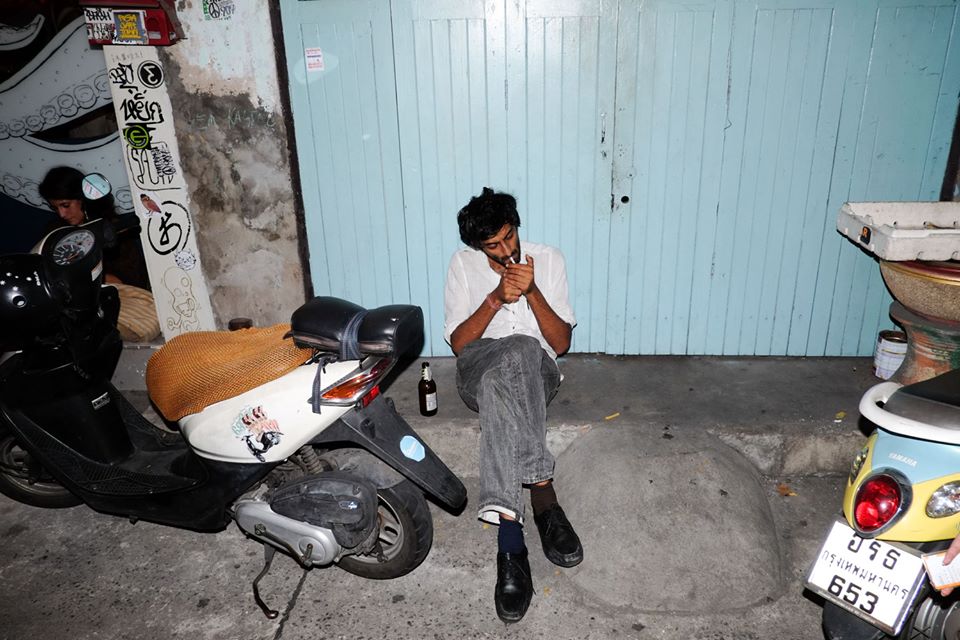 Image courtesy of the artist
Next was 'In Hi Ko', Lifafa's 2014 EP, in which he audibly came into his own. Ditching the usual tropes of purely "electronic" production, which appeared to be the primary motivation for his debut release, this four-track EP brought Suryakant closer to identifying his electronic persona. He was no longer trying to fit into a specific label or be just another producer – Lifafa was no longer a side project, it was now part of Suryakant's binary sonic identity. We saw elements from PCRC – most notably Suryakant's crooning vocals and the vintage disco that iconised 'Love Demons' – and influences from the bygone days of Indian cinema and its music creep into the music. Tracks like 'In Hi Ko' and 'Tofah' shrugged off the existential angst and darkness for brighter, more uplifting elements, textured synths and electronic pulses.
His sophomore album 'Jaago' has been almost five years in the making. Five years is a long time, and Suryakant has indubitably been through a lot, both personally and musically, in this period. Peter Cat Recording Co made a heavy comeback after signing with Paris label Panache, and have been playing shows extensively, including a very special performance at Magnetic Fields Festival (where they also previewed their new album). Suryakant got married, and the band also went through a slight change in the lineup. Now none of this may have made an obvious or gaugeable impact on Lifafa's new music, but it seems plausible when I listen to the new album.
Because the quest is over – Lifafa has found himself.
Somewhere, at some point, perhaps while producing tracks for 'In Hi Ko', Lifafa stumbled across his (sonic) identity, and he stuck to it. And on 'Jaago', he fully gives in to it and embraces it. 'Jaago' is Suryakant at his electronic finest; it's Lifafa asserting himself and his identity, and creating a distinct, concrete space for himself. 'Jaago' is Lifafa brandishing a 'f**k you' to generic, definable electronic tropes, and owning everything he is and everything he comes from.
With his earlier releases, Lifafa appeared hell bent on creating a disparate identity for his solo act, one that was completely and wholly independent of Suryakant and Peter Cat Recording Co and their sound. Now, he belies a maturity by merging those identities and giving in to his strengths, creating a distinct sound that's a perfect and beautiful marriage of the two.
The smooth, rich baritone that Suryakant is best known for pulls more weight on this release, as opposed to 'Lifafa I' where it was practically non-existent. He also let go of the angst and the anger, giving in to happier melodies – though I do occasionally miss the darker, more contemplative and experimental quality of his debut album, but not nearly enough.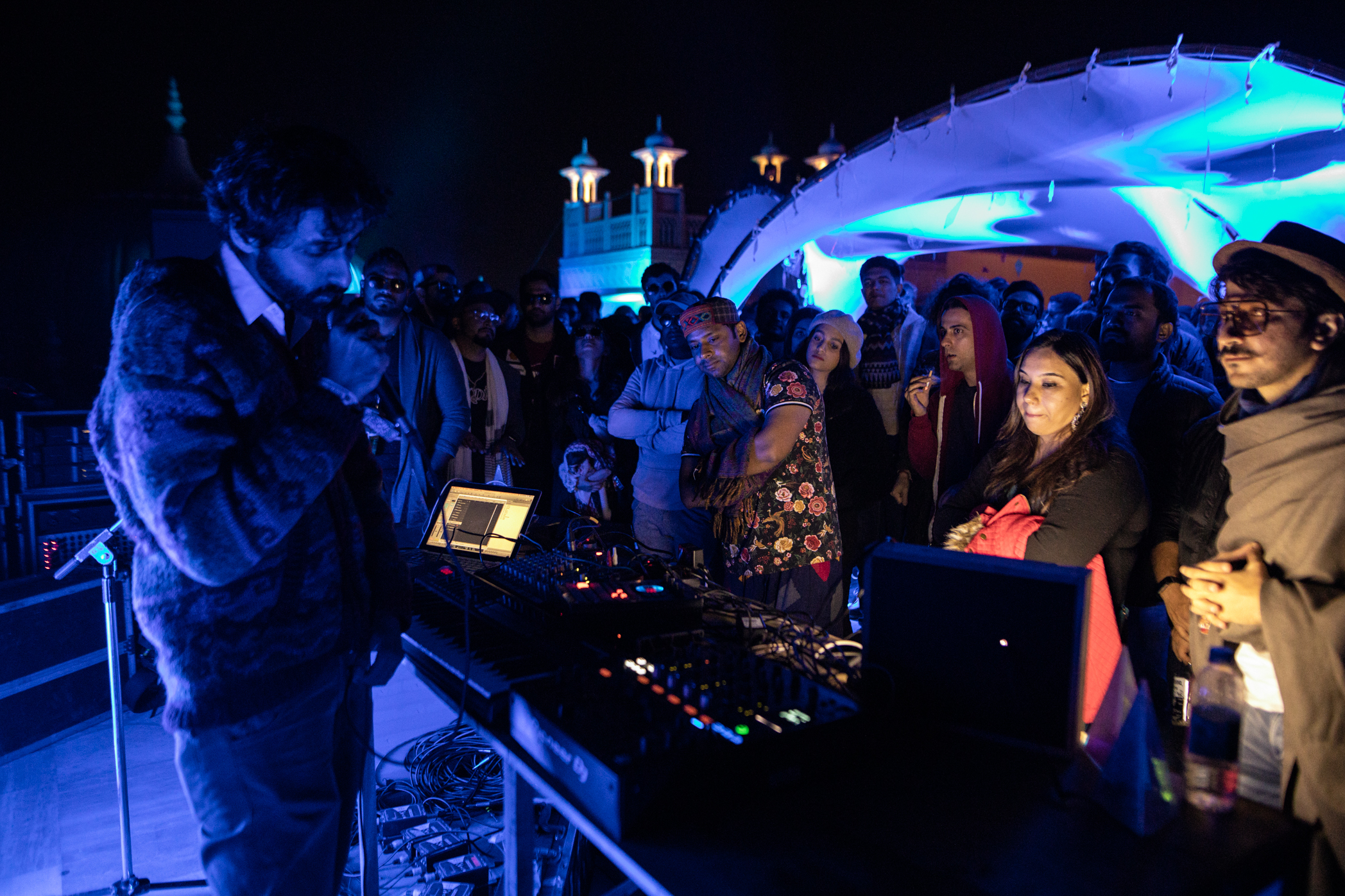 Image: Avirat Sundra (Magnetic Fields 2018)
Lifafa has adapted more raw, organic, folksy instruments on this album; there's less disco and less obvious electronic-sounding elements – he reserved those for the last few tracks – and a lot more textures and layers. The album builds up as a live set with an audience would: the tracks start off slow, with a prolonged harmonium and vocal prologue on the title track 'Jaago', and gradually build up to the more dance-able, disco-worthy 'Din Raat' and 'Ek Nagma', before ending with another desolate, harmonium-laden preamble. The album listens like the transition from day to night; the sun rises and ushers in dawn with 'Jaago', kickstarting a busy, energetic day, before segueing to a night out in a city which ends with the listener succumbing to the dreary comfort of their bed.
The harmonium is the obvious hero of the title track, which takes its own sweet time building up and crafting a deliberately solemn tension before delivering a playful, impassioned release brought in by raw, organic drums and folk-inspired percussion. There's a brightness in this song, a pure, unbridled joy and innocence that pervades the ears and kicks the day into action. 'Chaku Chidiya' continues the tradition, adding drama with some brilliant panning and warped, high-pitched vocals that warble throughout the tune. Notice how Lifafa abandons his prior lo-fi glitchiness and distortions to unabashedly embrace his prowess at singing.
The album is superbly produced, mixed and mastered, a quality that stands out with the flawlessly lush textures that inform its sound. Personally, I was overwhelmed at times while listening to the initial tracks or tunes like 'Nikamma' at how mature and just straight-up beautiful this album is. It's a perfect blend of acoustic and electronic, even the atmospheric, ambient electronica soundscapes of 'Candy' which features Hashback Hashish, presumably on modular synths.
'Din Raat' and 'Ek Nagma', which Lifafa originally released a few months ago, belie the artist's disposition towards hypnotic disco beats and pulsating synths, while 'Mjrh', starting with a field recording of a train, ushers listeners back into a contemplative, thoughtful mood that is nostalgic yet gratifying. (Easter egg: 'Mjrh' is short for 'Mai Jee Raha Hoon').
If I had to describe the album in one line, I'd say 'Jaago' is vintage, soulful Bollywood music in a modern, electronic setting. Now, before you get riled up or confused, let me elaborate. There's an incredibly "Indian" sound to this album that conjures up memories of early 50s-60s Bollywood music, or older, classic AR Rahman compositions. I don't mean Indian in the "exotic" or traditional context that appeals to foreigners; there's no "fusion" on this album. Instead, there's this warmth and soul, and a brilliant use of acoustic, raw instruments that effuses a nostalgic quality that marked earlier Bollywood releases (before capitalism and westernisation consumed it all). Perhaps its the overwhelming emotions and soulful quality of the music, the uptempo yet contemplative melodies, or just an emotive sound that purveys a sense of storytelling and rich narratives. But there's definitely something about this album that seems to bridge, or even eliminate, the gap between Bollywood music and the independent, electronic music scene.
In other words, this is what Bollywood music, rather Indian film music, today should sound like. Now all we need is for someone to make a film deserving of this as a soundtrack.
Words: Satvika Kundu
Thumbnail + Main Image: Artwork by Vivitsa Kohli
Tags
Join Our Mailing List