A Guide To The Art & Experiences At Magnetic Fields 2018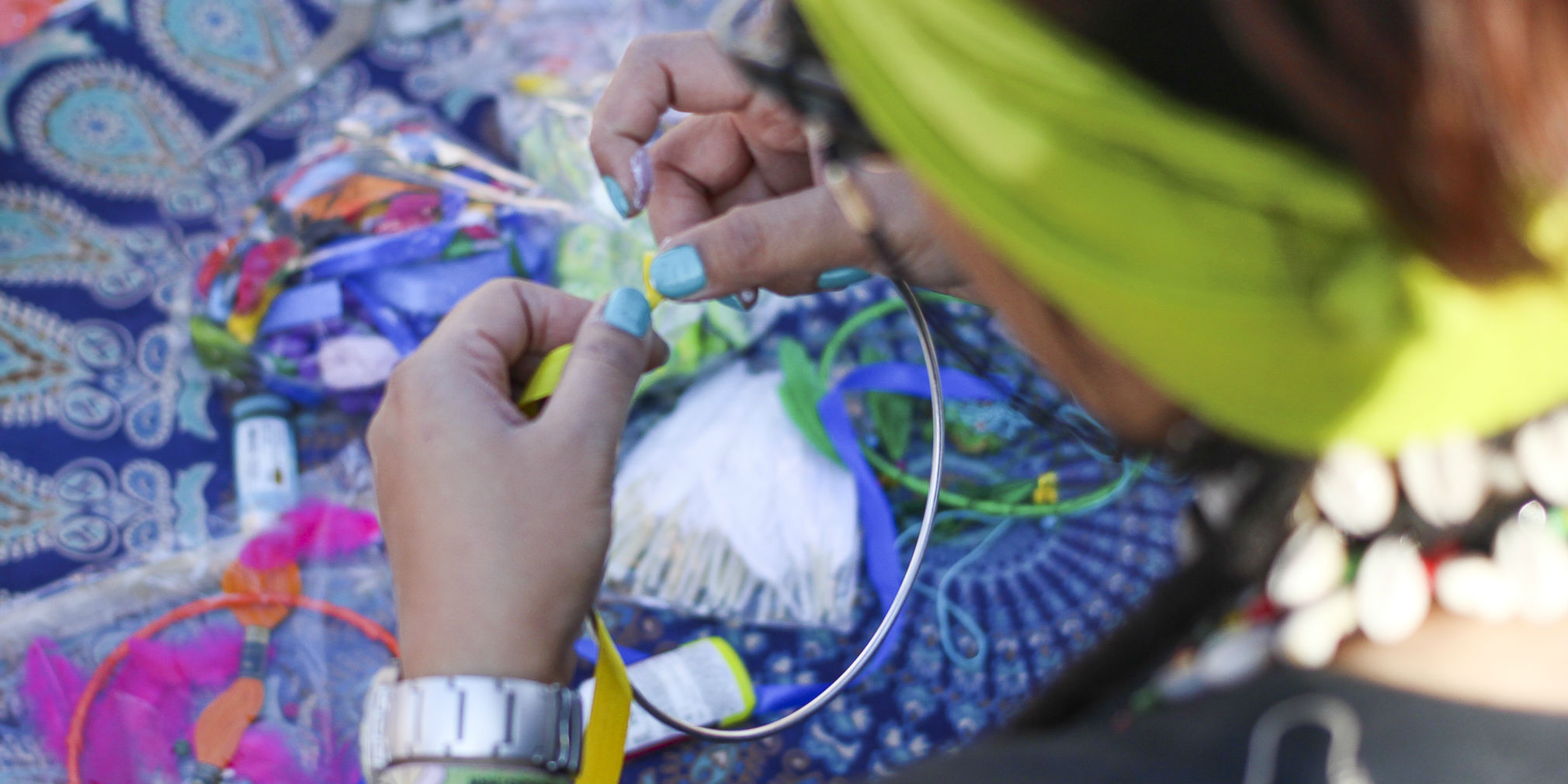 11 December 2018
It's important for music festivals to push boundaries, and the only way to do that is to deliver an unforgettable experience that transcends the music. Festivals are about the whole experience, from the art to the food to the atmosphere, especially when they're residential destination festivals like Magnetic Fields.
Nestled in a centuries old palace in the middle of a desert in Rajasthan, Magnetic Fields is an all-encompassing, three-day and night experience of art, culture, music and everything in that spectrum. Centred around a theme – which focuses this year on the exploration of light and its defining properties: speed, reflection, colour – expect to find installations, showcases, workshops and activities that will consume all your senses.
Scroll down to find a guide to all the experiences that await you at the festival this weekend. To find out more about the lineup, you can check out our comprehensive guide to the music.
Magnetic Experiences
Treasure Hunt: Ghost Signal
The supervillain Compasswallah – a science historian and mathematician – brings to fruition his obsession with Nazis and radiowaves in the form of a thrilling 3-day espionage themed treasure hunt this year. Prepare to find yourself smack in the middle of a dangerous mission set during World War II. Players can find themselves in a web of clues and radio waves at the festival, once they register themselves with a secret spy codename at the Ghost Signal kiosk. After solving initial clues, players will be handed a specially designed radio receiver with a glowing signal. A spy transmitter will constantly be on the prowl inside the palace and tent grounds, which can be tracked down using your device like a "compass". Of course it won't be easy, and at night, the hunt becomes a high-velocity game, where you must collaborate with and compete against other players to reach the transmitter first. It may sound complicated (which is sort of the point) but don't fret: further technical details will be provided in a guide book on registration.
Stargazing & The Geminid Meteor Shower
Search the galaxies between 8-10 pm each night with our resident experts from the palace rooftop, and experience glowing, iridescent nebulae, winter constellations and, if you're lucky, even the Andromeda galaxy. Of course, you'll also bear witness to an iconic part of Magnetic Fields: the spectacular Geminid meteor shower which coincides with the festival each year.
Sun Catcher Workshop
After an engaging dreamcatcher-making workshop last year, the same team returns to help you make your own stunning, glimmering suncatchers this year. Find them in the Bedouin village on Saturday afternoon.
Watercolour Galaxy Workshop
Few things are as therapeutic as painting and doodling with watercolour, especially when you're using them to make inspired images of galaxies. Immerse yourself into watercolour galaxies on Sunday afteroon, in the Bedouin village.
Handcrafted Wooden Games
Feel free to play, interact or get lost in the palace central courtyard with SHED's unique wooden games, shaddow puppets and spinning tops inspired by ancient Indian games.
Indigo Dyeing Workshop
With sustainable fashion at the heart of everything they do, Korra and 11.11 will be hosting workshops to teach people how to dye clothes with natural indigo in the palace courtyard on Saturday and Sunday afternoons.
Showcases & Installations
Helical Dreams
Lost somewhere in the desert is a hidden mystery, an elusive space. Discover this lost tent and you will find a suite of improvised actions, drawings, dance, light projections and sound – constantly being created and manipulated in real time by artists from Goa's HH Arts Space and Art Attack from Lisbon. This live art installation will immerse audiences every night from 10pm to 1am into their spiral of dreams and illusions to create an immersive, transformative and elevated experience.
Stories From Down Under: VR Showcase
As part of their storytelling platform Future Fiction, UnBox is bringing to the festival a showcase of cutting-edge, award-winning Virtual Reality films from Australia. Prepare to be transported to magical new worlds, where you can vicariously experience the life of a street artist, a magical autumn forest and the land of an Australian indigenous elder. This has been curated for the Australian Festival in India by the Australian High Commission. Partake in this experience at the surreal Badal Mahal on Saturday and Sunday, from 5-8pm.
Loitering At The Edge Of Our Time
The artist responsible for Immeasurable Distances, the striking installation from 2016 that is now part of the palace, Alexander G Lyle IV returns to Magnetic Fields this year with a new mixed material and light installation titled 'Loitering at the Edge Of Our Time' in the Bedouin Village.
Apart from the installations and showcases mentioned above, there will also be mural art by Taruna Singh as well as watercolour paintings in the palace and wildlife mural in Alsisar by artists from the Ranthambore School of Arts.
Magnetic Words
At Magnetic Fields, we love to tell stories – be it through music, art, installations and showcases, or directly through storytellers at Magnetic Words. With the theme 'Magnetic Minded' this year – a state of open-mindedness to ideas – Magnetic Words will be taking over the Peacock Club on Saturday and Sunday with storytellers from fields as diverse as film, technology, comedy, adventure and more, as they present their own vision of the future.
You can join street artist and artistic director Hanif Qureshi, co-founder of St+art India Foundation, as he dishes how to take art out of conventional mediums, and Shane Solanki, London-based wordsmith, music producer and performance poet as he explores how this century is providing a fertile environment for like-minded people to collaborate and share new ideas.
Machine learning and artificial intelligence scientist Ameya Bhatawdekar, will be addressing concerns around AI and how we can teach machines to learn. You can join editor, columnist and media entrepreneur Madhavan Narayanan in dismantling caste and its reincarnation in modern India; watch serial entrepreneur and Ikea's innovation lab Space10 director Carla Camilla Hjort shares stories about her age old quest for identity, values and belonging; and finally, find yourself immersed in a gripping performance where theatre artist, writer, director and actor Ruchika Chanana explores gender, sexuality and the self through theatre.
Magnetic Feasts
On Saturday and Sunday afternoon, you can dine like a royal in Alsisar Mahal's exquisite hand-painted turquoise room and partake in a magnificent feast at a long communal table. Diners will be served five courses of traditional Indian cuisine, cooked with traditional techniques like chullah (earthen drive), dungar (smoke) and sula (over coal).
Not only do you get to enjoy a scrumptious 5-course brunch, but also learn about dining traditions, cooking techniques and the origins of iconic Rajasthani family dishes. To put it simply: "This isn't just a lunch, it's a royal feast." Tickets are selling out fast - to book a seat head here.
Magnetic Sanctuary
Essentially, the Magnetic Sanctuary is an informal space, a chill decompression zone that serves as a retreat from the bustle of festival life. Magnetic Fields builds on wellness this year in collaboration with The Tonic, who will curate workshops and a relaxation space at the festival. Bringing ancient knowledge and wellness practices to the festival, you can pop in at this alcohol and pandemonium-free space to stretch a sore body in an acro yoga session, custom-blend an essential oil fragrance, or just sip tea in a zen den until you're ready to return to the dancefloor.
Attendees will be able to enjoy: one-on-one aromatherapy consultations with aromatherapist, writer and researcher Shubhra Chaturvedi, who will work with different custom diffuser blends; yoga and sound healing workshops, to put you into a deep relaxed state, with yoga and massage therapist and psychologist Priyanjali Das, who will combine yoga nidra techniques with singing bowls and chants; and acroyoga with Tre and Lara, where attendees will be made to focus on synchronising breath in movement, building strength and finding balance.
Food
If you think you're going to have a hard time choosing favourites from the stage lineup, don't expect to find respite when you're looking for food. Attendees are going to be spoilt for choice this year, whether you want to fuel up for the dancefloor, replenish your nutrients, or just warm yourself up with a comforting meal. Catering to a wide palette, there are a variety of food vendors this time: Fat Lulu's (pizza), Thalaivar (South Indian), Bhajan Dhaba (organic vegetarian dishes), Elma's (comfort food and baked goods) and Mahlzheit Berlin Street Food (the name says it all). You can also find a wide variety of beverages, courtesy Blue Tokai (coffee), Imagine (cold pressed juices) and Bhu (kombucha).
Prepare
Now we're all very excited to head to the festival. But before you go, here are a few pointers that will make your festival experience a whole lot more enriching.
There's one thing we can't stress enough each year – be warm! Make sure to bring your comfiest hoodies and jackets, and even extra blankets to keep you warm and cosy at night. The days are hot and sunny, but don't be misled – temperatures rapidly drop to single digits once the sun dips. Keeping the weather in mind, also make sure to keep your lip balm and sunscreen handy.
Other than that, remember: there are no weapons, firearms or narcotics on site. Outside alcohol is also striclty prohibited. And please don't litter or be wasteful, don't leave your valuables around (there are small lockers in the palace for essentials), don't use the pool, don't forget your friends and, most importantly, don't forget to have a good time! If you feel you (or somebody around you) are having a tough time, don't hesitate to head to the 24 hour TATVA wellness area in the Bedouin village or reach out to organisers and crew members.
As with any festival experience, make sure you stay hydrated, keep yourself fed and nourished, take care of yourself and the people around you, and explore all that the festival has to offer. Of course, being respectful to everybody around you is a pre-requisite. All that remains now is to get hyped: you're going to have an unforgettable weekend.
Image: Brenna Duncan
Tags
Join Our Mailing List