Review: Dimensions Festival 2018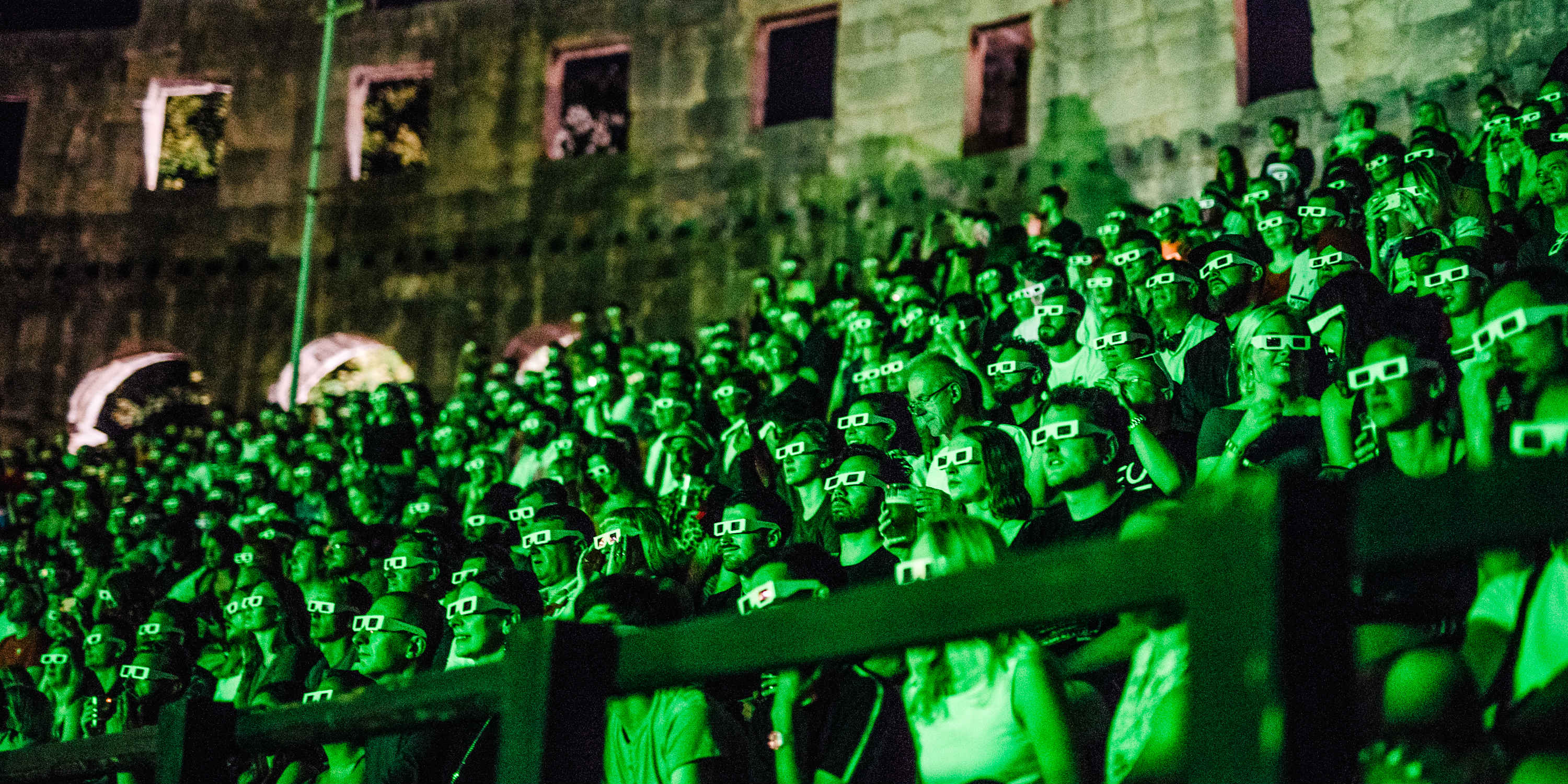 17 October 2018
Our hearts have gotten left behind in an abandoned fortress in Pula, Croatia.
When you fall short of words to describe an experience, that's when you really know you had one in the first place. If it's a musical one, spanning 5 days in surroundings as mesmerizing as what Dimensions Festival offers, words fade out before they're spoken.
What else could explain the look of disbelief on the faces of so many festival goers on the Monday morning that put the festival to a close, after bearing witness to a Hessle Audio takeover in the most notorious 'Moat' stage at the festival. Personally, after being subject to a no-holds-barred jungle, acid, techno and rare garage onslaught by Pearson Sound, Pangea and Ben UFO through Sunday night at a centuries old moat surrounded by 40-foot falls on either sides - ears ringing, heart still pulsating - it was hard to really make sense of the vacuum one felt once the festivities were finally called in. I'm sure it was no different for those who had instead chosen to spend the entire night 'hands in the air' grooving to Bononbo's night long, eight hour, goosebumps laden DJ set at the 'Clearing' stage, with Bonobo creating that euphoric vibe his sets are cult famous for. Luckily, we managed to get the best of both worlds, having started with witnessing Bonobo up close and personal, letting the melodic flow kick in as we prepared ourselves for Ben UFO wrecking things up nice and hard later in the night. Carnage did ensue as expected, courtesy non-stop bangers such as The Maghreban's 'Monster VIP' and hard junglist jams such as DJ Junk's 'Do it Do it' on show as part of Ben's artillery. The last night also saw us squeeze out time to witness Palms Trax at the 'Void' stage and the phenomenal b2b session of Craig Richards and Nicolas Lutz at the 'Garden' which would make for an excellent tutorial on DJing for any young musicians out there.
Having accidentally reviewed Day 5 at the festival already, let's rewind to the rest of the days.
Image Credit: Daniel Kiršić
Day 1: Opening Concert, August 28 – the evening of the festival's opening concert at what used to be a killing ground for gladiators at the peak of the Roman empire in Croatia, and is now the much loved Roman amphitheatre right in the heart of Pula city.
Secret alliances and friendships were already being made aboard the festival shuttle bus which conveniently carried numerous festival goers housed in Stinjan – a neighbourhood area closer to the actual festival site in Fort Punta Christo – to the amphitheatre in the main city centre in Pula. After a certain amount of confusion to find the 'VIP' gate and our wristbands, we made our way into the arena, almost momentously. Once inside, the atmosphere stayed surreal as the warmth of Nils Frahm's melodies being cooked live on stage enveloped us softly and almost seemed to suggest that 'we had arrived'. But the opening show was hands down owned by Kraftwerk – the undisputed founders of what we today call 'underground electronic music' – as the undemonstrative German quartet dished out their inimitable brand of computer music for us lucky few, with crowd favourites such as 'Computer World', 'Tour de France' and 'The Model' spinning people into a state of insular trance. This partially resulted from everyone being in their own audio-visual paradise courtesy 3D glasses that were handed out to make the 3D set more 'interactive' in the first place. Moodymann's closing set for the opening concert, though a bit far from his eclectic best, definitely made an impact in a way as to stir things up nice and slow with tracks like Fatima Yamaha's cult classic 'What's a girl to do' and DJ Koze's 'Pick Up', and managed to engage and refresh the audience, which was still reeling from Kraftwerk's musical spell.
Image Credit: Rob Jones
The next 4 days were to be the core festival days, with 10 programmed stages in and around the abandoned fort of Punta Christo. There was also the day time beach stage that was on till 9 pm each day, usually meant to give punters a gentle respite from the mayhem that would ensue each night.
Day 2: Thursday, August 29
Courtesy the good folks at Big Box, London, we got ourselves on the Dimensions Soundsystem boat party on Thursday, with Avalon Emerson and Josey Rebelle on the bill. Both formidable DJs in their own right ensured that they kept the sunset boat party nice and groovy and set the pace for the rest of the festival. This was also the time when I personally had a bit of a chat with Josey Rebelle, who said the her Boiler Room show in Delhi [note: she played in India last year] was "one of my 'most favourite' shows ever". Hearing that certainly reassured us that the scene back in India is surely on the right path.
Off the boat, we hit up Nina Kraviz's трип (TRIP) takeover of the 'Moat' stage, where between K-HAND gushing out hard slamming brutal techno and alien acid, and Volruptus' equally brooding DJ set, we decided to ease things down a notch. We found ourselves greeted by Amp Fiddler and Moodymann at the Garden stage playing some real feel good vibes, throwing in some house, funk and improvised jazz. Sadly, in between Moodymann's set, rain and thunder storms played spoilt sport, as we waited for Marcellus Pittman to close the night at the Garden. After fifteen minutes of wondering what to do, the crowd visibly upset, the 'Clearing' stage went live, and music hungry festival goers (including us) followed the massive crowd a fair bit of a walk away from the main festival stages. It was Volvox holding down the fort (quite literally) at the Clearing – easily discernible from the bouncing pony tail – as she managed to responsibly steer the crowd together to possibly one of her highlight sets, with thumping bass and synths throwing in cuts such as Madben's "In Depth" and even the abrasive "Routine (Scalameriya Remix)" by Vlaysin. Nina Kraviz, meanwhile, ended the night in typical Nina style, drawing it to a close with a reasonably tired gathering still cheering on till the end.
Image Credit: Chazz Adnitt
Day 3: Friday, August 30
One of our personal festival highlights was seeing the Ezra Collective play a live jazz set at the 'Beach' stage, which really brought together a lot of weary punters, who were otherwise lounging on the stony beach that would mostly become the day time playground of the festival revellers. The atmosphere was positive and jumpy, and cocktails in hands, everything just seemed to blend in. Man of the season, Skee Mask was formidably at his superlative best as he whipped down a mind-bending DnB, dub and jungle set, throwing in seminal tracks like Bok Bok's seminal 'Look (Dub)' and Four Tet's untitled remix of Aphex Twin, and he did full justice to the expectations of the many DnB and dub fans that flanked the stage. Peggy Gou played a slightly unconventional techno set, which was far heavier than the usual groovy house sets she's famous for, dropping basslines and synth heavy cuts like Model 500's 'OFI', thereby showing us the breadth of her DJ bandwidth and her ability to switch tempos. After catching a bit of Helena Hauff's thunderous all-out electro and neo-gothic techno coup at the Moat stage, we ended the night at the Clearing where Avalon Emerson closed Friday night with selections spanning jungle, house, techno and even a synth-pop tune to bring in the sunrise. The purist of her fans peaked well when she dropped one of her own productions 'One More Fluorescent Rush'.
Image Credit: Daniel Kiršić
Day 4: Saturday, August 31.
Day 4 had us festival revellers really being pampered by Palms Trax's feel good set to accompany the sundown at the Beach stage, drawing in both crowds who'd hitherto been lounging by the beach side all afternoon, as well as those who came especially to hear him play, until rains dampened the spirit yet again. Festivities were stopped for a while due to the ever vigilant Dimensions team who kept a tight watch on any risk associated with electrical storms. Not until long, though. Hunee and selector Red Greg ensured that the Clearing was at its grooviest best with tunes that kept the atmosphere dancy and uplifting. We decided to end the night at the Void stage - famed for having arguably one of the best sound systems any festival has to offer – with Billy Nasty, DJ Stingray, and Carl Finlow maxing out the speakers with their traditional blend of electro, acid and techno and keeping the many hedonists amongst us raving till 6 am.
Image Credit: Kate Berry
Dimensions Festival seemingly attracted a rather educated crowd of ravers, who aside from wanting a 'festival' experience really had come from different parts of the world to hear their favourite artists and DJs. With programming and sound systems that would give most other festivals a run for their money, Dimensions Festival easily scores the distinction of being a festival where every hardcore underground music lover must check off their bucket-list.
Dimensions Festival. We hope to see you again.
Words: Vatsal Gaur
Tags
Join Our Mailing List